Day 10 (Dec 6) The Forerunner of the King & How to Attain Our End
The Forerunner of the King.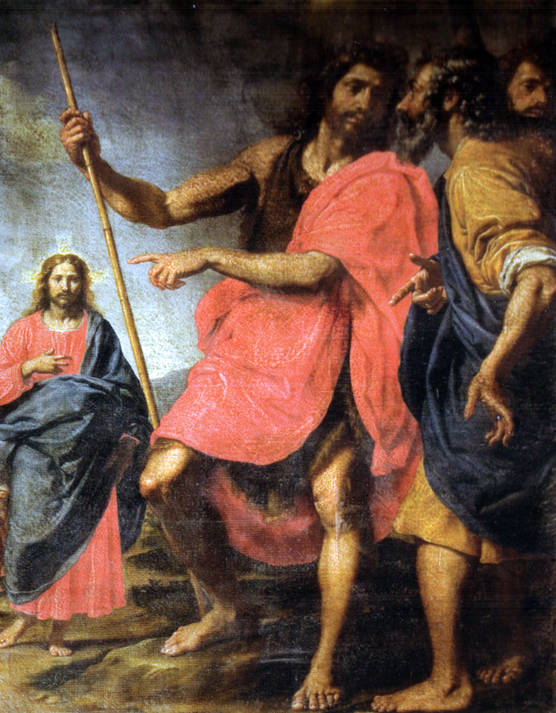 1.  St. John Baptist was the chosen messenger to proclaim the coming of the King of kings.  No other herald had so important an office.  He had to prepare the hearts of men for the coming of the Messias.  It was this that constituted him the greatest of those who were born of women.  If to proclaim the coming of Christ in the flesh was so solemn and responsible an office, what must be the dignity and responsibility of the priests of God, who are sent to announce His second coming in glory? 
2.  How did St. John prepare for his work?  By a life of seclusion and penance.  From childhood he lived alone in the desert, his bed the hard ground, his meat locusts and wild honey, his dress a camel's skin.  Our Lord contrasts him with those who wear soft raiment.  No one who lives a life of luxury will ever be an efficient messenger of God.  A priest above all must avoid a life of ease and self-indulgence, if he wishes to win souls for Christ. 
3. The secret of St. John's success was thus the result of practicing what he preached.  He practiced much more than he preached, for he enjoined upon his hearers the simple performance of ordinary duties while he led a life of continual penance and self-denial.  If our words are to carry any weight we must not preach without practicing.  The parent or superior who has the training of the young will never train them up to virtue unless he himself is a man of virtue.  No one can reach the hearts of others unless he first carries out the lessons he teaches others.  Do I do this?
---
How to attain our End.
One thing I do; forgetting the things that are behind and
stretching forth myself to those that are before, I press towards the mark. (Philipp. iii. 13, 14.) 
1.  Every one desires to succeed in life.  A man who desired ultimate failure would justly be regarded as a lunatic.  If I am to carry out my desire, I must look round me and see what sort of men succeed. 
2.  When I look at successful men, I find in all three characteristics: 
(1) A spirit of cheerfulness and confidence.  They know how to look at everything from its best side.  Hence I must pray for confidence. 
(2) A spirit of perseverance.  They are not discouraged by failures.  They recover themselves without delay.  What a lesson for me not to lose heart, but to say, When I fall I will ris( again, and that promptly!  
(3) A spirit of single-mindedness.  They keep the end in view steadily before them.  If I am to attain to the end of my life, to succeed in coming to God at last, I must keep Him always before me. 
3.  What can make my life so happy as this, to know that I am drawing nearer to God?  Yet there will be dark times and days of despondency.  Still down at the bottom, beneath the surface, there will be hope and peace, even amid the darkness. 
---
« Previous Section
Day 9 (Dec 5) The Fulfillment of the Decree & God the End of our LifeNext Section »
Day 11 (Dec 7) The Forerunner's Message & The Models to be imitated

This article, Day 10 (Dec 6) The Forerunner of the King & How to Attain Our End is a post from The Bellarmine Forum.
https://bellarmineforum.org/devotional/the-catholic-daily/advent-short-meditations-and-the-great-truths/day-10-dec-6-the-forerunner-of-the-king-how-to-attain-our-end/
Do not repost the entire article without written permission. Reasonable excerpts may be reposted so long as it is linked to this page.