Day 12 (Dec 8) The Forerunner's Office & The Means Provided
The Forerunner's Office.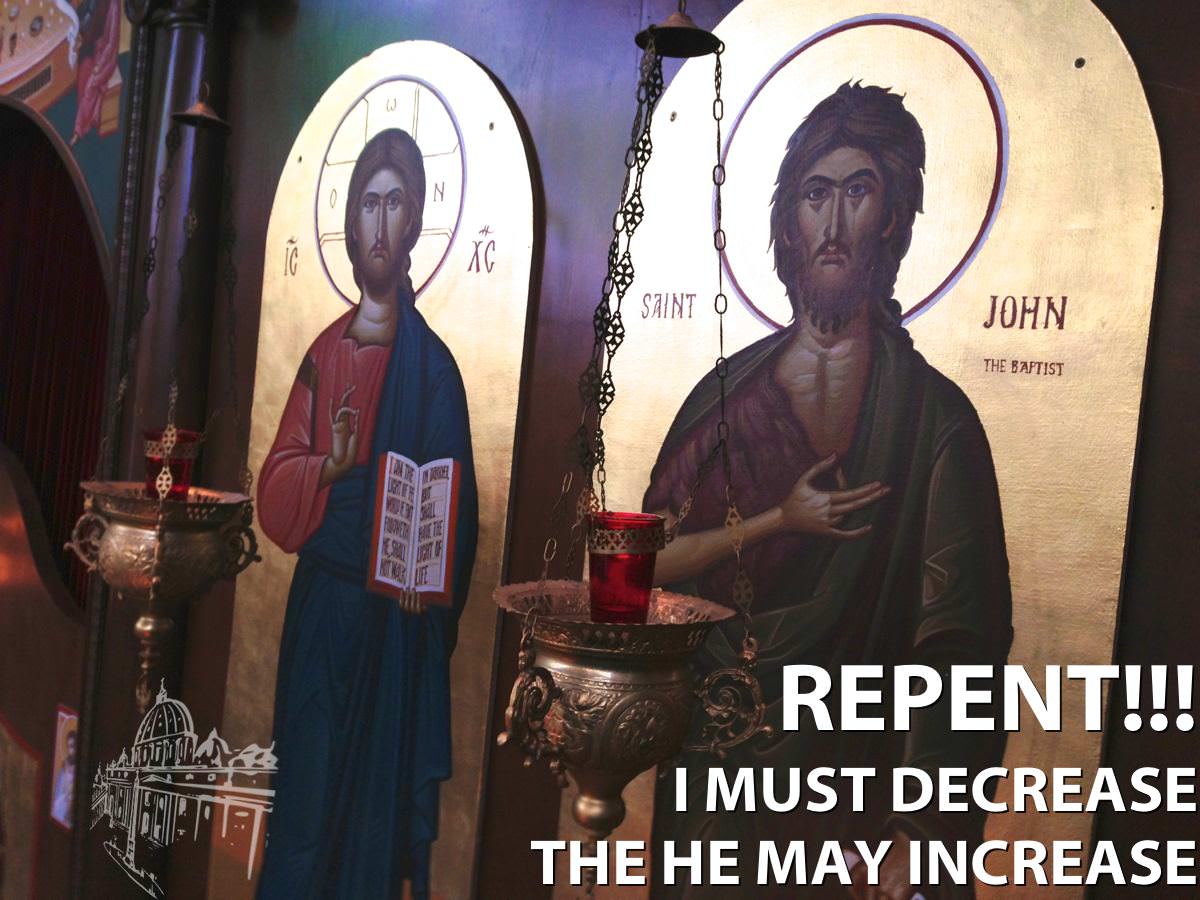 1.  St. John was something more than a herald.  He had to prepare the way for the King, to make the crooked ways straight, and the rough places smooth.  His office was that which is entrusted to us all in our own sphere: to try and make the way in which the followers of Christ have to tread straight and easy.  What a privilege if we can by our charity and our edifying life make the path of life more easy for those whose lot it is to tread the way of the cross and to walk over rough or stormy paths! Is this your endeavor in your daily life, or do you place obstacles in the path of others by your bad example, want of charity and consideration, impatience, etc.?  
2.  St. John, as the herald or forerunner of Christ, had to proclaim the coming of the King.  He himself expresses this by his description of himself as the voice of One Who cries in the desert; that is, Christ spoke through his mouth.  So He speaks through the mouths of all His servants just in proportion to their devotion and singleness of purpose.  How poor an echo are my words of the whispers of Christ to the faithful soul!  How mixed with the discordant notes of self-will and worldliness! 
3.  St.John's estimate of himself in comparison with Him Whom he announced was that he was not worthy to stoop down and untie the latchet of His sandal.  This was the duty of the lowest slaves.  It meant that he was unworthy to serve Christ, even in the capacity of a slave, and by doing the work that many slaves would consider beneath them.  Am I willing to undertake the humblest and most menial duties in the service of Christ?  Do I consider it a privilege to do so?
---
The Means provided.
Thou hast subjected all things under His feet. (Ps. viii. 8.) 
We are all inclined to overlook our own importance in God's sight.  So dearly does He love us, so anxious is He that we should attain our end, that we should succeed in life, that He has heaped around us all kinds of means and helps thereto. 
1.  All that is lovely and beautiful in the world is intended by Almighty God to help me on my road to heaven, to remind me of Him and of His infinite beauty.  God cares more for me than all the material universe together, all irrational creatures.  I can give Him more glory by one act of love than by all their natural perfections. 
2.  God has also given me my parents, companions, superiors, all as means to assist me in serving God.  They were all created for me; even those who cause me pain are in God's design to be sources of merit and even of happiness to me.  They may be my best friends.  If, for instance, I am patient towards those who are trying to my patience, kind towards those who treat me unkindly, I derive from them a solid gain: they help me on the way to heaven. 
3.  All the various circumstances of my life are moreover ordained by Almighty God to aid me in serving and praising Him as He wishes.  If they are pleasant, they must teach me gratitude; if painful, resignation.  Even if they are a source of temptation to me, by fighting bravely against the temptation I can gain great merit before God. 
Pray for grace to carry out God's intentions by using aright all the circumstances around you.
---
« Previous Section
Day 11 (Dec 7) The Forerunner's Message & The Models to be imitatedNext Section »
Day 13 (Dec 9) Hope & The Dispositions necessary (Advent Meditation)

This article, Day 12 (Dec 8) The Forerunner's Office & The Means Provided is a post from The Bellarmine Forum.
https://bellarmineforum.org/devotional/the-catholic-daily/advent-short-meditations-and-the-great-truths/day-12-dec-8-the-forerunners-office-the-means-provided/
Do not repost the entire article without written permission. Reasonable excerpts may be reposted so long as it is linked to this page.