Lent Day 24: Friday after the Third Sunday in Lent — Jesus is Dragged Before Pilate.
Jesus is Dragged Before Pilate.
Read St. Luke xxii. 66-70: xxiii. 1.
[66] And as soon as it was day, the ancients of the people, and the chief priests and scribes, came together; and they brought him into their council, saying: If thou be the Christ, tell us. [67] And he saith to them: If I shall tell you, you will not believe me. [68] And if I shall also ask you, you will not answer me, nor let me go. [69] But hereafter the Son of man shall be sitting on the right hand of the power of God. [70] Then said they all: Art thou then the Son of God? Who said: You say that I am.

[71] And they said: What need we any further testimony? for we ourselves have heard it from his own mouth.

[1] And the whole multitude of them rising up, led him to Pilate.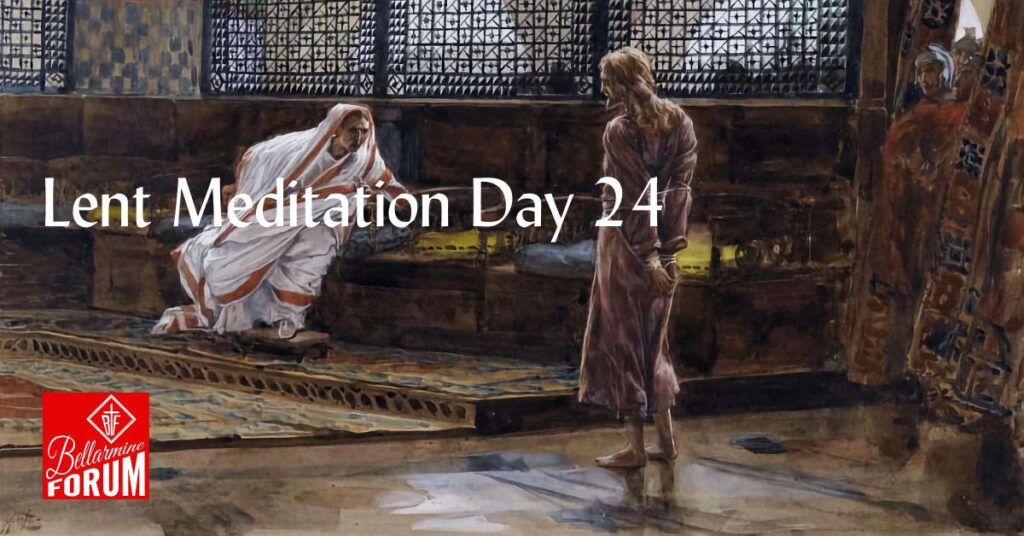 ---
1. At daybreak the council assembled, and Jesus was again brought before them and questioned again. The sentence of death passed the night before was confirmed. The whole multitude then hastened to Pilate with their prisoner, that they might obtain from the Roman governor the ratification of the sentence which they could not carry out themselves. They were resolved to have His life — anything to be rid of Him Whom they dreaded and hated. How strange it seems that they should so hate Him without a cause! Yet it is ever so: men who are proud and covetous and selfish instinctively hate the truth. This is why there prevails all over the world such a deadly enmity to the Church of Christ.
2. To wreak their vengeance, the Pharisees and ancients were ready to rise with the sun. How active men are in promoting worldly interests and criminal designs! So much more active than in working for God and for heaven. Might I not do something more by rising a little earlier or more punctually, so as to do something to please Our Lord before I begin my ordinary work? At least I might think of Him and offer my heart and my life to Him.
3. The Jews actually delivered over one of their own sacred nation to their enemies and oppressors, the Romans. No means are too base to get rid of their enemy. How much unreasoning malice I have shown against those whom I disliked or who interfered with my selfish interests, perhaps against those who are not only brethren of Christ, but very dear to Him?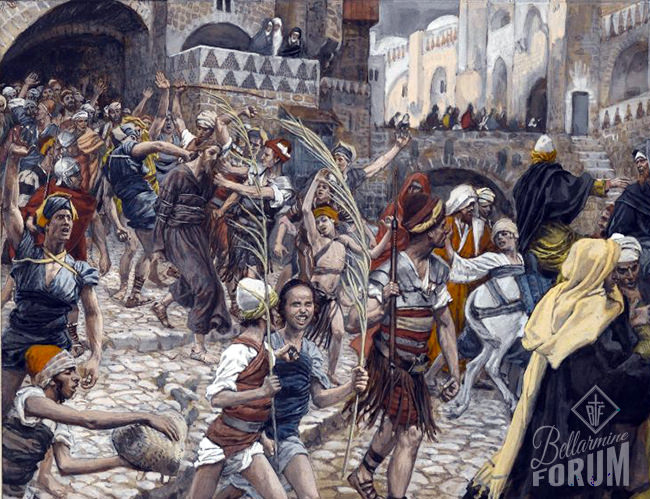 ---
« Previous Section
Lent Day 23: Thursday after the Third Sunday in Lent— Jesus in the Guard-room of Caiphas.
Next Section »
Lent Day 25: Saturday after the Third Sunday in Lent — Judas's Repentance.

This article, Lent Day 24: Friday after the Third Sunday in Lent — Jesus is Dragged Before Pilate. is a post from The Bellarmine Forum.
https://bellarmineforum.org/devotional/the-catholic-daily/lent-meditations-preface-information/lent-day-24-friday-third-sunday-lent-jesus-dragged-pilate/
Do not repost the entire article without written permission. Reasonable excerpts may be reposted so long as it is linked to this page.