Lent Day 27: Monday after the Fourth Sunday in Lent — Jesus Before Herod.
Jesus Before Herod.
Read St. Luke xxiii. 7-12.
[7] And when he understood that he was of Herod's jurisdiction, he sent him away to Herod, who was also himself at Jerusalem, in those days. [8] And Herod, seeing Jesus, was very glad; for he was desirous of a long time to see him, because he had heard many things of him; and he hoped to see some sign wrought by him. [9] And he questioned him in many words. But he answered him nothing. [10] And the chief priests and the scribes stood by, earnestly accusing him.

[11] And Herod with his army set him at nought, and mocked him, putting on him a white garment, and sent him back to Pilate. [12] And Herod and Pilate were made friends, that same day; for before they were enemies one to another.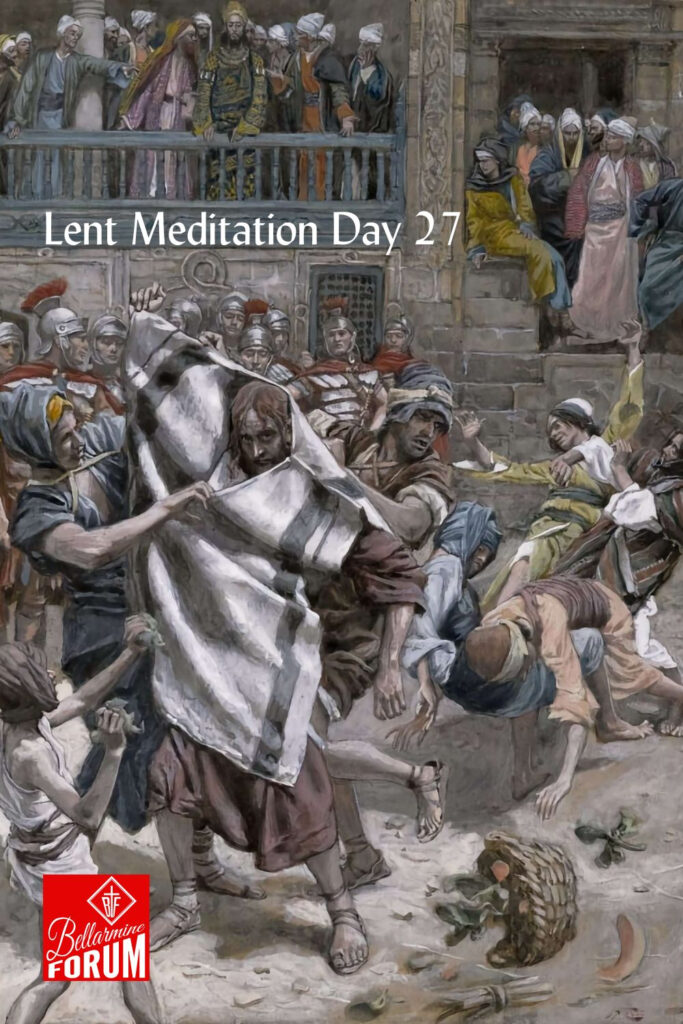 ---
1. When Pilate found that the Jews were determined on the death of Jesus, he tried to get rid of the responsibility by sending Him to Herod. Herod rejoiced to see Him. In his vanity he expected that Our Lord would be glad to conciliate him by performing some miracle in his presence. Vain expectation! It is only for the humble and pure of heart that Our Lord works miracles. Yet I expect Him to work for me, proud and selfish as I am, miracles of grace, co enable me to easily overcome long-rooted faults, to attain a spirit of prayer and close union with Him. How can I hope for this while I am so full of the worldly spirit of Herod?
2. Our Lord was ready enough to speak to Pilate, and even to Caiphas; but for Herod He had not a word. There is something terrible in this silence in the presence of the sensual, hardened reprobate. There is something in a sensual life that shuts the ears of men so that the whispers of grace never seem to reach them. If I want Our Lord to speak to me, the first thing is to see that I do not indulge my body inordinately.
3. Herod was also the incarnation of self-satisfied worldliness. He was munificent, popular, successful, but he was hateful in God's sight, and rejected by Him, so that Our Lord showed an aversion to him that He showed to none else. What a lesson for us! The reprobate Herod surrounded by flatterers and admirers; the Eternal Wisdom of God dressed in a fool's dress and treated as an idiot!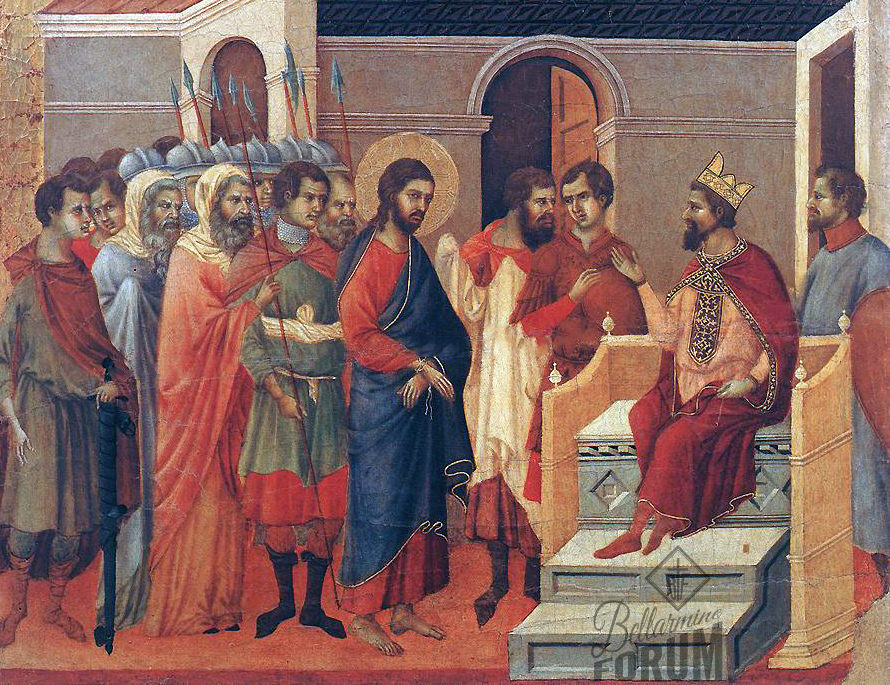 ---
« Previous Section
Lent Day 26: The Fourth Sunday in Lent— Jesus Before Pilate.
Next Section »
Lent Day 28: Tuesday after the Fourth Sunday in Lent — Barabbas or Jesus?

This article, Lent Day 27: Monday after the Fourth Sunday in Lent — Jesus Before Herod. is a post from The Bellarmine Forum.
https://bellarmineforum.org/devotional/the-catholic-daily/lent-meditations-preface-information/lent-day-27-monday-fourth-sunday-lent-jesus-herod/
Do not repost the entire article without written permission. Reasonable excerpts may be reposted so long as it is linked to this page.