Lent Day 30: Thursday after the Fourth Sunday in Lent — The Crowning with Thorns.
The Crowning with Thorns.
Read St. Mark xv. 16, 17.
[16] And the soldiers led him away into the court of the palace, and they called together the whole band: [17] And they clothed him with purple, and platting a crown of thorns, they put it upon him.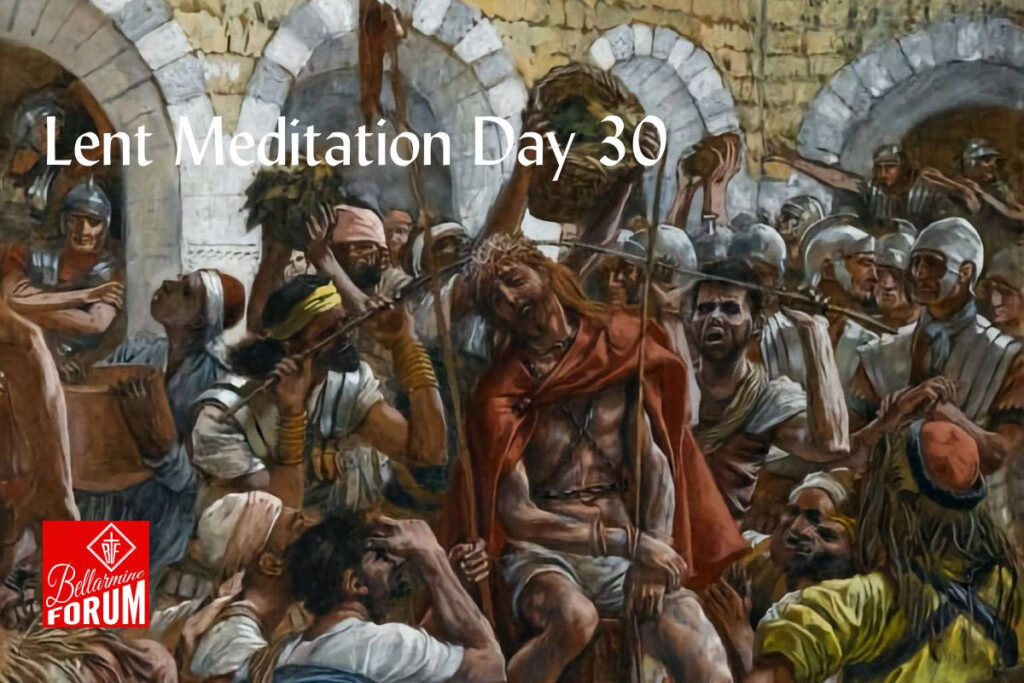 ---
1. Our Lord was covered with a scarlet cloak and crowned with thorns, as a travesty or caricature of worldly honor. He desired to exhibit it in its true light. The farce played by the soldiers was in truth no farce, but a reality. It was intended to show how empty and contemptible is all earthly glory. It is worth no more than the mock-respect of the ruffians who bowed the knee by way of insult to Jesus. O Lord, by that mockery of honor Thou didst undergo, grant that I may esteem human honor at its true value.
2. Watch the soldiers at their cruel sport. The crown upon the head of Jesus is plaited of briers, whose long thorns pierce His sacred forehead as they press it down upon Him; the drops of blood and mingled tears blind His eyes. One by one they pass before Him and bow the knee, and then — oh, shame! they spit in His sacred face, that face before which angels and archangels fall in prostrate homage. O Lord, in return for those insults Thou didst endure, I will always bow before Thee in the Blessed Sacrament with reverent love and adoration; I will seek to wipe the drops of blood from Thine eyes by denying myself the free indulgence of my senses even in lawful things.
3. What were the sins for which Christ specially atoned in the crowning with thorns? Evil thoughts and imaginations, uncharitable thoughts, proud thoughts, impure thoughts. It was these rather than the thorns which pierced His sacred head, and filled His eyes with tears of sorrow and of blood.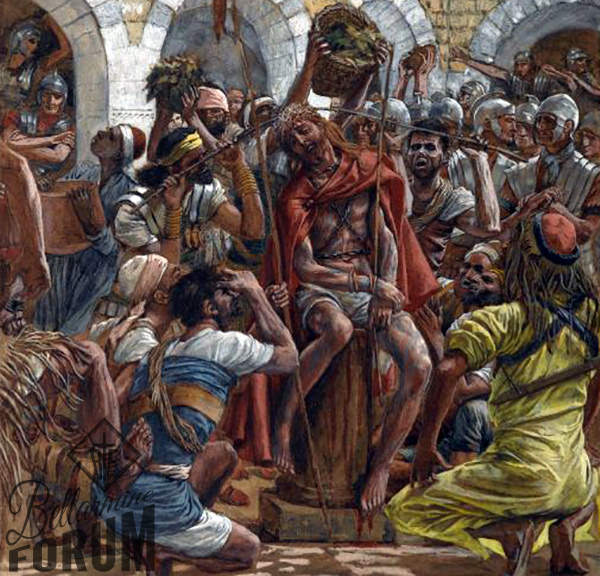 ---
« Previous Section
Lent Day 29: Wednesday after the Fourth Sunday in Lent — The Scourging.
Next Section »
Lent Day 31: Friday after the Fourth Sunday in Lent— Ecce Homo.

This article, Lent Day 30: Thursday after the Fourth Sunday in Lent — The Crowning with Thorns. is a post from The Bellarmine Forum.
https://bellarmineforum.org/devotional/the-catholic-daily/lent-meditations-preface-information/lent-day-30-thursday-fourth-sunday-lent-crowning-thorns/
Do not repost the entire article without written permission. Reasonable excerpts may be reposted so long as it is linked to this page.