26 — The Appearance of Jesus at the Lake
The Appearance of Jesus at the Lake
Read St. John xxi.  4-6.
[4] But when the morning was come, Jesus stood on the shore: yet the disciples knew not that it was Jesus. [5] Jesus therefore said to them: Children, have you any meat? They answered him: No.

[6] He saith to them: Cast the net on the right side of the ship, and you shall find. They cast therefore; and now they were not able to draw it, for the multitude of fishes.
---
1.  As the day began to dawn, the apostles looked up and espied a figure standing upon the shore of the lake, in which they were wearily dragging their nets.  Who could this stranger be?  He accosts them, and asks whether they have any fish in their boat; and they sadly answer: No!  In spite of all our toil we find no results.  How often we seem, in our prayers, our work for God and for the souls of others, to obtain no results!  All the time seems wasted; nothing to show for it, nothing but fruitless labor and constant failures.
2.  The stranger calls again to them: "Cast your nets on the right side of the ship, and you shall find."  The apostles, with the instinct of obedience, at once follow His directions, and their obedience brings, as its result, a plentiful haul of fish.  It is always better to take the advice of another than to follow our own devices; the very fact of submission brings a blessing with it.  He who follows the counsel of another, especially if his adviser has any position of authority, shows true prudence, and earns the blessing of God upon his work.
3.  This unexpected and marvelous success at once suggests to St. John that the stranger can be none other than Jesus.  St. John was pure in heart.  He did all with a pure intention; and His Master was ever present to his thoughts.  This was the reason why he recognized Him so quickly.  It is a great mark of love for Jesus if every piece of good fortune reveals Him to us; if we see Him in all, and recognize Him as the author of all the success to which we attain.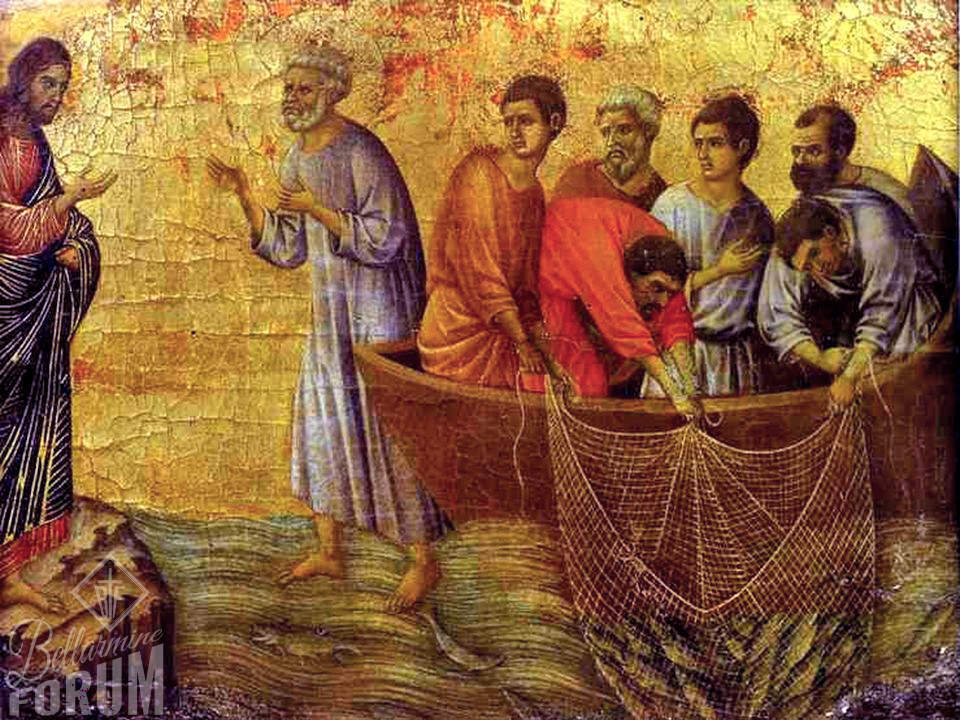 ---
« Previous Section
15th Day — Mary's Purification.Next Section »
27 — St. Peter Hastens to Jesus.

This article, 26 — The Appearance of Jesus at the Lake is a post from The Bellarmine Forum.
https://bellarmineforum.org/devotional/the-catholic-daily/resurrection-ascension-jesus-christ/26-appearance-jesus-lake/
Do not repost the entire article without written permission. Reasonable excerpts may be reposted so long as it is linked to this page.