The Easter Banquet.
Read St. John xxi.  9-13.
[9] As soon then as they came to land, they saw hot coals lying, and a fish laid thereon, and bread. [10] Jesus saith to them: Bring hither of the fishes which you have now caught.

[11] Simon Peter went up, and drew the net to land, full of great fishes, one hundred and fifty-three. And although there were so many, the net was not broken. [12] Jesus saith to them: Come, and dine. And none of them who were at meat, durst ask him: Who art thou? knowing that it was the Lord. [13] And Jesus cometh and taketh bread, and giveth them, and fish in like manner.
---
1.  When the apostles had brought their boat to land with the splendid haul of fish which they had taken, they found that Jesus had already made preparations for them.  He had kindled a fire, and laid fish thereon, and provided bread.  They bring the fish they had taken, broil some of them, and then Jesus and His disciples sit around the fire, and in the peaceful quiet of the shores of the lake they eat together their Paschal meal.  What a happy feast must that have been!  No banquet in the palace of kings half so joyful!  — their hearts intoxicated, not with wine, but with the inebriating delights of companionship with Jesus, and drinking in His sacred words with a rapture like that of Paradise.
2.  This time they knew well, one and all, that it was Jesus who was with them.  The success of their fishing had suggested that it was He; the overflowing joy of their hearts testified to His presence.  Even if their eyes had failed to bear witness to His being their Lord, still they would not have doubted.  The time of unbelief and hardness of heart was over.  Now they had entered on their inheritance of undoubting faith, that He whom they now saw in the beauty of His Sacred Humanity was the same Jesus who suffered and died on the cross.  How happy it is for us when God gives this intimate assurance of Jesus' presence!
3.  In Holy Mass, we are as certain that Jesus is present, as the apostles were by the Lake of Tiberias.  Every Catholic knows that it is the Lord who has come to feed us — nay, to be Himself the food of our souls.  Should not our hearts then burn within us at every Mass if we really appreciate the fact of His Divine Presence?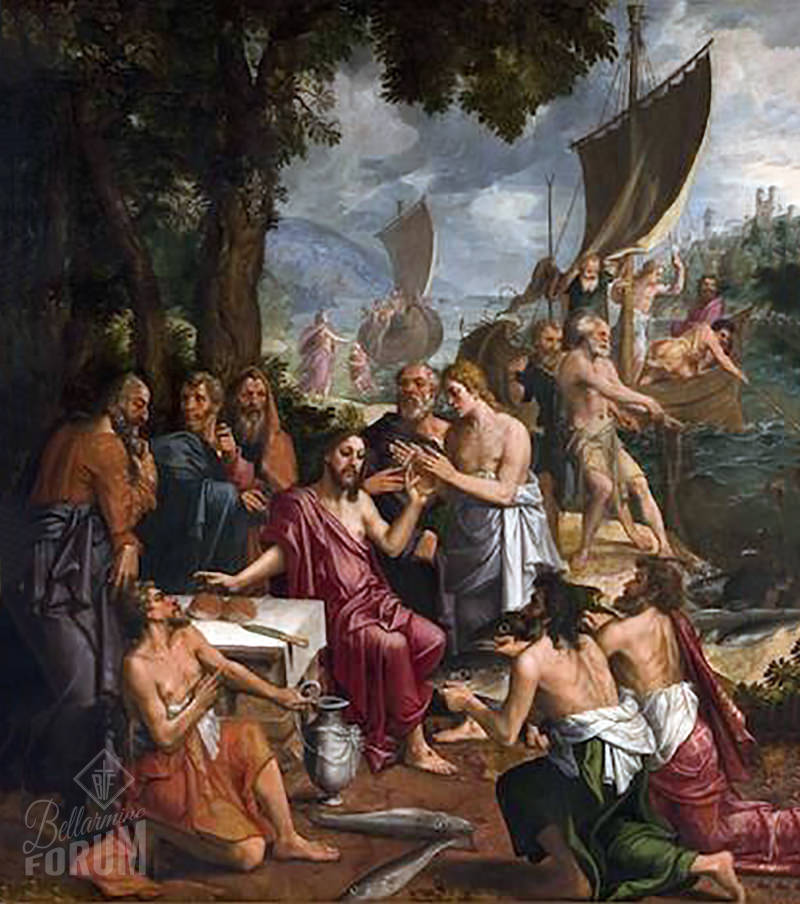 ---
« Previous Section
27 — St. Peter Hastens to Jesus.Next Section »
29 — The Questioning of St. Peter.

This article, 28 — The Easter Banquet. is a post from The Bellarmine Forum.
https://bellarmineforum.org/devotional/the-catholic-daily/resurrection-ascension-jesus-christ/28-easter-banquet/
Do not repost the entire article without written permission. Reasonable excerpts may be reposted so long as it is linked to this page.