Where Did I Come From? Where Am I Going? How Do I Get There?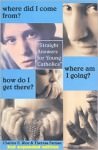 Growing up in a world marked by wars, disasters, family troubles, and rampant secularism, today's Catholic teens and young adults need straight answers on their purpose in life. What better guide than a manual featuring the teachings of St. Thomas Aquinas and Pope John Paul II presented by a world-class teacher and an experienced seminary instructor?
This book adapts a wildly successful high-school curriculum developed by Charles E. Rice, who taught for years at an Indiana high school in addition to his storied career at Notre Dame Law School. This classroom-tested curriculum has had life-changing effects. Rice's students, who took the course in the late 1970s and early 1980s, credit this course for keeping them Catholic, while their peers turned to Zen, politics, or drugs in their search for ultimate meaning.
Rice, with the valuable assistance of co-author and philosopher Theresa Farnan, updates this curriculum by incorporating the Catechism and the personalist philosophy of John Paul II into the timeless wisdom of the Church. Today's teens admire the faith more than ever, but need clear answers about what it is and who they are. The straight answers found in this book are a sure antidote to the confusion of the culture of death. Great for the teenagers in your family or for your Catholic high school's theology courses! **This text is approved by ecclesiastical authorities for use in Catholic schools!
$11.00 ($1.55 S/H)

This article, Where Did I Come From? Where Am I Going? How Do I Get There? is a post from The Bellarmine Forum.
https://bellarmineforum.org/where-did-i-come-from-where-am-i-going-how-do-i-get-there/
Do not repost the entire article without written permission. Reasonable excerpts may be reposted so long as it is linked to this page.