I was shell shocked today by an omission I can hardly believe. At Mass, I heard the Gospel about the possessed boy out of whom the Apostles could not drive the demon. We all know the tale:  Our Lord drives the demon out, and the Apostles ask, "Why could we not drive out the demon?"  And Our Lord's answer should be second nature to everyone: "this kind can be driven only be prayer and fasting."
The problem is that priest never said: "and fasting."
There I was waiting for the Gospel to finish, but the priest was done! What happened? Where'd the fasting go? It bothered me all day, but I know this priest well enough to know he read what was in the text. So I looked on the USCCB daily mass readings site. Today's reading is found here. And sure enough, the phrase is missing: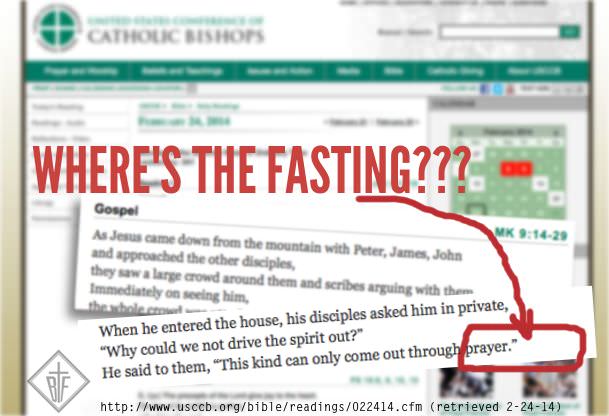 Sure enough… it's not there. I thought to myself, "well, maybe it was only in St. Matthew's Gospel."  No. I went home and pulled my trusty 1955 New Catholic Edition Confraternity Bible out and here's what it reported: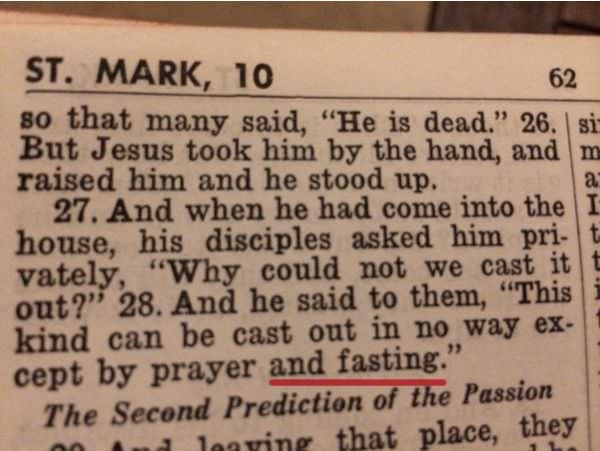 Yep…  "and fasting" is there.
Why? Why would the Bishops authorize a Gospel text missing such a fundamental phrase as this? Why do they make fasting optional anymore? Friday penance, ember days, and all sorts of other ways to fast are gone. And now they are erasing it from the Gospels?
Surely they jest…
The norms for exorcism that existed prior to the new ICEL version (that allegedly caused demons to laugh at the weak text), had a norm for the priest that said this:
"10. Therefore, he will be mindful of the words of our Lord (Matthew 17:20), to the effect that there is a certain type of evil spirit who cannot be driven out except by prayer and fasting. Therefore, let him avail himself of these two means above all for imploring the divine assistance in expelling demons, after the example of the holy fathers; and not only himself, but let him induce others, as far as possible, to do the same."
(Norms for Exorcism, as cited in Fr. John A. Hardon, What is Exorcism and How is it Performed? 1996 – available online here )
If there really are Judases among them, as Pope Paul VI and Fr. Hardon were cited as saying in the recent "Father Hardon: Why the devil is so strong today", then it may make sense as to why a Judas would delete this key phrase.
But, really…  did anybody at the USCCB actually read that translation before issuing it? It nearly sounds like a bad joke to think that the phrase "and fasting" is gone. They wouldn't make a joke of the Gospel, surely not. But yet, no right minded person would advocate deleting the phrase so well known and upon which so many doctors of the church have commented…  would they?
I don't understand it. Prayer, fasting, and almsgiving are the three fundamental things to do, and of those, almsgiving and fasting are said to be the wings on which prayer flies to Heaven. Why is it always erased, forgotten, or minimized? Do the United States Bishops hate fasting?

This article, Do the American Bishops hate fasting? is a post from The Bellarmine Forum.
https://bellarmineforum.org/2014/02/24/do-the-american-bishops-hate-fasting/
Do not repost the entire article without written permission. Reasonable excerpts may be reposted so long as it is linked to this page.
About John B. Manos
John B. Manos, Esq. is an attorney and chemical engineer. He has a dog, Fyo, and likes photography, astronomy, and dusty old books published by Benzinger Brothers. He is the President of the Bellarmine Forum.