Adoration is the Way to Go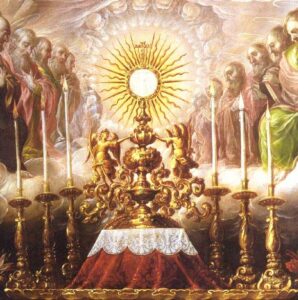 Are you sick of politics? Consider the derivation of the word. Some say that "poli" means many and "tics" are little blood-sucking creatures. The profession of politics, of course, is honorable. But, whatever side we were on in the recent elections, we can be excused if we suspect that politicians don't have all the answers, neither for what ails the country nor for the issues in our own lives. Maybe it is time to look elsewhere.
When John Paul II instituted Eucharistic adoration at St. Peter's basilica in 1981, he said: "The best way of establishing everlasting peace on the face of the earth is through Perpetual Adoration of the Blessed Sacrament."
For many years, Notre Dame has had the Eucharist exposed for adoration on Friday afternoons in the Basilica. Since 1997, on student initiative and with the aid of Campus Ministry, we have adoration also on Monday through Thursday in the Coleman-Morse chapel.
Why is this important? First of all, because Christ is really there. "In the . . . Eucharist, the body and blood, . . . soul and divinity, of our Lord Jesus Christ and, therefore, the whole Christ is truly, really and substantially contained. This presence is called real, by which is not intended to exclude the other types of presence . . . but because it is presence in the fullest sense. . . it is substantial presence by which Christ, God and man, makes himself wholly and entirely present" (Catechism, no. 1374).
This reality will come as a news flash to many Catholics. Surveys show that 70% of Catholics in the 18-44 age group believe the Eucharist is merely a "symbolic reminder" of Christ. This is not surprising in light of the pathetic state of "Catholic" elementary, secondary and higher education. As Fr. John A. Hardon, S.J., put it, "There was never a time when the world needed to be educated in faith in Christ [and] belief in the Real Presence in the Eucharist, more than today. It is the same Jesus who worked miracles in first century Palestine. He is ready to perform miracles of conversion in our day, provided we believe that He is here with us in the Blessed Sacrament." Recent years have seen a resurgence of adoration in parishes and Catholic colleges. When you do it, you will see the reason.
"People are hungry for God," said Mother Teresa of Calcutta. "When the Sisters are exhausted, up to their eyes in work; when all seems to go awry, they spend an hour in prayer before the Blessed Sacrament. This practice has never failed to bear fruit; they experience peace and strength."
Check out your local parishes for times for adoration. You don't have to contact anybody. Just show up. Stay for as long or as short a time as you wish. You can pray, read or just think. You might ask, "What am I going to do for half an hour or fifteen minutes, just sitting there? Suppose I fall asleep?" As Archbishop Fulton J. Sheen noted, "that's the way the Apostles made their first Holy Hour in the Garden." So falling asleep should not be a concern. Just be there to spend time with Christ.
Why do it? Because it works. When Mother Teresa was asked, "What will convert America and save the world?" she replied: "My answer is prayer. What we need is for every parish to come before Jesus in the Blessed Sacrament in holy hours of prayer."
John Paul II has proclaimed the Year of the Eucharist, from October 2004 to October 2005. "During this year, he said, "take the time to kneel before Jesus present in the Eucharist, . . . to make reparation . . . for the neglect, and even the insults which our Saviour must endure in many parts of the world."
"Christians," continued John Paul, "should not be afraid to speak about God and to bear proud witness to our faith. The 'culture of the eucharist' promotes a culture of dialogue. . . . [O]ur troubled world, which began the new millennium with . . . terrorism and . . . war, demands that Christians learn to experience the eucharist as a great school of peace, forming men and women who, . . . in social, cultural and political life, can become promoters of dialogue and communion." John Paul encouraged young people to "[b]ring to your encounter with Jesus, hidden in the eucharist, . . . .all the enthusiasm of your age, all your hopes, all your desire to love."
So if politicians don't have all the answers, it might be a good idea to look to Someone else.

This article, Adoration is the Way to Go is a post from The Bellarmine Forum.
https://bellarmineforum.org/adoration-is-the-way-to-go/
Do not repost the entire article without written permission. Reasonable excerpts may be reposted so long as it is linked to this page.