Citizens of the Heavenly City: A Catechism of Catholic Social Teaching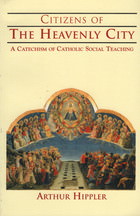 What is Catholic Social Teaching? Oftentimes Catholics hear conflicting voices as to what exactly this essential teaching of the Church is. Now comes a solid textbook for studying that rich tradition of the Church's doctrine; nay, more than a textbook, it is a handbook for applying the truth of Christ to the moral problems of our day! Dr. Arthur Hippler has penned this fine work at the request of Raymond Cardinal Burke when he was then-Bishop of LaCrosse, Wisconsin.
From the Forward:
"Consistent with the presentation of the Church's social teaching as a response to the rich mercy of God toward us, represented in the Sacred Heart of Jesus, Dr. Hippler helps us to understand the individual tenets of the Church's social teaching by guiding us through the Magisterium of the Church, which has never failed to address the Word of Christ to the situation of man in the world. Through the study of Dr. Hippler's textbook, young people and other faithful will grow in familiarity with those texts of the Church's Magisterium which are critical for the transformation of our society into a civilization of love."–Raymond Cardinal Burke
"This textbook introduction to Catholic Social Teaching is outstanding. It has a clear competent focus on the Natural Law, the 10 Commandments, our common moral tradition, and the "truth that binds and limits all of us." It includes an excellent introduction to the Biblical tradition, the early Church Fathers, Augustine, Aquinas, Conciliar teaching, and appropriate papal documents. Its focus on the key cardinal virtues essential to moral growth and perfection is very well done."–Rev. Edward Krause, C.S.C., Ph.D.
$11.00 ($1.55 S/H)
SORRY! We are sold out for now!

This article, Citizens of the Heavenly City: A Catechism of Catholic Social Teaching is a post from The Bellarmine Forum.
https://bellarmineforum.org/citizens-of-the-heavenly-city-a-catechism-of-catholic-social-teaching/
Do not repost the entire article without written permission. Reasonable excerpts may be reposted so long as it is linked to this page.