CCHD 2013-2014: Hasn't the Catholic Campaign for Human Development improved? Not even a little…?
New year; new grants list…and as has happened several times before, the Catholic Campaign for Human Development (CCHD) has claimed to have undergone a major reform overhaul.
CCHD Reform Started Right Here
The first CCHD reform was provoked by a 1997 Wanderer Forum Foundation analysis and commentary of the Campaign that demonstrated the CHD was spending 33% of its grants on Alinsky-style, church-based community organizations that advanced their own, highly politicized, often left wing agendas. A copy was sent to every reigning bishop in the United States.
The result was a name change that added the word "Catholic" to the original "Campaign for Human Development" and by the summer of 1998, new guidelines were issued that emphasized the sanctity of human life and stated clearly that not only must CHD funded projects conform to the moral teachings of the Catholic Church, but that any organization whose primary or substantial thrust was contrary to Catholic teaching – even if the project itself was in accord – would be denied funding.
But was there really any reform of CCHD grants?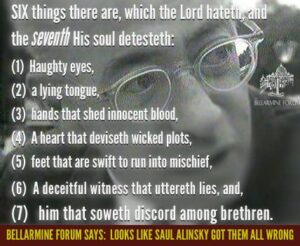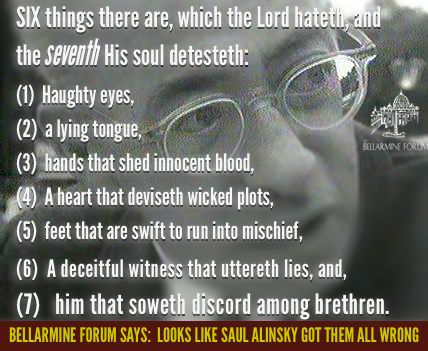 A second analysis in 1999 showed that the percentage of CCHD money going to Alinskyian organizing had dropped to 29%. This looked like a positive development but the change reflected the response of specific bishops rather than a redirection of CCHD money. By 2005, grants for Alinskyian organizing had risen to almost 39%. In particular, funding for ACORN had doubled since the Wanderer Forum Foundation commentary [ed. note: see also this note about the tie between IAF and Call to Action]. Given that a good portion of that commentary had concerned ACORN's progressive political activity – and numerous corruption charges against it, whatever "reform" CCHD had undergone did not include withdrawing support from Alinskyian organizing.
CCHD paid dearly for that failure.
In the autumn of 2008, then-Senator Barack Obama was in the final lap of his run for president. His work as director of ACORN's partner organization, Project Vote had become a matter of hot debate…particularly when it came out that Dale Rathke, the brother of ACORN founder Wade Rathke, had embezzled nearly $1 million from the organization between 1999 and 2000. The disclosure came on the heels of a slew of convictions, indictments, investigations, and lawsuits against ACORN for voter fraud…emphasizing not only the corruption but the naked political ambitions of the organization.
CCHD was in an embarrassing position. Over the 10 previous years, it had given more than $7.3 million to ACORN projects and $1.13 million just in 2008 alone. CCHD announced that it was suspending further funding to ACORN and, within a year, ACORN had folded, reorganizing under other names.
But the CCHD soldiered on, insisting that the groups it funded were working on nonpartisan issues – and stoutly ignoring the progressive direction of the other, still-funded Alinskyian organizing networks' political activism. By 2005, CCHD was giving about 39% of its grants to them.
It was enough to make the pro-life community sit up and take notice. Always treated like a stepchild by the American Catholic bureaucracy, pro-life groups like the American Life League and Reform CCHD Now began their own analysis of CCHD grants, from the perspective of how they directly impacted life issues.
In 2011, they released a report exposing scores of grantees with direct ties to the promotion of abortion, as well as other problematic moral positions. CCHD acknowledged that five groups in the pro-life report "violated CCHD requirements" and pulled their funding while ignoring the much longer list of other grantees whose anti-Catholic actions were somehow acceptable.
That year, a "substantially revised CCHD Grant Agreement" was "used for all pending and future funding allocations and grants." That meant that groups, often run by non-Catholics but selected for CCHD grants, were asked to sign an agreement that they were in compliance with Catholic moral principles. Needless to say, it didn't much affect CCHD funding patterns.
So in 2012, the pro-life community produced a second report, demonstrating that CCHD funding of progressive networks was pushing the "culture of death." In particular, they zeroed in on the Gamaliel Foundation Network, with over 50 U.S. affiliates receiving $854,500 worth of CCHD grants the previous year. Gamaliel had been a founding member of the Fair Immigration Reform Movement (FIRM) Steering Committee, which in 2010 made an official position statement that homosexual relationships should be recognized as "families."
CCHD did nothing…and continues to fund Gamaliel locals.
The pro-life report also looked at another Alinskyian organizing network, Interfaith Worker Justice, whose public policy pushes and coalition-building has included support for same-sex "marriage," abortion, and democratic socialism among other things.
CCHD did nothing…and continues to fund Interfaith Worker Justice locals.
In fact, 50% of the 2013-2014 CCHD grants have been given to Alinskyian organizations!
This doesn't include an additional award of $300,000 to one of the Alinskyian networks at its national level, nor $500,000 to the Society of St. Vincent de Paul to restructure its approach to include community organizing and political advocacy, and $500,000 to the California Catholic Conference which has been forced to battle U.S. Department of Health and Human Services (HHS) mandates that would force Catholic institutions to purchase health insurance that covers abortion. This latter would be a positive development if it weren't for all the millions of dollars CCHD poured into California Alinskyian organizations to "advocate" for universal health care legislation regardless of any "reproductive justice" components.
Forty-four years ago, CCHD set its goal on restructuring the U.S. according to a progressive political vision. For forty-four years it has primarily funded groups that network with progressive Democrats and/or democrat socialists. For forty-four years they have burrowed inside of Catholic parishes, twisting Catholic social justice teaching to support compromising positions that advance a Culture of Death in a hundred, insidious ways. ..and by doing so, undermine pro-life efforts. For forty-four years they have shamelessly pushed aside any corrective reform efforts, expanding its Alinskyian networks into more cities and exporting the twisted theology of Alinskyian organizing into other countries.
So, no, the CCHD hasn't reformed, not even a little…and it doesn't intend to reform.
Photo by Gamaliel network

Photo by aflcio


This article, CCHD 2013-2014: Hasn't the Catholic Campaign for Human Development improved? Not even a little…? is a post from The Bellarmine Forum.
https://bellarmineforum.org/cchd-2013-2014-hasnt-the-catholic-campaign-for-human-development-improved-not-even-a-little/
Do not repost the entire article without written permission. Reasonable excerpts may be reposted so long as it is linked to this page.