MEDITATION.
The Advantages of Meditating on the Passion.
Look to Me, be ye saved, all the ends of the earth. (Isaias xlv. 22.)
1. The Passion of Jesus Christ is the shortest way to justifying grace. As Moses lifted up the serpent in the desert, and all who looked upon it with faith were saved, so was the Son of Man lifted up, that all who believe in Him with a faith that carries with it supernatural charity, moving them to true sorrow, may receive remission of their sins through faith in His Blood. (St. John iii. 14, 15; Romans iii. 23 — 26.) Do I thus look upon the crucifix with repentant love? If so, I may have all confidence that my sins are washed away by His Precious Blood.
2. The Passion of Christ is also the means of obtaining from God all that we want. It is an argument that He cannot withstand. If God gave us His own well-beloved Son, says St. Paul, He gave us all else in Him. "He that spared not His own Son, but delivered Him up for us all, hath He not with Him also freely given us all things?" (Rom. viii. 32.) Do I urge this all-powerful argument before the throne of God?
3. The Passion of Christ is also the surest means of kindling our love. We love Him because He first loved us, and showed His love by shedding for us the last drop of His Precious Blood. We see in His Sacred Passion what the forgiveness of our sins cost Him, and how much He has forgiven us. To whom much is forgiven, he loves much. We see how His love was so great that He suffered not for His friends alone, but for sinners, for those who neglected, outraged, and insulted Him, that He might win them to God. How can I fail to love Him, Who loved me and gave Himself for me?
---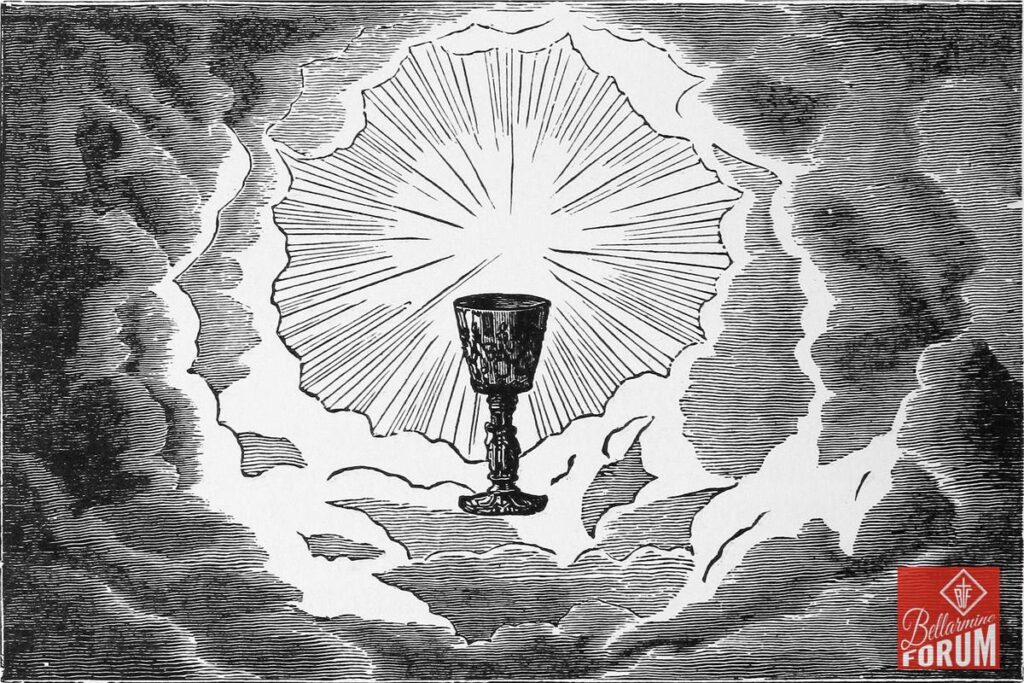 SPIRITUAL READING.
The Agony in the Garden.
From Discourses to Mixed Congregations, pp. 356—359, by Cardinal Newman.
There, then, in that most awful hour, knelt the Saviour of the world, putting off the defenses of His Divinity, dismissing His reluctant Angels, who in myriads were ready at His call, and opening His arms, baring His breast, sinless as He was, to the assault of His foe, — of a foe whose breath was a pestilence, and whose embrace was an agony. There He knelt, motionless and still, while the vile and horrible fiend clad His spirit in a robe steeped in all that is hateful and heinous in human crime, which clung close round His Heart, and filled His conscience, and found its way into every sense and pore of His mind, and spread over Him a moral leprosy, till He almost felt Himself that which He never could be, and which His foe would fain have made Him.
O the horror, when He looked, and did not know Himself, and felt as a foul and loathsome sinner, from His vivid perception of that mass of corruption which poured over his head and ran down even to the skirts of His garments! O the distraction, when He found His eyes, and hands, and feet, and lips, and heart, as if the members of the evil one, and not of God! Are these the hands of the immaculate Lamb of God, once innocent, but now red with ten thousand barbarous deeds of blood? are these His lips, not uttering prayer, and praise, and holy blessings, but denied with oaths, and blasphemies, and doctrines of devils? or His eyes, profaned as they are by all the evil visions and idolatrous fascinations for which men have abandoned their Adorable Creator? And His ears, they ring with sounds of revelry and of strife; and His heart is frozen with avarice, and cruelty, and unbelief; and His very memory is laden with every sin which has been committed since the Fall, in all regions of the earth, with the pride of the old giants, and the lusts of the five cities, and the obduracy of Egypt, and the ambition of Babel, and the unthankfulness and scorn of Israel.
O who does not know the misery of a haunting thought which comes again and again, in spite of rejection, to annoy, if it cannot seduce? or of some odious and sickening imagination, in no sense one's own, but forced upon the mind from without? or of evil knowledge, gained with or without a man's fault, but which he would give a great price to be rid of forever? And these gather around Thee, Blessed Lord, in millions now; they come in troops more numerous than the locust or the palmer-worm, or the plagues of hail and flies, and frogs, which were sent against Pharaoh. Of the living and of the dead and of the unborn, of the lost and of the saved, of Thy people and of strangers, of sinners and of Saints, all sins are there. Thy dearest are there, Thy Saints and Thy chosen are upon Thee; Thy three Apostles, Peter, James, and John, but not as comforters, but as accusers, like the friends of Job, "sprinkling dust towards heaven," and heaping curses on Thy head.
All are there but one; one only is not there, one only; for she had no part in sin, she only could console Thee, and therefore is not nigh. She will be near Thee on the Cross, she is separated from Thee in the garden. She has been Thy companion and then confidant through Thy life, she interchanged with Thee the pure thoughts and holy meditations of thirty years; but her virgin ear may not take in, nor may her immaculate heart conceive, what now is in vision before Thee. None was equal to the weight but God; sometimes before Thy Saints Thou hast brought the image of a single sin, as it appears in the light of Thy countenance, a venial sin, perhaps, and not a mortal; and they have told us that the sight did all but kill them, nay, would have killed them, had it not been instantly withdrawn.
The Mother of God, for all her sanctity, nay by reason of it, could not have borne one company of that innumerable progeny of Satan which compass Thee about. It is the long history of a world, and God alone can bear the load of it. Hopes blighted, vows broken, lights quenched, warnings scorned, opportunities lost; the innocent betrayed, the young hardened, the penitent relapsing, the just overcome, the aged failing; the sophistry of misbelief, the willfulness of passion, the tyranny of habit, the canker of remorse, the wasting of care, the anguish of shame, the pining of disappointment, the sickness of despair; such cruel, such pitiable spectacles, such heartrending, revolting, detestable, maddening scenes; nay, the haggard faces, the convulsed lips, the flushed cheek, the dark brow of the willing victims of rebellion, they are all before Him now; they are upon Him and in Him. They are with Him instead of that ineffable peace which has inhabited His soul since the moment of His conception. They are upon Him, they are all but His own; He cries to His Father as if He were the criminal, not the victim; His agony takes the form of guilt and compunction. He is doing penance, He is making confession, He is exercising contrition with a reality and a virtue infinitely greater than that of all Saints and penitents together; for He is the One Victim for us all, the sole Satisfaction, the real Penitent, all but the real sinner.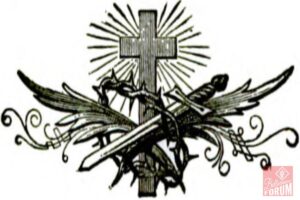 ---
« Previous Section
PALM SUNDAY
Next Section »
TUESDAY IN HOLY WEEK

This article, MONDAY IN HOLY WEEK is a post from The Bellarmine Forum.
https://bellarmineforum.org/devotional/holy-week/monday-in-holy-week/
Do not repost the entire article without written permission. Reasonable excerpts may be reposted so long as it is linked to this page.