Their Gifts: (2) Frankincense – Christmas Meditation Day 20 (Jan 13)
Their Gifts: (2) Frankincense
1.  The offering of frankincense to anyone has always been regarded by the common consent of mankind as an acknowledgment of inherent Deity.  When the Christians were commanded to throw a grain of incense on the altar of Jupiter or Minerva, it was in acknowledgment of their divinity.  The Magi, then, by this offering to Christ of incense, were the first Gentile witnesses to His Divinity.  They made thereby an implicit act of faith in His Godhead, and proved the honor they paid Him to be that highest honor that belongs to God alone. 
2.  Frankincense is, moreover, a symbol of all that is sweetest and most fragrant.  What so sweet to Jesus as the complete offering of ourselves to Him implied in the homage paid to Him as God! 
Jesus, my God, my all, I offer Thee my heart, my soul, my self!  
3.  Frankincense is the material symbol under which prayer is indicated in Holy Scripture.  The angel offers in the Apocalypse the prayers of the saints in a golden censer, and there comes up continually from earth the cloud of prayers as a cloud of incense.  Among them my prayers arise.  Are they such as will be fragrant and pleasing to God?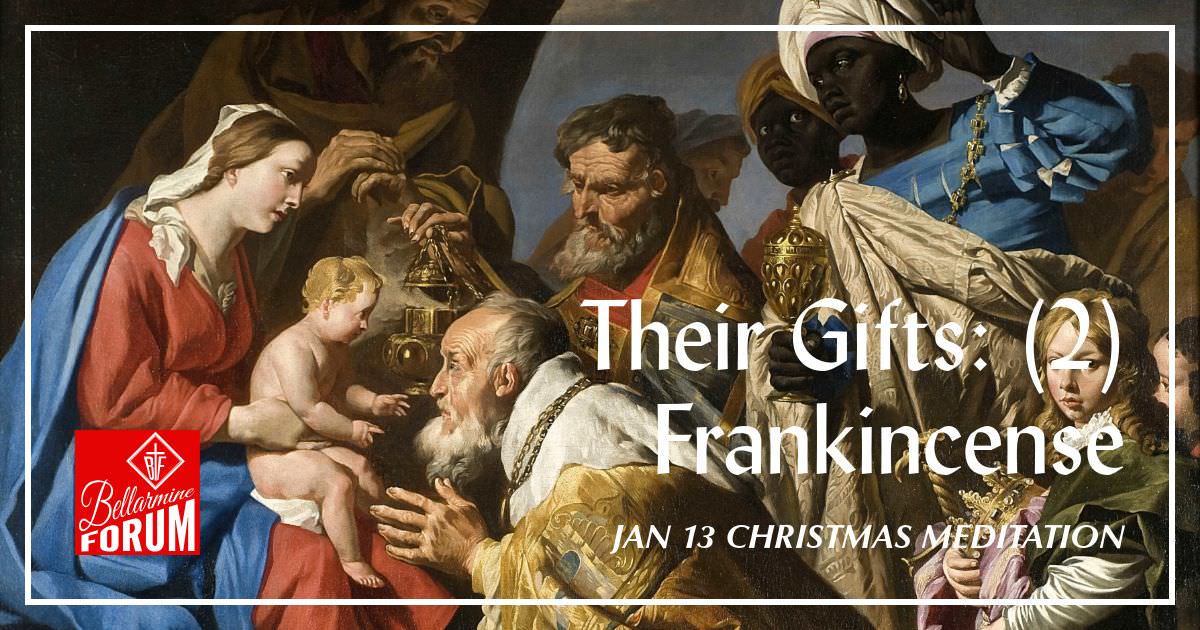 ---
« Previous Section
Their Gifts: (i) Gold – Christmas Meditation Day 19 (Jan 12)Next Section »
Their Gifts: (3) Myrrh – Christmas Meditation Day 21 (Jan 14)

This article, Their Gifts: (2) Frankincense – Christmas Meditation Day 20 (Jan 13) is a post from The Bellarmine Forum.
https://bellarmineforum.org/devotional/the-catholic-daily/christmastide-meditations/their-gifts-2-frankincense-christmas-meditation-day-20-jan-13/
Do not repost the entire article without written permission. Reasonable excerpts may be reposted so long as it is linked to this page.