Lent Day 21: Tuesday after the Third Sunday in Lent — St. Peter's Denial of Jesus.
St. Peter's Denial of Jesus.
Read St. Luke xxii. 55-62.
[55] And when they had kindled a fire in the midst of the hall, and were sitting about it, Peter was in the midst of them.

[56] Whom when a certain servant maid had seen sitting at the light, and had earnestly beheld him, she said: This man also was with him. [57] But he denied him, saying: Woman, I know him not. [58] And after a little while, another* seeing him, said: Thou also art one of them. But Peter said: O man, I am not. [59] And after the space, as it were of one hour, another certain man affirmed, saying: Of a truth, this man was also with him; for he is also a Galilean. [60] And Peter said: Man, I know not what thou sayest. And immediately, as he was yet speaking, the cock crew.

[61] And the Lord turning looked on Peter. And Peter remembered the word of the Lord, as he had said: Before the cock crow, thou shalt deny me thrice. [62] And Peter going out, wept bitterly.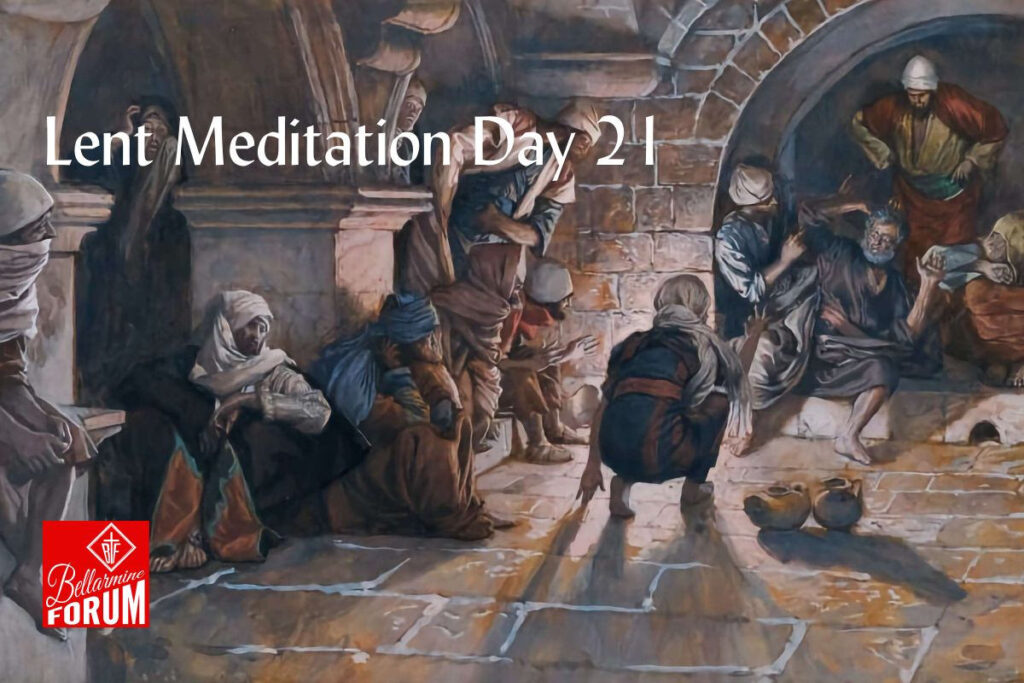 ---
1. What was the secret of Peter's miserable fall? He was brave and generous, and loved Our Lord dearly. Yet, through human respect and fear, he denied all knowledge of Him. The season why he fell was that he trusted in himself and his natural qualities instead of in God. In the spiritual warfare natural courage and generosity avail not. He who does not rely upon God alone is sure to fall. When dangers are imminent he loses heart, and then all goes wrong.
2. St. Peter had not yet learned that natural impulse as a motive of action is sure to lead man astray. It never avails before God. Its excellence, whatever it may be, only avails in the things of this world, and even there it is a dangerous and untrustworthy motive. In things divine it is the road to ruin. We must exercise anti-impulsive effort if we are to be safe. We must do more; we must turn our thoughts to God, and seek a divine impulse, an inspiration from Heaven, if we are to remain faithful and avoid frequent faults.
3. St. Peter had neglected prayer. Our Lord had expressly warned him to watch and pray, and he had allowed himself to sleep while Christ was suffering His sacred Agony. True, he was weary and his eyes were heavy, but still he could have made the attempt. It might have seemed an unsatisfactory prayer, yet it would have saved Peter from his fall. He might have used vocal prayers and repeated the same words like Our Lord did. Learn from this that mere struggle against heaviness is very pleasing to God.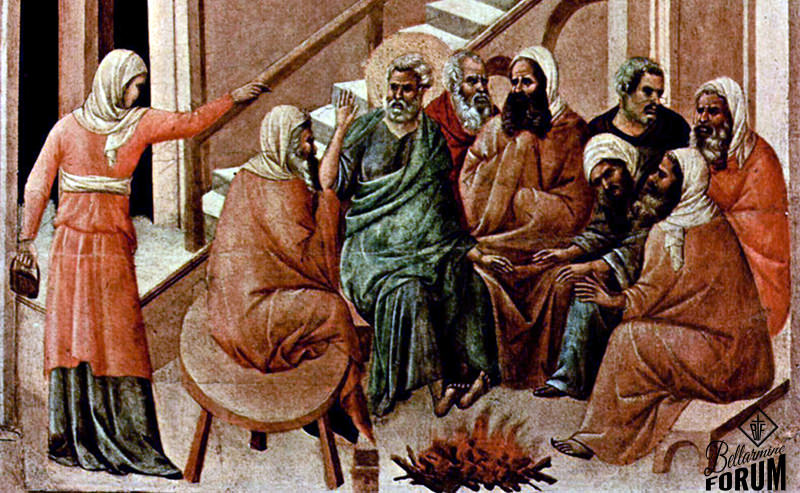 ---
Note from the biblical text. The Chandler note for verse 58: [58] Another: Observe here, in order to reconcile the four Evangelists, that diverse persons concurred in charging Peter with being Christ's disciple; till at length they brought him to deny him thrice. 1. The porteress that let him in, and afterwards seeing him at the fire, first put the question to him; and then positively affirmed that he was with Christ. 2. Another maid accused him to the standers by; and gave occasion to the man here mentioned to renew the charge against him, which caused the second denial. 3. Others of the company took notice of his being a Galilean; and were seconded by the kinsman of Malchus, who affirmed he had seen him in the garden. And this drew on the third denial.
---
« Previous Section
Lent Day 20: Monday after the Third Sunday in Lent — The Condemnation of Christ.
Next Section »
Lent Day 22: Wednesday after the Third Sunday in Lent— St. Peter's Repentance.

This article, Lent Day 21: Tuesday after the Third Sunday in Lent — St. Peter's Denial of Jesus. is a post from The Bellarmine Forum.
https://bellarmineforum.org/devotional/the-catholic-daily/lent-meditations-preface-information/lent-day-21-tuesday-third-sunday-lent-st-peters-denial-jesus/
Do not repost the entire article without written permission. Reasonable excerpts may be reposted so long as it is linked to this page.