Lent Day 22: Wednesday after the Third Sunday in Lent— St. Peter's Repentance.
St. Peter's Repentance.
Read St. Luke xxii. 55-62.
[55] And when they had kindled a fire in the midst of the hall, and were sitting about it, Peter was in the midst of them.

[56] Whom when a certain servant maid had seen sitting at the light, and had earnestly beheld him, she said: This man also was with him. [57] But he denied him, saying: Woman, I know him not. [58] And after a little while, another* seeing him, said: Thou also art one of them. But Peter said: O man, I am not. [59] And after the space, as it were of one hour, another certain man affirmed, saying: Of a truth, this man was also with him; for he is also a Galilean. [60] And Peter said: Man, I know not what thou sayest. And immediately, as he was yet speaking, the cock crew.

[61] And the Lord turning looked on Peter. And Peter remembered the word of the Lord, as he had said: Before the cock crow, thou shalt deny me thrice. [62] And Peter going out, wept bitterly.
---
1. St. Peter had thrice denied his Master, and the third time with oaths and curses. He was ashamed of Christ, afraid to own himself a servant of Christ, and all because of a woman's jeering tongue. As I look over my life, how many times there have been when I have been faithless as Peter was! I have not boldly spoken out as I ought. I have perhaps taken part in talk hateful to my Lord and Master. I have been ashamed to run counter to uncharitable or evil conversation, though I knew well enough that it was sinful.
2. After the third denial the cock crew, and at the same time Our Lord turned and looked on Peter. It was at the moment when He was being dragged from the tribunal to the servant's room, amid the jeers and mockery of the soldiers. All this time St. Peter had been present to His thoughts, amid all the outrages and insults; and not St. Peter alone, but all who. though not at heart disloyal, nevertheless fall through weakness into sin. Remember me, O Lord, when I am in danger of falling, and when Satan desires to have me that he may riddle me as wheat.
3. That look pierced the heart of St. Peter with a keen pang of shame and sorrow and repentance. How could he have been faithless to the Lord Whom he loved and for Whom he had joyfully given up all! At once he made his way out of the hall, and with tears of anguish begged for pardon. Those tears were not unmixed with the sweet consolation of knowing that he was forgiven, and with a firm resolution not to let this fall discourage him. Here is a model for me when I have sinned.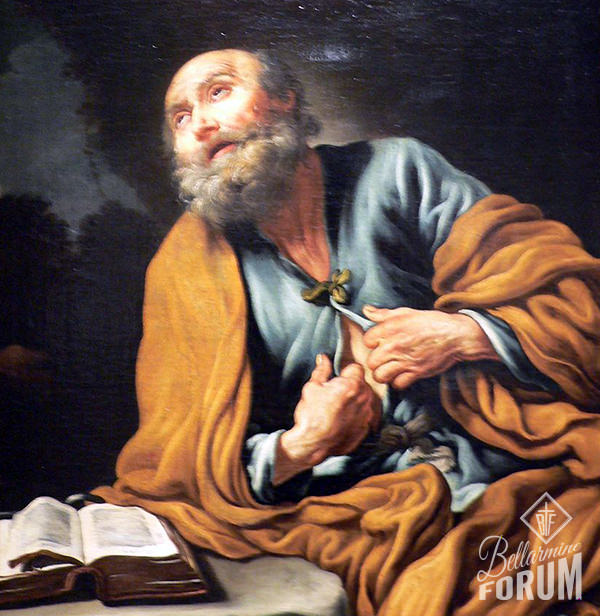 ---
Note from the biblical text. The Chandler note for verse 58: [58] Another: Observe here, in order to reconcile the four Evangelists, that diverse persons concurred in charging Peter with being Christ's disciple; till at length they brought him to deny him thrice. 1. The porteress that let him in, and afterwards seeing him at the fire, first put the question to him; and then positively affirmed that he was with Christ. 2. Another maid accused him to the standers by; and gave occasion to the man here mentioned to renew the charge against him, which caused the second denial. 3. Others of the company took notice of his being a Galilean; and were seconded by the kinsman of Malchus, who affirmed he had seen him in the garden. And this drew on the third denial.
---
« Previous Section
Lent Day 21: Tuesday after the Third Sunday in Lent — St. Peter's Denial of Jesus.
Next Section »
Lent Day 23: Thursday after the Third Sunday in Lent— Jesus in the Guard-room of Caiphas.

This article, Lent Day 22: Wednesday after the Third Sunday in Lent— St. Peter's Repentance. is a post from The Bellarmine Forum.
https://bellarmineforum.org/devotional/the-catholic-daily/lent-meditations-preface-information/lent-day-22-wednesday-third-sunday-lent-st-peters-repentance/
Do not repost the entire article without written permission. Reasonable excerpts may be reposted so long as it is linked to this page.