Lent Day 7: Tuesday after the First Sunday in Lent — The Institution of the Blessed Eucharist
Have you read the Preface yet? It has helpful hints and more information.
Read St. Luke xxii. 19, 20.
[19] And taking bread, he gave thanks, and brake; and gave to them, saying: This is my body, which is given for you. Do this in commemoration of me. [20] In like manner the chalice also, after he had supped, saying: This is the chalice, the new testament in my blood, which shall be shed for you.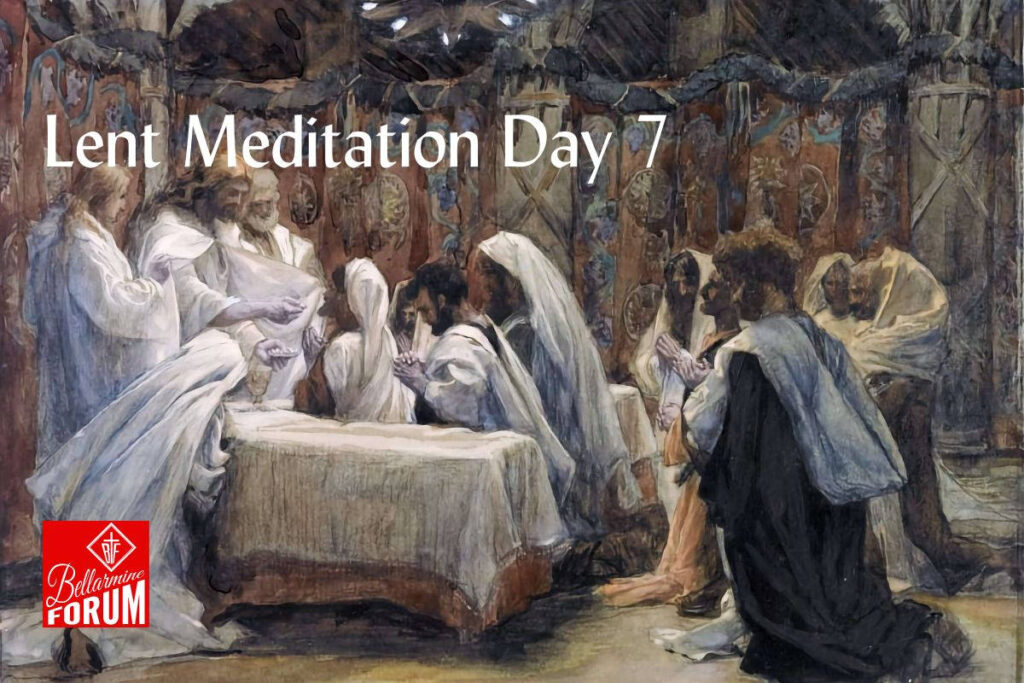 ---
1. St. Paul tells us with pointed emphasis that it was on the very night in which He was betrayed that Our Lord instituted the mystery of mysteries, the sacrament of His love. It was worthy of His divine generosity to choose the occasion when He was to be outraged, insulted, betrayed, scourged, and crucified, to invent this wondrous sacrament of love. To forgive is always generous, but what shall we say of the generosity of One who not only forgives the most horrible insults and cruelty, but chooses the very day on which He is to suffer them for giving to His enemies a gift compared with which all other gifts are small and insignificant — a gift, too, which is none other than Himself?
2. What is the primary end of the institution of the Blessed Eucharist? Our Lord Himself tells us in the words: "Do this in commemoration of Me." It is for the sake of putting us in mind of His sacred Passion that He gives Himself to us, that we, His brethren, for whom He died, may not forget Him. He loved us so dearly — He loves us still so dearly — that He cannot bear to be absent from our thoughts, and for this end He invented this means of representing His Passion to us as long as the world should last.
3. But the Blessed Eucharist is more than a commemoration of the sacrifice on the cross. It is the same sacrifice continued; the same Priest, the same Victim, only the manner of offering changed. Christ is still slain each time holy Mass is said; the oblation on the cross is an eternal oblation for the sins of the whole world.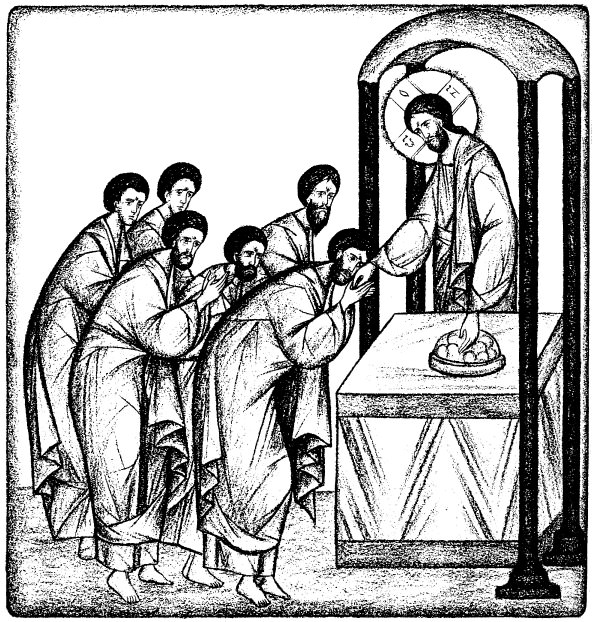 ---
« Previous Section
Lent Day 6: Monday after the First Sunday in Lent — The Washing of the Feet.
Next Section »
Lent Day 8: Wednesday after the First Sunday in Lent — The Farewell Discourse of Jesus.

This article, Lent Day 7: Tuesday after the First Sunday in Lent — The Institution of the Blessed Eucharist is a post from The Bellarmine Forum.
https://bellarmineforum.org/devotional/the-catholic-daily/lent-meditations-preface-information/lent-day-7-tuesday-first-sunday-lent-institution-blessed-eucharist/
Do not repost the entire article without written permission. Reasonable excerpts may be reposted so long as it is linked to this page.