Lent Day 6: Monday after the First Sunday in Lent — The Washing of the Feet.
There are helpful hints and information about these meditations in the Preface.
Read St. John xiii. 2-20.
[2] And when supper was done, (the devil having now put into the heart of Judas Iscariot, the son of Simon, to betray him,) [3] Knowing that the Father had given him all things into his hands, and that he came from God, and goeth to God; [4] He riseth from supper, and layeth aside his garments, and having taken a towel, girded himself. [5] After that, he putteth water into a basin, and began to wash the feet of the disciples, and to wipe them with the towel wherewith he was girded.

[6] He cometh therefore to Simon Peter. And Peter saith to him: Lord, dost thou wash my feet? [7] Jesus answered, and said to him: What I do thou knowest not now; but thou shalt know hereafter. [8] Peter saith to him: Thou shalt never wash my feet. Jesus answered him: If I wash thee not, thou shalt have no part with me. [9] Simon Peter saith to him: Lord, not only my feet, but also my hands and my head. [10] Jesus saith to him: He that is washed, needeth not but to wash his feet, but is clean wholly. And you are clean, but not all.

[11] For he knew who he was that would betray him; therefore he said: You are not all clean. [12] Then after he had washed their feet, and taken his garments, being set down again, he said to them: Know you what I have done to you? [13] You call me Master, and Lord; and you say well, for so I am. [14] If then I being your Lord and Master, have washed your feet; you also ought to wash one another' s feet. [15] For I have given you an example, that as I have done to you, so you do also.

[16] Amen, amen I say to you: The servant is not greater than his lord; neither is the apostle greater than he that sent him. [17] If you know these things, you shall be blessed if you do them. [18] I speak not of you all: I know whom I have chosen. But that the scripture may be fulfilled: He that eateth bread with me, shall lift up his heel against me. [19] At present I tell you, before it come to pass: that when it shall come to pass, you may believe that I am he. [20]Amen, amen I say to you, he that receiveth whomsoever I send, receiveth me; and he that receiveth me, receiveth him that sent me.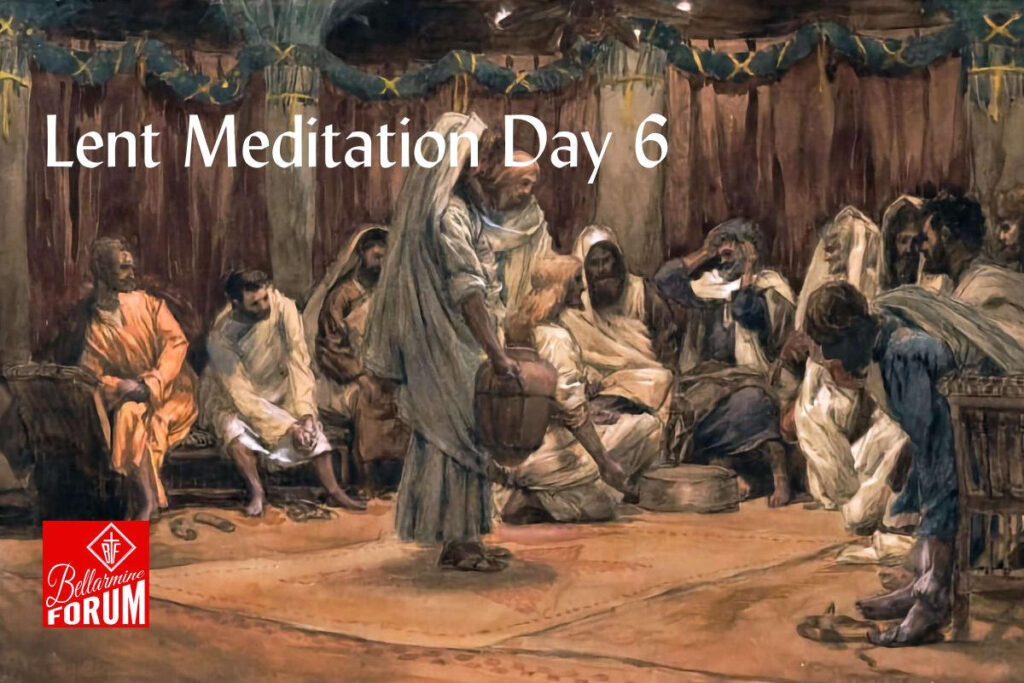 ---
1. When the paschal supper was finished, Our Lord rose from table, laid aside His upper garment, and girding Himself with a towel, He filled a basin with water and went from one to another of the apostles, washing with His sacred hands the feet of each. This act was intended to teach us the happiness of performing menial services for those around us. To wait on others, especially on our inferiors, for Christ's sake, is far more honorable than to be waited on by them; to make ourselves the servants of others is far more noble than to be served by them. Is this the principle on which I act?
2. In this act were combined the two virtues which are most prominent in Our Lord's life on earth — charity and humility. Charity takes a pleasure in everything that promotes the happiness or the comfort of our fellow-men because they are the brethren of Christ. Humility takes a pleasure in whatever puts us in an inferior position, in one to which no worldly honor or dignity attaches, but rather contempt and humiliation. How sadly wanting I am in these virtues! I dislike charity if it costs me anything, and I positively hate to be humbled, to be despised by men.
3. Yet Christ's words are true: the disciple is not greater than His Master. If our Divine Master was glorious in the sight of the angels as He stooped to wash the apostles' feet, our road to glory must be by stooping, by ministering in all humility to others. We never can be as great as our Master. We must take care lest our selfishness and pride place us in direct contrast with the Son of God.
---
« Previous Section
Lent Day 5: The First Sunday in Lent— Jesus's Desire for His Sufferings.
Next Section »
Lent Day 7: Tuesday after the First Sunday in Lent — The Institution of the Blessed Eucharist

This article, Lent Day 6: Monday after the First Sunday in Lent — The Washing of the Feet. is a post from The Bellarmine Forum.
https://bellarmineforum.org/devotional/the-catholic-daily/lent-meditations-preface-information/lent-day-6-monday-first-sunday-lent-washing-feet/
Do not repost the entire article without written permission. Reasonable excerpts may be reposted so long as it is linked to this page.