March 23d — St. Joseph, Father of Jesus.
23d Day.— St. Joseph, Father of Jesus.
We need not fear to apply this name to the holy foster-father of the Son of God, since it was given to him by Our Lady herself, when she said to Him in the Temple, "Thy father and I have sought Thee, sorrowing."
1.  He had the position of father of Jesus, and was recognized as such by the common consent.  He had all the rights and the authority of a father, so far as any could have over the Son of God.  His divine Foster-Son from His birth depended on him, as the child naturally depends upon his father.  He fulfilled the office of father.  God delegated to him the duties, the rights, the privileges of a father, and therefore the father of Jesus he is truly called.
2.  We may also piously believe that his divine Son was made like to him in outward form.  In the natural order of things, Jesus would not be made after the likeness of His holy Mother alone.  The Holy Spirit, in fashioning the features of the Son of God, would have taken St. Joseph as in some sort the model to be followed m form and face.  What must have been St. Joseph's beauty, sweetness of expression, symmetry of form, perfect purity of body and soul!  What a contrast to my unsightliness and impurity!
3.  When God calls a man by any name, He thereby ascribes to him whatever that name implies.  How often Jesus called St. Joseph by the endearing name of father!  By so doing, He showed that He was truly His father.  His words were no mere fiction.  O happy St. Joseph!  it is no wonder that thou hast such power in heaven!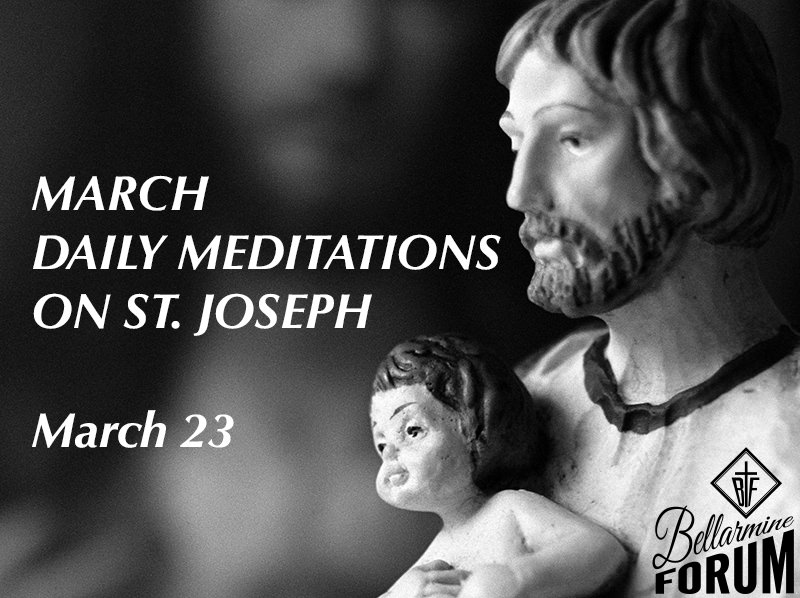 ---
« Previous Section
March 22d — St. Joseph as Head of the Holy Family.Next Section »
March 24th — St. Joseph's Inner Life.

This article, March 23d — St. Joseph, Father of Jesus. is a post from The Bellarmine Forum.
https://bellarmineforum.org/devotional/the-catholic-daily/march-month-st-joseph/march-23d-st-joseph-father-jesus/
Do not repost the entire article without written permission. Reasonable excerpts may be reposted so long as it is linked to this page.