10th Day — The Annunciation.
The Annunciation.
Fear not, Mary, for thou hast found grace with God. (St.  Luke i.  30.)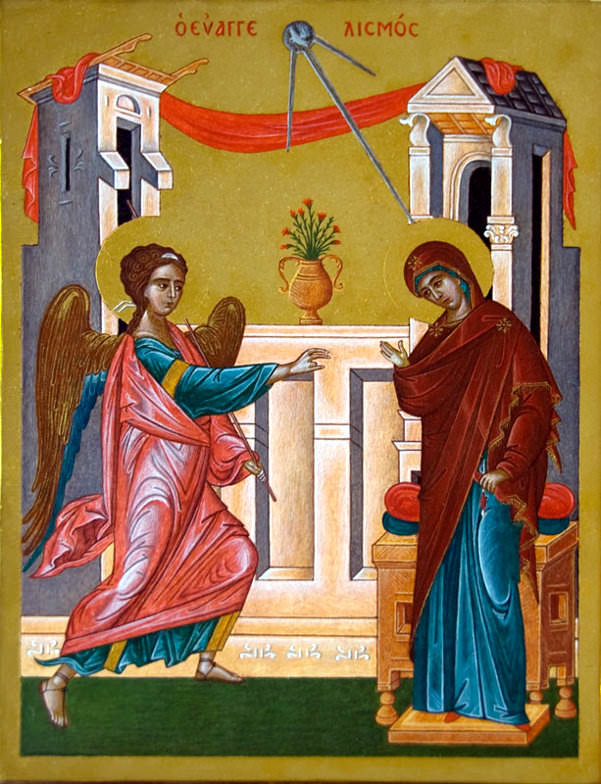 1.  Marys life as Joseph's Spouse was no less one of devotion and recollection and prayer than her life in the Temple.  In their little cottage her time was spent, when her household duties were done, in fervent prayer to God.  Thus she is said to have been occupied when the Archangel Gabriel appeared to her.  Mary's prayers and Mary's longing desires had moved the Heart of God to send a Redeemer for mankind!  Oh, omnipotent efficacy of earnest desire and persevering prayer!
2.  The message the Angel brought bewildered the chaste and humble maiden.  Her first thought was one of fear — fear lest the privilege announced to her should be purchased at the cost of her Immaculate virginity: she would not sacrifice this even to be Mother of the Messias: anything rather than forfeit that priceless jewel!
3.  But God, Who sent an angel to comfort Christ in His Passion, reassured Mary by the Angel's voice: Fear not, thou hast found grace with God: Because thou dost esteem thyself the most unworthy, God will exalt thee to a dignity which seems almost beyond the power of God to confer.  He will make thee the Mother of His Son.  Oh, wondrous dignity of true humilityI
Mary, it was thy lowliness
Well pleasing to the Lord, 
That made thee worthy to become
The Mother of the Word.
---
« Previous Section
9th Day — The Marriage of Mary.Next Section »
11th Day — The Incarnation.

This article, 10th Day — The Annunciation. is a post from The Bellarmine Forum.
https://bellarmineforum.org/devotional/the-catholic-daily/maria-magnificata-short-meditations-may-month-ladys-life/10th-day-annunciation/
Do not repost the entire article without written permission. Reasonable excerpts may be reposted so long as it is linked to this page.