10.— The Two Disciples on the Road to Emmaus.
The Two Disciples on the Road to Emmaus.
Read St. Luke xxiv.  13-16.
[13] And behold, two of them went, the same day, to a town which was sixty furlongs from Jerusalem, named Emmaus. [14] And they talked together of all these things which had happened. [15] And it came to pass, that while they talked and reasoned with themselves, Jesus himself also drawing near, went with them.

[16] But their eyes were held, that they should not know him.
---
1.  On the same day two of the disciples, in their sorrow and disappointment, set off together to Emmaus, a little village some eight miles distant from Jerusalem.  They did not act wisely in departing from the little community, and seeking thus to divert themselves from their sorrow.  If they had remained at home, they would soon have heard the confirmation, first by one and then by another, of the women's joyful tidings.  It is never well for one who is a member of any society, bound by religious ties, to act apart from the rest.  Common action and common life carries its own blessing with it.
2.  Yet their journey did not divert them from their sadness.  One thought, and one only, occupied their minds — they could not shake off the remembrance of the crushing disappointment they had suffered in the death and burial out of sight of Him whom they had hoped was to be the Redeemer of His people.  They could not think and talk of any subject but this as they mournfully walked along, side by side, to Emmaus.
3.  This sorrow of theirs, this longing regret, was so pleasing to Our Lord that He was drawn by it to come and walk with them and console them on the very morning of the Resurrection.  He sought the society of two ordinary disciples, and could not keep away from them, because they were thinking of Him.  He is so grateful to those who remember Him!  If we remember Him and love Him, He will be at our side though we know it not, ever ready to help and comfort us.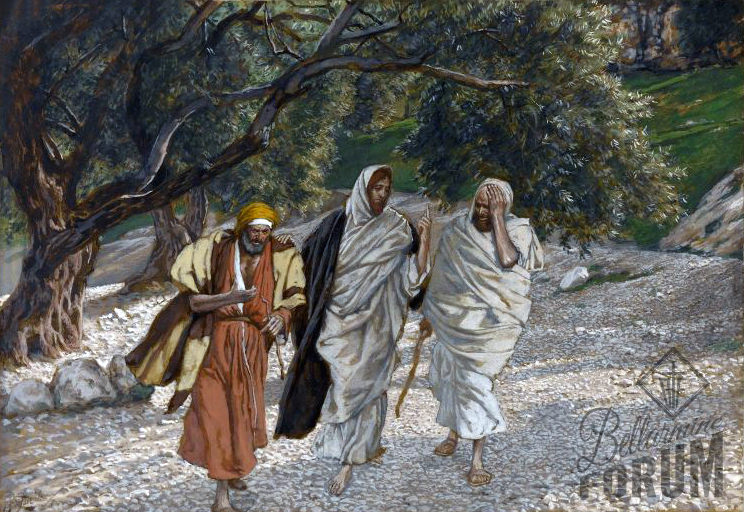 ---
« Previous Section
9.— The Appearance of Jesus to the Holy Women.Next Section »
11.— Jesus appears to the Two Disciples.

This article, 10.— The Two Disciples on the Road to Emmaus. is a post from The Bellarmine Forum.
https://bellarmineforum.org/devotional/the-catholic-daily/resurrection-ascension-jesus-christ/10-two-disciples-road-emmaus/
Do not repost the entire article without written permission. Reasonable excerpts may be reposted so long as it is linked to this page.