9.— The Appearance of Jesus to the Holy Women.
The Appearance of Jesus to the Holy Women.
Read St. Matt, xxviii.  8-10.
[8] And they went out quickly from the sepulchre with fear and great joy, running to tell his disciples. [9] And behold Jesus met them, saying: All hail. But they came up and took hold of his feet, and adored him. [10] Then Jesus said to them: Fear not. Go, tell my brethren that they go into Galilee, there they shall see me.
---
1.  After the holy women had delivered their message at the guest-chamber, they returned once more to the tomb, and saw once more the vision of angels.  As they returned they saw another sight, which made them forget the angels and the splendor that had filled the empty tomb.  Jesus Himself stood before them in His Divine beauty, with words of welcome.  What unspeakable joy must have filled their souls — a joy which was an anticipation of the joy which will fill each faithful soul at the judgment, when Jesus welcomes it with the words "Well done, good and faithful servant."
2.  With a simultaneous instinct they fell upon the ground and adored with supreme adoration His glorified Humanity.  They took hold of His sacred feet lest He should depart from them.  He was to them no longer the prophet sent from God to ransom man.  Now He was God Himself— God made man, and they feared lest He should return to heaven and they should see Him no more.  So we should learn to value the presence of Jesus in the Blessed Sacrament and after holy Communion.  He is closer to us than to these holy women.  Why do we not cling more to Him lest He leave us?
3.  Jesus consoles their fears. "Fear not: I am not going to depart.  You shall meet Me again in Galilee with the assembled disciples.  Go tell them from Me to go thither; there they shall see Me."  What a privilege thus to be the messengers of Jesus!  We, too, can be His messengers, His apostles to others, by carrying His messages of love and consolation to those in distress and misery.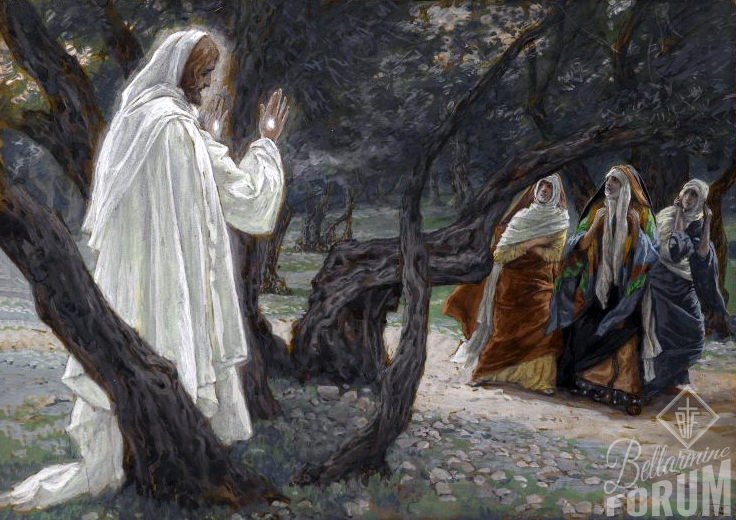 ---
« Previous Section
7. — How Jesus appeared to St. Mary Magdalen.Next Section »
10.— The Two Disciples on the Road to Emmaus.

This article, 9.— The Appearance of Jesus to the Holy Women. is a post from The Bellarmine Forum.
https://bellarmineforum.org/devotional/the-catholic-daily/resurrection-ascension-jesus-christ/9-appearance-jesus-holy-women/
Do not repost the entire article without written permission. Reasonable excerpts may be reposted so long as it is linked to this page.