7. — How Jesus appeared to St. Mary Magdalen.
How Jesus appeared to St. Mary Magdalen.
Read St. John xx.  11-17.
[11] But Mary stood at the sepulchre without, weeping. Now as she was weeping, she stooped down, and looked into the sepulchre, [12] And she saw two angels in white, sitting, one at the head, and one at the feet, where the body of Jesus had been laid. [13] They say to her: Woman, why weepest thou? She saith to them: Because they have taken away my Lord; and I know not where they have laid him. [14] When she had thus said, she turned herself back, and saw Jesus standing; and she knew not that it was Jesus. [15] Jesus saith to her: Woman, why weepest thou? whom seekest thou? She, thinking it was the gardener, saith to him: Sir, if thou hast taken him hence, tell me where thou hast laid him, and I will take him away.

[16] Jesus saith to her: Mary. She turning, saith to him: Rabboni (which is to say, Master). [17] Jesus saith to her: Do not touch me, for I am not yet ascended to my Father. But go to my brethren, and say to them: I ascend to my Father and to your Father, to my God and your God.
---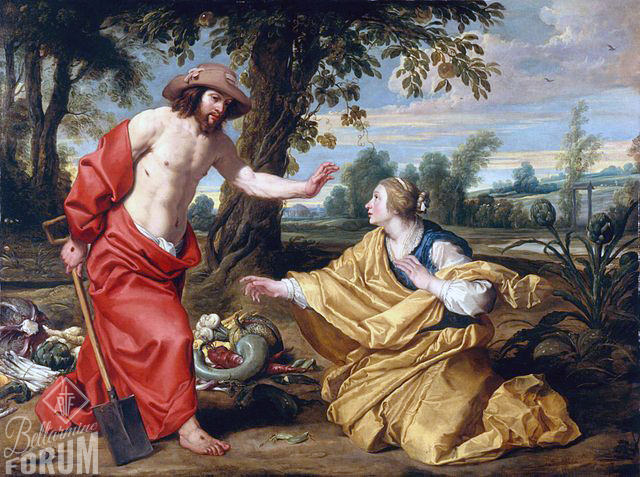 1.  While Mary knelt and wept she suddenly heard a sound behind her, and turning round she saw One standing there whom in her grief and amid her blinding tears she did not recognize.  She thought Him to be the gardener of Joseph of Arimathea.  So to all His servants Christ sometimes appears under strange forms.  The poor old man who asks an alms, the orphan in distress, perhaps the churlish neighbor or trying companion who taxes our patience, are really representatives of Christ, though under strange forms.
2.  But when Jesus speaks, when He calls her by her name, then at once she recognizes Him.  It is the instinct of love recognizing the voice of the Beloved.  One of the tests of love to Jesus is that we at once perceive when it is He that speaks.  The ears of those who love Him not can scarcely discern between His voice and the sound of their own natural affections and desires: they have so often refused to listen, that they cease to hear.  But His sheep know His voice, and those who love Him best are the quickest to catch every whisper of His grace.
3.  Jesus calls her by her name — Mary.  In Holy Scripture when God calls any by their name it means that they are to become what the name implies, and that God will give them the grace to do so.  Abraham, Israel, Peter, the Holy Name itself, were such names.  So Mary means that she who bears the name shares in the grace of her who was full of grace.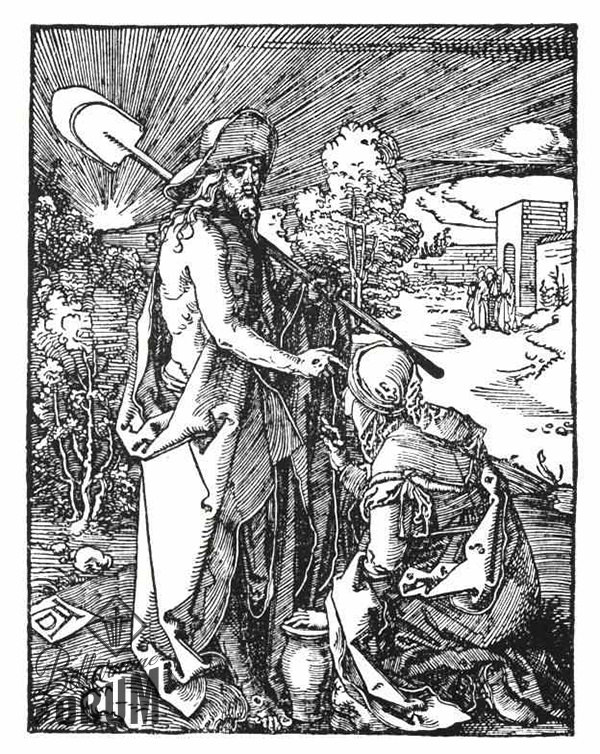 ---
« Previous Section
6.— Why Jesus appeared first to St. Mary Magdalen.Next Section »
9.— The Appearance of Jesus to the Holy Women.

This article, 7. — How Jesus appeared to St. Mary Magdalen. is a post from The Bellarmine Forum.
https://bellarmineforum.org/devotional/the-catholic-daily/resurrection-ascension-jesus-christ/7-jesus-appeared-st-mary-magdalen/
Do not repost the entire article without written permission. Reasonable excerpts may be reposted so long as it is linked to this page.