2.— The Appearance of Jesus to His Holy Mother.
The Appearance of Jesus to His Holy Mother.
Read 1 St. John iv.  15-19.
 [15] Whosoever shall confess that Jesus is the Son of God, God abideth in him, and he in God.

[16] And we have known, and have believed the charity, which God hath to us. God is charity: and he that abideth in charity, abideth in God, and God in him. [17] In this is the charity of God perfected with us, that we may have confidence in the day of judgment: because as he is, we also are in this world. [18] Fear is not in charity: but perfect charity casteth out fear, because fear hath pain. And he that feareth, is not perfected in charity. [19] Let us therefore love God, because God first hath loved us.
---
1.  Our Lord's first visit was to His Holy Mother.  It is not mentioned in Holy Scripture, because it stands to reason that He should first minister comfort to her who had before all else shared His sufferings.  It would have been something quite unnatural if He had passed her over and given joy to some other heart before hers.  Was He not united to her by a closer tie than any, save that alone of the Hypostatic Union?  and had not her heart alone always beat in unison with His?  The instinct of every Catholic echoes the saying of Ignatius that those indeed must be without understanding who suppose that on Easter morn any creature could be preferred to her.
2.  How shall we paint the happiness of that meeting?  For Mary, it was Paradise begun.  That one moment was more than enough to make her forget all her sorrows.  As each pang of His sacred suffering had echoed in her heart, so much more each pulsation of joy, each note of triumph.  From that day forth, the remembrance of that meeting was ever present to her, lighting up all the rest of her life with a boundless joy.
3.  What earned that happiness for Mary?  Her perfect obedience.  There was none who imitated the obedience of Jesus as Mary; and therefore the joy of Jesus, in His triumph, flowed unchecked into her Immaculate Heart.  It is my disobedience to grace which makes me gloomy and downcast.  If I am obedient, I too shall be full of peace and joy.
---
Note to verse [18] Fear is not in charity: Perfect charity, or love, banisheth human fear, that is, the fear of men; as also all perplexing fear, which makes men mistrust or despair of God's mercy; and that kind of servile fear, which makes them fear the punishment of sin more than the offense offered to God. But it no way excludes the wholesome fear of God's judgments, so often recommended in holy writ; nor that fear and trembling, with which we are told to work out our salvation. Phil. 2. 12.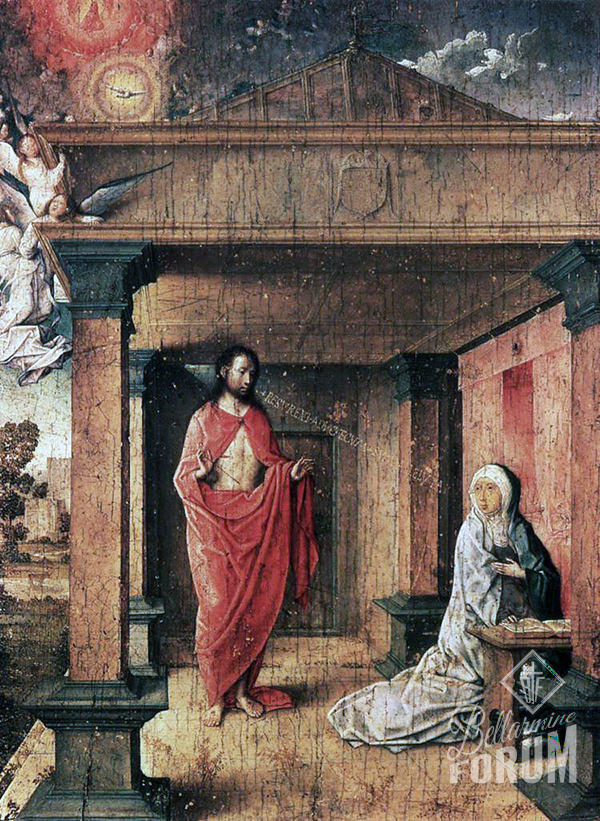 ---
« Previous Section
1. — The Resurrection.Next Section »
3.— The Holy Women on Their Way to the Sepulchre.

This article, 2.— The Appearance of Jesus to His Holy Mother. is a post from The Bellarmine Forum.
https://bellarmineforum.org/devotional/the-catholic-daily/resurrection-ascension-jesus-christ/2-appearance-jesus-holy-mother/
Do not repost the entire article without written permission. Reasonable excerpts may be reposted so long as it is linked to this page.