23. — The Second Appearance of Jesus to the assembled Apostles.
The Second Appearance of Jesus to the assembled Apostles.
Read St. John xx.  24-29.
[24] Now Thomas, one of the twelve, who is called Didymus, was not with them when Jesus came. [25] The other disciples therefore said to him: We have seen the Lord. But he said to them: Except I shall see in his hands the print of the nails, and put my finger into the place of the nails, and put my hand into his side, I will not believe.

[26] And after eight days again his disciples were within, and Thomas with them. Jesus cometh, the doors being shut, and stood in the midst, and said: Peace be to you. [27] Then he saith to Thomas: Put in thy finger hither, and see my hands; and bring hither thy hand, and put it into my side; and be not faithless, but believing. [28] Thomas answered, and said to him: My Lord, and my God. [29] Jesus saith to him: Because thou hast seen me, Thomas, thou hast believed: blessed are they that have not seen, and have believed.
---
1.  One of the apostles, St. Thomas, had been absent when Jesus first appeared to them.  When the rest announced the visit of their Master, Thomas would not believe them: he stood out against their consentient voice, and declared that he would remain incredulous till he had actually put his finger into the sacred wounds of Our Lord's hands and feet, and thrust his hand into His side.  Men fancy that in early days the followers of Christ were ready to accept every marvel without question, but what modern skeptic could be more skeptical than Thomas?  He had heard the ancient prophecies, the repeated predictions of Our Lord, the united testimony of the apostles, yet he would not believe.  Pray for a loyal readiness to believe.
2.  Our Lord had waited eight days before again visiting His apostles.  He was preparing them for His final departure from them — training them to remember Him whom they saw not; to love Him none the less because He was absent from them.  This is always a great mark of affection — to bear in mind a friend in his absence.  Do I thus remember Him from one Communion to another, the one preparing for the other, and its sweet memory lasting on in my heart?
3.  When Our Lord had greeted His apostles He called St. Thomas to Him and told him to touch His hands and feet and side, and thus learn to believe.  What wonderful condescension!  God does not generally let men dictate their conditions of belief.  But Jesus, though now triumphant, is still full of compassion, meek and gentle of heart, patient, forbearing, and forgiving.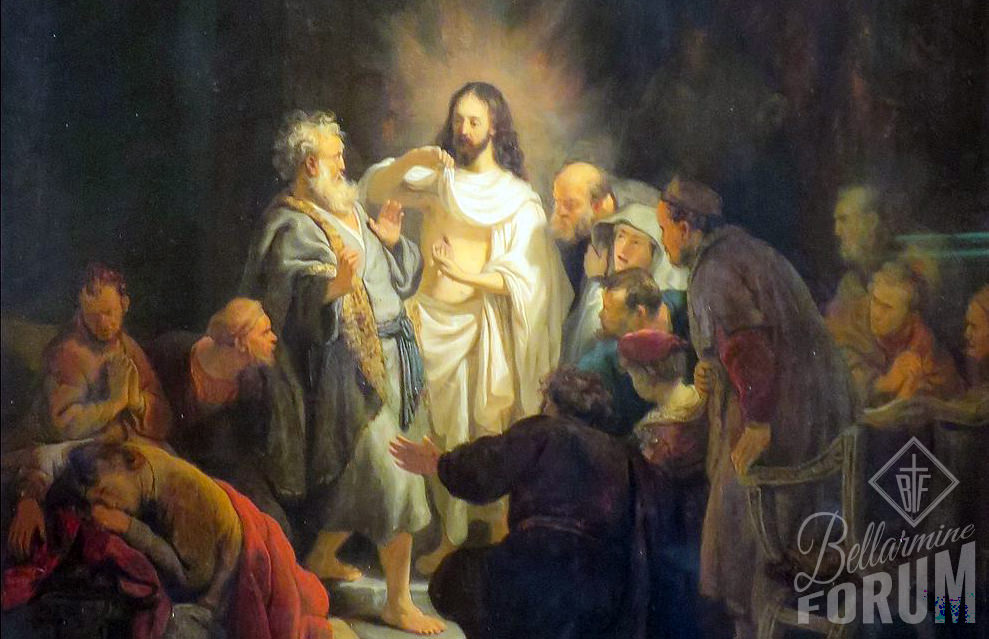 ---
« Previous Section
22. — The Powers bestowed on the Apostles.Next Section »
24.— St. Thomas's Profession of Faith.

This article, 23. — The Second Appearance of Jesus to the assembled Apostles. is a post from The Bellarmine Forum.
https://bellarmineforum.org/devotional/the-catholic-daily/resurrection-ascension-jesus-christ/23-second-appearance-jesus-assembled-apostles/
Do not repost the entire article without written permission. Reasonable excerpts may be reposted so long as it is linked to this page.