24.— St. Thomas's Profession of Faith.
St.  Thomas's Profession of Faith.
Read St. John xx.  28-30.
[28] Thomas answered, and said to him: My Lord, and my God. [29] Jesus saith to him: Because thou hast seen me, Thomas, thou hast believed: blessed are they that have not seen, and have believed. [30] Many other signs also did Jesus in the sight of his disciples, which are not written in this book.
---
1.  When St. Thomas heard the voice of Jesus and saw Him with his eyes he needed no further confirmation of his faith.  Humbly he falls upon his knees and acknowledges the Divine Visitor to be indeed his Lord and his God!  What a grace the presence of Jesus brings with it.  All the obstinacy and incredulity of St. Thomas vanishes at once under that holy influence.  So, too, in holy Communion Jesus often gives the same grace.  Difficulties and obstacles to our advance in virtue fade away, and, what is more, our own skepticism and hardness melt under His sacred presence.
2. "My Lord and my God!"  In these words there is a very clear testimony to the Divinity of Jesus Christ.  It is an expression we should often repeat to Him.  Before the Blessed Sacrament we should cry again and again, "My Lord and my God!"  If doubts against faith trouble us, we should repeat these words with all the energy we can command.  Above all, when we receive holy Communion we should cry out to our Divine Guest, "My God and my Lord!"
3.  Our Lord's answer to St. Thomas's act of faith was to remind him that there was a far higher faith than his.  St. Thomas's faith was of that lower kind that will only believe when the senses bear witness to some invisible power of God working in the visible world; but the higher and nobler faith believes in the testimony of God, and despises the evidence of sense.  Pray that you may have a lively faith in things you see not: and that you may not be slow to believe.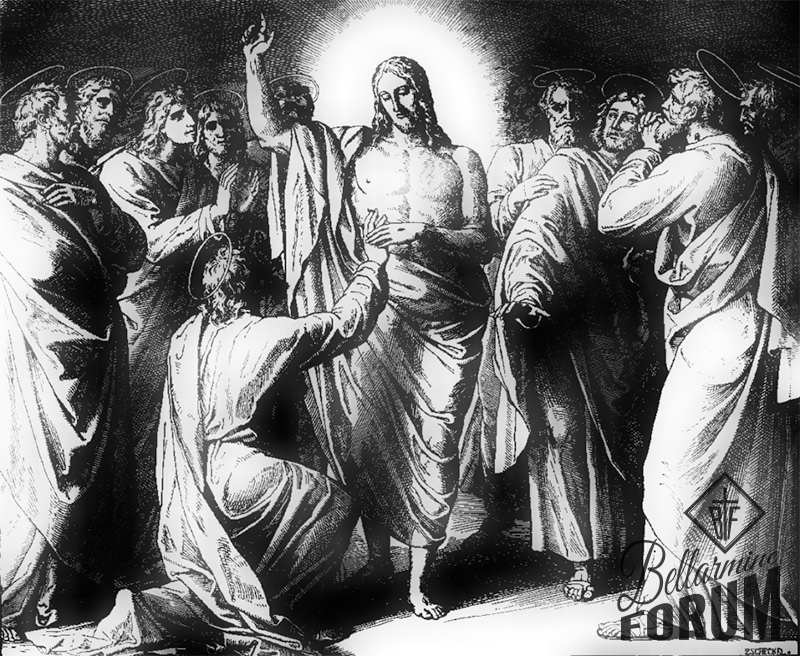 ---
« Previous Section
23. — The Second Appearance of Jesus to the assembled Apostles.Next Section »
9th Day — The Marriage of Mary.

This article, 24.— St. Thomas's Profession of Faith. is a post from The Bellarmine Forum.
https://bellarmineforum.org/devotional/the-catholic-daily/resurrection-ascension-jesus-christ/24-st-thomass-profession-faith/
Do not repost the entire article without written permission. Reasonable excerpts may be reposted so long as it is linked to this page.