25. — The Fishing of the Apostles.
The Fishing of the Apostles.
Read St. John xxi.  1-4.
[1] After this, Jesus shewed himself again to the disciples at the sea of Tiberias. And he shewed himself after this manner. [2] There were together Simon Peter, and Thomas, who is called Didymus, and Nathanael, who was of Cana of Galilee, and the sons of Zebedee, and two others of his disciples. [3] Simon Peter saith to them: I go a fishing. They say to him: We also come with thee. And they went forth, and entered into the ship: and that night they caught nothing. [4] But when the morning was come, Jesus stood on the shore: yet the disciples knew not that it was Jesus.
---
1.  After the second appearance to the apostles, Our Lord did not for some time again manifest Himself to them.  During this interval they did not remain idle.  Under Peter's guidance, they go up to the Lake of Tiberias, and once more fetch out their nets and set out to fish in the lake.  After all their gifts and privileges, the supernatural powers entrusted to them, the places of dignity assigned them in the Church, they did not regard it as beneath them to undertake once more their humble craft.  This is a great sign of grace — when high dignity does not lead a man to think great things of himself, but rather to love a humble occupation.
2.  St. Peter naturally takes the lead.  His fall has left no trace of discouragement: he does not allow it to palsy his actions; there is no morbid deprecation and reproach of self, now he has learnt not to think about self, but about what Christ would wish him to do.  The other apostles, too, follow him with simple and docile readiness.  His denial of Christ has left no trace upon their minds.  This is what pleases God — that the sinner, when once he has made a good act of contrition, should behave as if he had never fallen.  When he does this, God takes away from the minds of others the remembrance of his fall.
3.  All night long the apostles take nothing.  Long ago Our Lord had promised them that henceforth they should be fishers of men; and their long disappointment in their craft seemed to foreshadow that they must expect many such disappointments in seeking to bring into the net of Christ the souls of men.  We, too, must expect often to fail; we must not give up when we seem to labor in vain.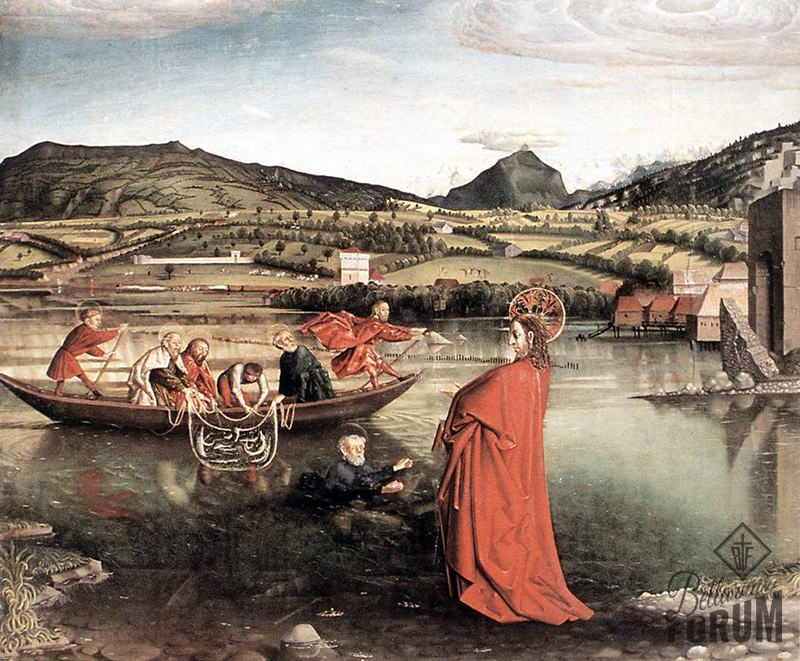 ---
« Previous Section
12th Day — The Visitation.Next Section »
13th Day — Mary's time of Expectancy.

This article, 25. — The Fishing of the Apostles. is a post from The Bellarmine Forum.
https://bellarmineforum.org/devotional/the-catholic-daily/resurrection-ascension-jesus-christ/25-fishing-apostles/
Do not repost the entire article without written permission. Reasonable excerpts may be reposted so long as it is linked to this page.