36 — The Foundations of the Church.
The Foundations of the Church.
Read St. Luke xxiv.  44-46.
[44] And he said to them: These are the words which I spoke to you, while I was yet with you, that all things must needs be fulfilled, which are written in the law of Moses, and in the prophets, and in the psalms, concerning me. [45] Then he opened their understanding, that they might understand the scriptures.

[46] And he said to them: Thus it is written, and thus it behoved Christ to suffer, and to rise again from the dead, the third day:
---
1.  During the forty days that elapsed between the Resurrection and the Ascension, Our Lord visited the apostles from time to time, and sketched out the foundations of the future Church, or, as St. Luke says (Acts i. 3), spoke to them of the Kingdom of God.  How much there must have been for them to learn— the Doctrine of Infallibility, the whole Sacramental system, the Doctrine of the Blessed Trinity and the Incarnation, the position of Our Lady in the Church, of the grace of God, and the mysteries of the future resurrection, etc.  How happy to have such a Teacher!  He is still ready to teach every faithful soul, and to dispel its darkness respecting the mysteries of the Faith.
2.  We also read that He opened their understanding, that they might understand the Scriptures.  Before this, they had read the prophecies, the psalms, all that told of the Christ to come; but the words had made no impression.  Even to the last, they had not recognized in His life and death the fulfillment of what had been predicted of the Messias.  Yet they were good men, docile, believing in Him.  How earnestly, then, we should beg for light when we read the Word of God!  How strange are the delusions of the Bible-readers outside of the Church, who fancy that they understand what they read!
3.  The eleven apostles were to be the foundations of the Church; they are represented as such in the Apocalypse.  They were all founded in Christ, and the Church was founded in Him; they were the witnesses to the whole world, of the truth of Christianity.  With what confidence we can rest upon the solid foundation which Christ Himself laid before He ascended to heaven!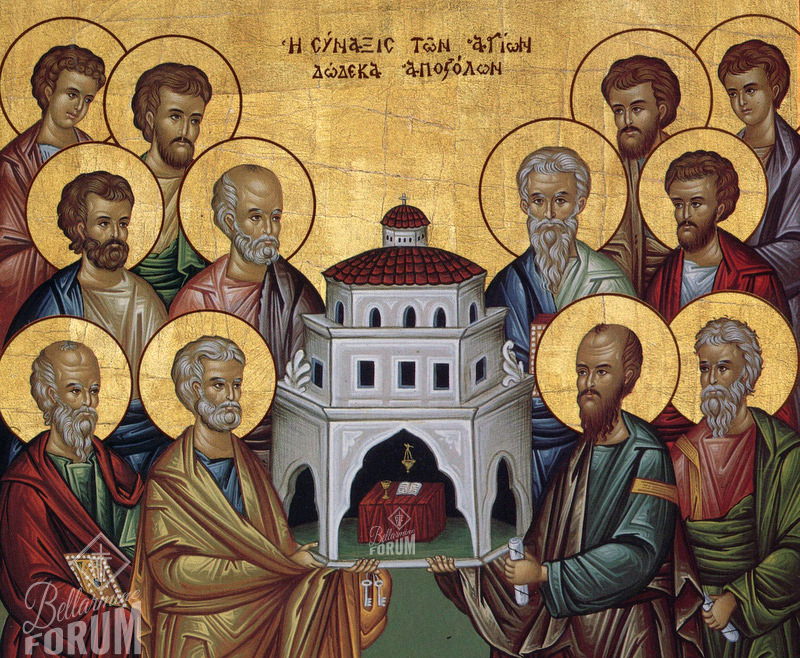 ---
« Previous Section
35 — The Promise to the Apostles.Next Section »
37 —The Parting Advice.

This article, 36 — The Foundations of the Church. is a post from The Bellarmine Forum.
https://bellarmineforum.org/devotional/the-catholic-daily/resurrection-ascension-jesus-christ/36-foundations-church/
Do not repost the entire article without written permission. Reasonable excerpts may be reposted so long as it is linked to this page.