40 — The Return to Jerusalem.
The Return to Jerusalem.
Read St. Luke xxiv.  52, 53; Acts i.  10-12.
[52] And they adoring went back into Jerusalem with great joy. [53] And they were always in the temple, praising and blessing God. Amen.

[10] And while they were beholding him going up to heaven, behold two men stood by them in white garments.

[11] Who also said: Ye men of Galilee, why stand you looking up to heaven? This Jesus who is taken up from you into heaven, shall so come, as you have seen him going into heaven. [12] Then they returned to Jerusalem from the mount that is called Olivet, which is nigh Jerusalem, within a sabbath day' s journey.
---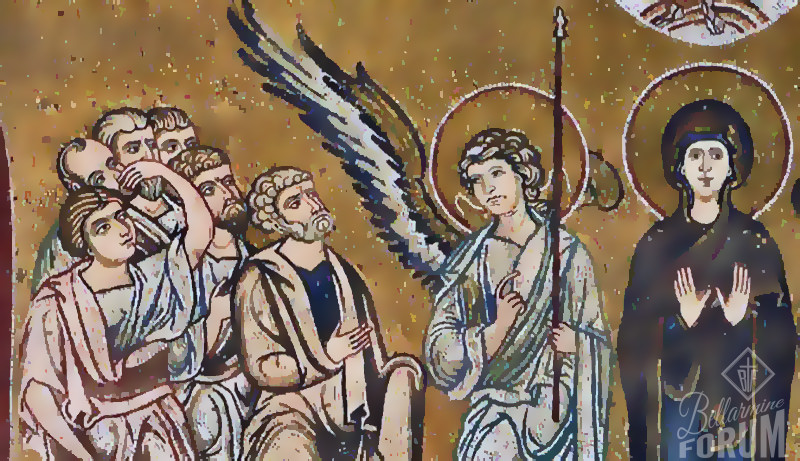 1.  The apostles remain long gazing into heaven.  At length they are roused from their trance by two angels, who ask them why they stand looking up into heaven, and tell them that one day Jesus will so come again as they have seen Him go into heaven.  The angels speak almost as if it would be but a few months or years before He would return; so the apostles themselves and the saints of God seem to anticipate His speedy coming.  The happy day will not be long delayed, and we know not how near it may be.  If our hearts are in heaven we shall be watching and waiting to welcome Jesus when He returns in His glory.
2.  Slowly, and like men awaking out of a dream, but with the sweet remembrance still living in their hearts, they return to Jerusalem with great joy.  How could they rejoice when their Master had departed?  They did not think of themselves, but of Him.  They rejoiced in His exaltation and glory.  Their joy was the best and truest and brightest joy — the unselfish joy in the joy of their Lord and Master.
3.  When they returned to Jerusalem they were always in the Temple, praising and blessing God.  This is what Our Lord loves — that we should show our joy by thanking Him in that place where He is specially present.  In all times of joy, what can I do better than go and kneel before the altar, to thank Him for all His love and goodness to me?
---
« Previous Section
39 — The Ascension.Next Section »
The Sacred Heart of Jesus – Short Meditations for June.

This article, 40 — The Return to Jerusalem. is a post from The Bellarmine Forum.
https://bellarmineforum.org/devotional/the-catholic-daily/resurrection-ascension-jesus-christ/40-return-jerusalem/
Do not repost the entire article without written permission. Reasonable excerpts may be reposted so long as it is linked to this page.