5.— The Appearance of Jesus to St. Mary Magdalen.
The Appearance of Jesus to St. Mary Magdalen.
Read St.  Mark xvi.  9-12.
[9] But he rising early the first day of the week, appeared first to Mary Magdalen, out of whom he had cast seven devils. [10] She went and told them that had been with him, who were mourning and weeping.

[11] And they hearing that he was alive, and had been seen by her, did not believe. [12] And after that he appeared in another shape to two of them walking, as they were going into the country.
---
1.  Of all the sinful children of men, Our Lord chose out St. Mary Magdalen for the special privilege of being the first to whom He should appear after His resurrection.  What earned for her this privilege?  It was one thing, and one only: it was her single-minded fidelity to Jesus Christ.  This it is that He values; this it is that draws Him near to the faithful soul.
2.  Had she always been faithful?  No; in the past she had been a great sinner, given up to pride, luxury, impurity, so that it was literally true that seven devils had dwelt within her.  But Jesus had called her, and she had listened to His voice; and speedily the seven devils were cast out, never more to return; and the place where they had dwelt was now occupied by the love of Jesus.  O happy change!  For me, too, sinner as I am, Jesus is ready to do the like.
3.  But did He not shrink from such a sinner?  Oh, no!  He is the friend of sinners; their very sins draw Him to them; and the memory of all that He has done to save them from their misery is a link that binds Him to them in the bonds of close affection.  What wonderful, what astonishing, mercy is this that Jesus shows to us poor sinners!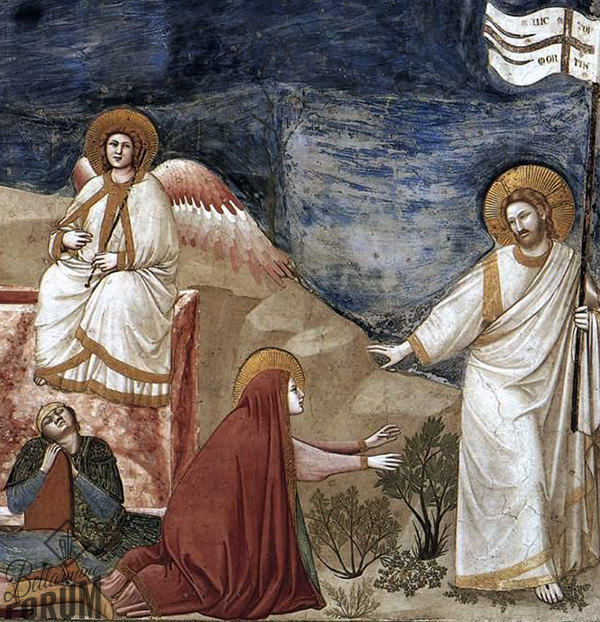 ---
« Previous Section
4.-— The Holy Women at the Sepulchre.Next Section »
6.— Why Jesus appeared first to St. Mary Magdalen.

This article, 5.— The Appearance of Jesus to St. Mary Magdalen. is a post from The Bellarmine Forum.
https://bellarmineforum.org/devotional/the-catholic-daily/resurrection-ascension-jesus-christ/5-appearance-jesus-st-mary-magdalen/
Do not repost the entire article without written permission. Reasonable excerpts may be reposted so long as it is linked to this page.