4.-— The Holy Women at the Sepulchre.
The Holy Women at the Sepulchre.
Read St.  Mark xvi.  4-7.
[4] And looking, they saw the stone rolled back. For it was very great. [5] And entering into the sepulchre, they saw a young man sitting on the right side, clothed with a white robe: and they were astonished.

[6] Who saith to them: Be not affrighted; you seek Jesus of Nazareth, who was crucified: he is risen, he is not here, behold the place where they laid him. [7] But go, tell his disciples and Peter that he goeth before you into Galilee; there you shall see him, as he told you.
---
1.  What must have been the joy of the holy women when they found that God had granted the desires of their heart, and rolled the huge stone away!  It was one of those joyful surprises by which God delights to encourage faithful hearts.  Just when all seems hopeless, He steps in, and every difficulty vanishes.  If this is not my experience, it ought to be; and the only reason why it is not, is because I have been distrustful and despondent.  Courage, faint heart!  He is waiting to help thee.
2.  But when they entered the tomb, what a surprise!  Instead of the dead Body of Jesus, they found an angel, clothed in white, sitting at the right side of the tomb.  They were utterly astonished.  They had never understood the meaning of Our Lord's promise that He would rise again.  What could have happened?  Had His Body been carried away?  Had God taken it up to heaven?  If He had been restored to life, He was lost to them.  Their hearts were filled with mingled hope and fear, joy and sorrow, astonishment and a bewildered sense of happiness.
3.  The angel's words soon reassure them. "He is risen.  He is not here.  You shall soon see Him again.  Go carry the joyful news to His disciples."  Trembling with joy, they obey the command.  No need of spices and ointment now.  It is too good to be true, — He is risen! My Jesus delights to turn sorrow into joy.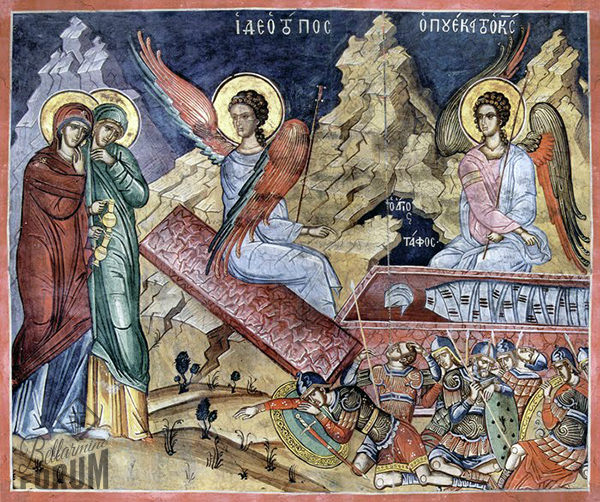 ---
« Previous Section
3.— The Holy Women on Their Way to the Sepulchre.Next Section »
5.— The Appearance of Jesus to St. Mary Magdalen.

This article, 4.-— The Holy Women at the Sepulchre. is a post from The Bellarmine Forum.
https://bellarmineforum.org/devotional/the-catholic-daily/resurrection-ascension-jesus-christ/4-holy-women-sepulchre/
Do not repost the entire article without written permission. Reasonable excerpts may be reposted so long as it is linked to this page.