FEBRUARY 5 – ST. AGATHA, VIRGIN, MARTYR. THE MARTYRS OF JAPAN
---
St. Agatha, Patroness of Nurses, Martyr, Patron or Patroness, Virgin. (Current, Traditional)
---
ST. AGATHA was born in Sicily, of rich and noble parents-a child of benediction from the first, for she was promised to her parents before her birth, and consecrated from her earliest infancy to God. In the midst of dangers and temptations she served Christ in purity of body and soul, and she died for the love of chastity. Quintanus, who governed Sicily under the Emperor Decius, had heard the rumor of her beauty and wealth, and he made the laws against the Christians a pretext for summoning her from Palermo to Catania, where he was at the time. "O Jesus Christ!" she cried, as she set out on this dreaded journey, "all that I am is thine; preserve me against the tyrant." And our Lord did indeed preserve one who had given herself so utterly to Him. He kept her pure and undefiled, while she was imprisoned for a whole month under charge of an evil woman. He gave her strength to reply to the offer of her life and safety, if she would but consent to sin, "Christ alone is my life and my salvation." When Quintanus turned from passion to cruelty, and cut off her breasts, Our Lord sent the Prince of His Apostles to heal her. And when, after she had been rolled naked upon pot sherds, she asked that her torments might be ended, her Spouse heard her prayer, and took her to Himself. St. Agatha gave herself without reserve to Jesus Christ; she followed Him in virginal purity, and then looked to Him for protection. And down to this day Christ has shown His tender regard for the very body of St. Agatha. Again and again, during the eruption of Mount Etna, the people of Catania have exposed her veil for public veneration, and found safety by this means; and in modern times, on opening the tomb in which her body lies waiting for the resurrection, they beheld the skin still entire, and felt the sweet fragrance which issued from this temple of the Holy Ghost.
REFLECTION: Purity is a gift of God: we can gain it and preserve it only by care and diligence in avoiding all that may prove an incentive to sin.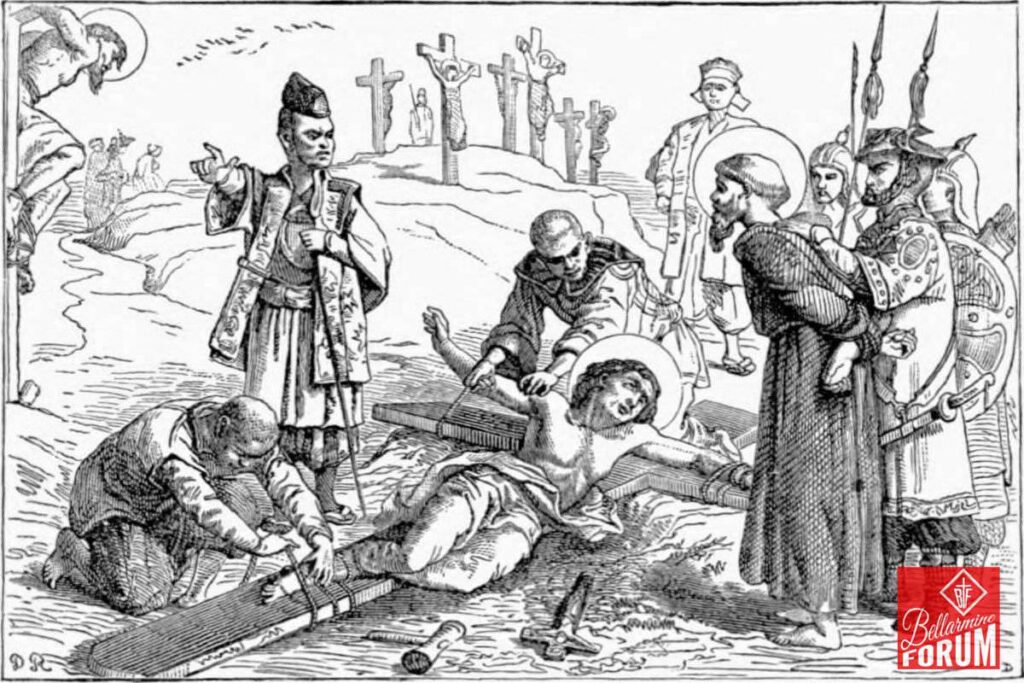 THE MARTYRS OF JAPAN.
ABOUT forty years after St. Francis Xavier's death, a persecution broke out in Japan, and all Christian rites were forbidden under pain of death. A confraternity of martyrs was at once formed, the object of which was to die for Christ.
Even the little children joined it. Peter, a Christian child six years old, was awakened early, and told that he was to be beheaded, together with his father. Strong in grace, he expressed his joy at the news, dressed himself in his gayest clothing, and took the hand of the soldier who was to lead him to death. The headless trunk of his father first met his view; calmly kneeling down, he prayed beside the corpse, and, loosening his collar, prepared his neck for the stroke. Moved by this touching scene, the executioner threw down his sabre and fled. None but a brutal slave could be found for the murderous task; with unskilled and trembling hand he hacked the child to pieces, who at last died without uttering a single cry. Christians were branded with the cross, or all but buried alive, while the head and arms were slowly sawn off with blunt weapons. The least shudder under their anguish was interpreted into apostasy. The obstinate were put to the most cruel deaths, but the survivors only envied them. Five noblemen were escorted to the stake by 40,000 Christians with flowers and lights, singing the Litanies of our Lady as they went. In the great martyrdom, at which thousands also assisted, the martyrs sent up a flood of melody from the fire, which only died away as one after another went to sing the new song in heaven. Later on, a more awful doom was invented. The victims were lowered into a sulphurous chasm, called the "mouth of hell," near which no bird or beast could live. The chief of these, Paul Wiborg, whose family had been already massacred for the Faith, was thrice let down; thrice he cried with a loud voice, "Eternal praise be to the ever-adorable Sacrament of the Altar." The third time he went to his reward.
REFLECTION: If mere children face torture and death with joy for Christ, can we begrudge the slight penance He asks us to bear?

This article, FEBRUARY 5 – ST. AGATHA, VIRGIN, MARTYR. THE MARTYRS OF JAPAN is a post from The Bellarmine Forum.
https://bellarmineforum.org/february-5-st-agatha-virgin-martyr-the-martyrs-of-japan/
Do not repost the entire article without written permission. Reasonable excerpts may be reposted so long as it is linked to this page.