For your Phone: Annunciation Novena (March 17 to March 25)
I like to have prayers on my iPhone for the convenience. I will take a picture of the prayer in the prayer book, missal, whatever, and then save the picture into an album. It makes it easy to find the prayer later, and it is convenient because the prayer is right on the phone.
Tomorrow, the Annunciation novena starts. How much we need the help of the Blessed Mother today! To make it easy to have the novena with you, click on the image below and a full size version will appear. Click on the photo and save it to your phone. Easy. Then pray it!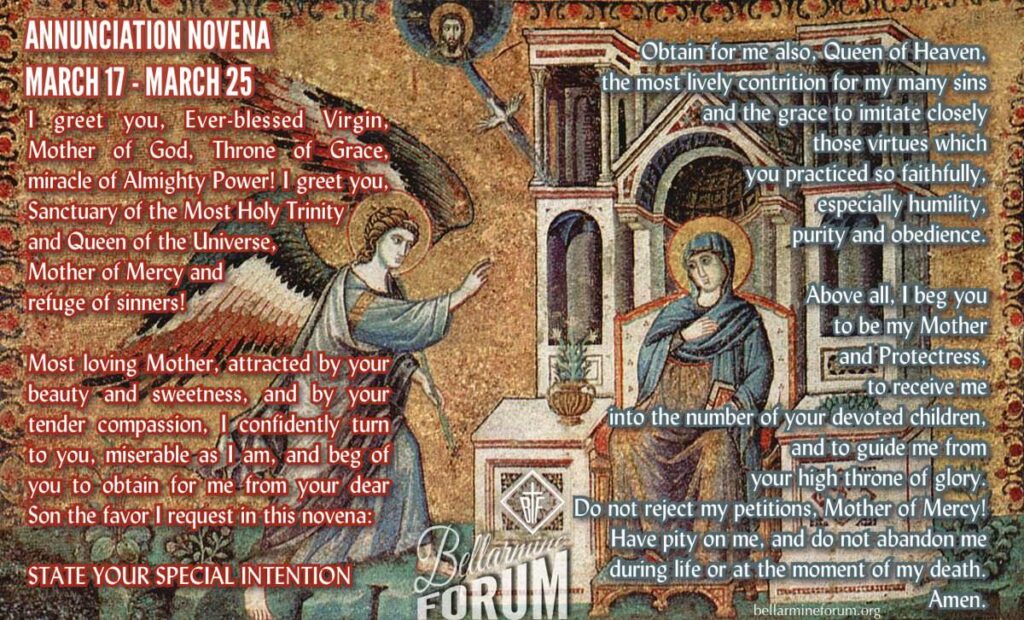 You can come back here to this post each day if you want, too. But really, who's going to do that? Just save it on your phone or iPad and you've got the prayer with you all nine days!
Here's the text of the novena prayer, for those that want to come back, or maybe you copy and paste the text to a note on your phone:
ANNUNCIATION NOVENA
MARCH 17 TO MARCH 25
I greet you, Ever-blessed Virgin, Mother of God, Throne of Grace, miracle of Almighty Power! I greet you, Sanctuary of the Most Holy Trinity and Queen of the Universe, Mother of Mercy and refuge of sinners!
Most loving Mother, attracted by your beauty and sweetness, and by your tender compassion, I confidently turn to you, miserable as I am, and beg of you to obtain for me from your dear Son the favor I request in this novena:
STATE YOUR INTENTION HERE. (remember to pray for the Bellarmine Forum)
Obtain for me also, Queen of Heaven, the most lively contrition for my many sins and the grace to imitate closely those virtues which you practiced so faithfully, especially humility, purity and obedience. Above all, I beg you to be my Mother and Protectress, to receive me into the number of your devoted children, and to guide me from your high throne of glory.
Do not reject my petitions, Mother of Mercy! Have pity on me, and do not abandon me during life or at the moment of my death.
Amen.

This article, For your Phone: Annunciation Novena (March 17 to March 25) is a post from The Bellarmine Forum.
https://bellarmineforum.org/for-your-phone-annunciation-novena-march-17-to-march-25/
Do not repost the entire article without written permission. Reasonable excerpts may be reposted so long as it is linked to this page.