The Lakeview neighborhood is an attractive area of Chicago's north side. It seems as if it had always been a popular part of town. Though I didn't realize it at the time we were dating, my future wife lived on Pine Grove and Diversey–the same street and block where Charlie Chaplin lived 80 years earlier. Typical of the last twenty-five or so years, residents tend to be yuppies who seem to prefer living to work as opposed to working to live. It is home to many wonderful restaurants and beautiful architecture. The last fifteen years has seen the construction of newer apartment and condominium buildings alongside the traditional brick and greystone buildings among the beautiful tree-lined streets. The area also boasts "Boys Town," the homosexual enclave of the city which is marked by the now ubiquitous signs of the homosexual lifestyle–rainbow flags, sex shops, and the variety of bars sporting names with double entendres. I recall one time walking from the Red Line "El" Station down Belmont Avenue to the famous Ann Sather's Restaurant and encountering a rather tall individual in a fire engine red dress with four-inch pumps sporting a five o'clock shadow. He was what one might call "a handsome woman."
As is the case with many big cities and amidst the changing demographics over the years, one can still find beautiful churches built in the late 19th-century or the early years of the 20th. Built at a time when the greystones and old apartment buildings were teeming with families and children, these churches were majestic monuments during an era where faith was taken seriously and one's ethnic pride was intact and not solely the object of political posturing. Indeed, they are still majestic monuments.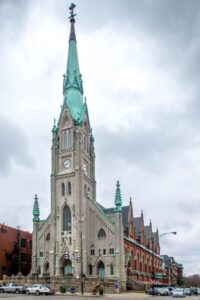 One church, in particular, always fascinated me. St. Alphonsus is located on the corner of three major streets–Southport, Lincoln and Wellington. Founded in 1882, with the present church having been completed in 1896, the church is a magnificent sight from many corners of the Lakeview area. The steeple easily towers over area buildings and is a wonderful sight from many blocks away. I recall seeing it from a distance many times and being enchanted by the steeple and the beautiful gothic architecture. During the fall and winter, when foliage isn't as lush and the skies are grey, one can see the steeple quite clearly above other structures.
I decided to finally go to St. Alphonsus on Ash Wednesday in 1998. The Church interior was absolutely beautiful and was not only a fitting temple for our Lord but also a monument to the Doctor of the Church who was its patron and the Redemptorist order under whose direction it was since its founding. It was an evening Mass and the church was packed with mostly the aforementioned demographics–yuppies, homosexuals, gorgeous twenty-something girls, and all manner of neighborhood types–a mostly younger lot. And when I say "packed," I mean PACKED! Here it was, Ash Wednesday, not even a Holy Day of Obligation, but it seemed as if it were a Christmas or Easter Mass with the amount of people in the church. This Mass was not unlike other Ash Wednesday Masses across the city or the world, but I was struck by something for the first time at this Mass that I have noticed in subsequent years.
Maybe it was the first time I thought of it, maybe it was the neighborhood in which the church was located, maybe I was simply distracted. After ashes were distributed (after the homily and before the offertory), I noticed that the church emptied by almost half. People had received their ashes from the priests and had left! I thought, "Hey, people! That is simply dirt on your forehead–the God of the universe is about to become incarnate again on the altar!"  I was amazed. Even if one was not in a state where he could receive our Lord, being in His presence when He comes upon the altar should be the reason one comes to Mass.
I suppose these may have been the thoughts of an idealistic young Catholic. The reality is that these are the reasons that one should come to Mass; but the subsequent years have also made me think about the meaning of Ash Wednesday and what is likely the experience in most neighborhoods, not just Lakeview. I cannot read the hearts of those who–that day many years ago–left after receiving their ashes. But some things seem certain:  they had faith enough in Christ to approach His Church for a sign that reminded them of their mortality and position before God; and they acknowledged this by leaving the church and returning to the world having been marked in such a manner for all to see. Their faith may not have been a blazing fire, but it seems to have been rooted in reality.
I cannot but continue thinking about this startling sight that is etched in my mind from many years ago. Perhaps seeking the ashes might be evidence of the restless heart of which Augustine speaks; perhaps an acknowledgment of a lifestyle that is not all it could be; perhaps something experienced as a child when faith was fresh and life less complicated and a yearning for that time. It could be many things, though I suspect that it was not an un-thinking "something to do."  What was the ambiguity in the spiritual life of these souls that led them to seek ashes, but not Life? Was it lack of faith that Christ could really be present on the altar? Is it too wonderful to contemplate that He loves us so much that He continues to want to dwell among us physically and sacramentally? Was it easier for a person to acknowledge his sinfulness than the One who could make him clean?
Everyone, whether he stayed for the rest of the Mass or not, left the church that night. Some went home, some went to dinner, some went to work out, or to the bar. All of us wore various shades of grey on our heads and in our hearts. But this need not be a permanent condition. While I cannot understand, I am certain that God does. I am equally certain that that steeple is in that neighborhood for a reason and I'm glad that it is.

This article, Shades of Grey is a post from The Bellarmine Forum.
https://bellarmineforum.org/shades-of-grey/
Do not repost the entire article without written permission. Reasonable excerpts may be reposted so long as it is linked to this page.