St. Joseph's Name Added to Eucharistic Prayers
Yesterday, June 19, the Congregation for Divine Worship and the Discipline of the Sacraments issued the typica texts for the addition of the name of St. Joseph to Eucharistic Prayers II, III, and IV.  The Congregation's decree, Paternas vices (Fatherly care), instituting the change, had already been issued and promulgated under the authority Pope Francis on May 1.  The English text for use in US parishes has been approved for immediate use by the USCCB. Therefore, you may have already heard St. Joseph's name in this new context at Mass, and everyone should hear it used this coming Sunday, as the priest invokes the Blessed Virgin Mary "with blessed Joseph, her Spouse," in the Eucharistic Prayers.
The liturgical change brought about here is quite modest. The name of St. Joseph had already been added to the Roman Canon (Eucharistic Prayer I) by Blessed John XXIII. Perhaps we should wonder why it took so long. But, as is often the case with the Church's liturgical life, it reflects the Church's response to the needs and concerns of our day. Just as the Feast of the Sacred Heart was promoted to soften the Jansenist streak spreading across Europe, so this small addition to the prayers of the Ordinary Form of Mass reminds us, and especially those of us in the Western nations, of a particular truth of the Gospel. In this case, the invocation of St. Joseph in the Eucharistic Prayers reminds us the Church's constant love for and reliance on St. Joseph, husband of the Blessed Virgin Mary and Patron of the Universal Church. And who else, in a time of such crises of fatherhood and married life, ought we to call upon to be our model for paternal virtue and spousal devotion but the Good and Holy St. Joseph?
Saint Joseph, pray for us!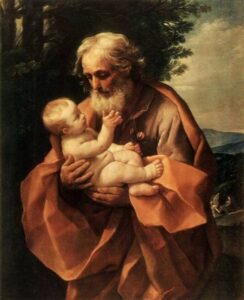 This article, St. Joseph's Name Added to Eucharistic Prayers is a post from The Bellarmine Forum.
https://bellarmineforum.org/st-josephs-name-added-to-eucharistic-prayers/
Do not repost the entire article without written permission. Reasonable excerpts may be reposted so long as it is linked to this page.