White Privilege Conference 2014: Government Funding to Reeducate the Educators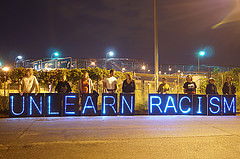 A fascinating discussion of racism, as a long-standing institution of "systemic, race-based privilege in America,"[i] has been conducted for the past 15 years in education circles at an annual event called the White Privilege Conference (WPC).
WPCs are attended by "high school and college students, teachers, university faculty and higher education professionals, nonprofit staff, activists, social workers and counselors, healthcare workers, and members of the spiritual community and corporate arena. Annually, more than 1,500 attend from more than 35 states, Australia, Bermuda, Canada, and Germany."[ii] According to Progressives Today, the WPC is "private" but funded with "at least tens of thousands of local, state, and federal tax dollars" that are used to send teachers, students, and administrators to the conference.[iii] Other conference attendees are supported with money from their schools, some of which give academic credit for their participation.[iv]
What do these students and educators learn?
White privilege theory – as presented in a Progressives Today undercover video about the 2014 conference – argues that "white racism is institutional, structural and pervades all aspects of American society…it is the deliberate invention of capitalists who goal is to keep labor divided along racial lines."
Berkley Law Professor, John A. Powell, argued in his keynote address[v] that "modern capitalism is the consequence of flawed concepts dating to the Age of Enlightenment – concepts such as individual rights, reason, logic, and the scientific method. He rejects these ideas as white constructs and impediments to a better society."[vi]
"So Whiteness," Professor Powell says, "actually, is very tied to our modern sense of the self. And this was part of what's called the Enlightenment Project. So that project, which goes back to people like Descartes. Remember Descartes when he says, 'I think therefore I am'? So you had separation of mind and body. He had the separation of the mind, rational mind, from nature. So this radical individual that perceives himself, and largely it was a him, as being isolated from each other. Isolated from nature, hostile to nature in a scary world, is also a White self. So the expression of the self, the modern self, is actually racialized."
If you feel the need to analyze the above and find its logic wanting, you – regardless of your skin pigment – are clearly hampered by a racist modernist formation.
Part of WPC ideology is that "white European Christian men are the inventors and sole practitioners of racism." One presenter, Amer Ahmed, tells participants that "Overwhelmingly, throughout history, over hundreds and hundreds of years, Islamic societies have consistently protected Jewish people from persecution, typically from European Christians." [vii]
Take that, Israel.
Presenter Paul Kivel introduces the term "Christian hegemony," which he defines as "everyday, pervasive, deep-seated and institutionalized dominance of Christian values, Christian institutions, leaders, and Christians as a group, primarily for the benefit of Christian ruling elites. So that's very similar to how we might define racism or sexism or any other systems of oppression."
Attendant educators, well-trained in note-taking, can be seen dutifully taking down each precious word rolling off Paul Kivel's tongue. Kivel has written the book on Christian hegemony. It's titled Living in the Shadow of the Cross and, according to Kivel's website, "exposes how Christian hegemony punishes the poor, criminalizes sexuality, rationalizes destruction of the environment, and contributes to our seemingly endless 'war on terror.' It emphasizes the power of people to build strong movements of resistance."[viii]
At least one workshop bars "whites" from participation – perhaps as an exercise in neo-segregation. Another explains that being black isn't about skin color: "You can't just look at the face. Clarence Thomas is on the Supreme Court. Does he really replace Thurgood Marshall?" And President Obama is just a "front man for the system" of white privilege.[ix]
Professor Stephanie Baran argued that "the more inclined toward free-market capitalism" a person is, the more likely he is to hold "ethnocentric" values. She actually doesn't mean "ethnocentric" but "white"-centric as she immediately explains that "capitalism is the all-consuming thing. Capitalism maintains White supremacy, White privilege, racism, sexism, patriarchy, – um, hetero-normativity – you name it: capitalism."[x]
How does white privilege theory trickle down into the classroom, particularly with young children?
In Rosemary Colt and Diana Reeves' workshop, fellow teachers were encouraged to find opportunities to "insert social justice, anti-racist information for even little kids to understand" in their lesson plans. They show worksheets that they give their students. One question asks whether the Constitution "works equally well for everyone." "No," one student answers as he's been taught, "because some people have different beliefs." Another child writes that, "if you are privileged, you are white." The teachers also show film that demonstrates how students can be guided, via role play and repetition of particular ideas, to accept particular conclusions. [xi] Interested teachers will soon be able to access curriculum from the WPC website.[xii]
---
Notes
[i] "White Privilege Conference 2014 Part 1," Progressives Today produced video: www.youtube.com/watch?v=DJpvFnL6dOk
www.youtube.com/watch?v=DJpvFnL6dOk
[ii] White Privilege Conference website: www.whiteprivilegeconference.com/wpc.html
[iii] Video, Part I, referencing Adam Tobias, "Civil rights leader says irrelevant White Privilege Conference wastes taxpayer money," Wisconsin Reporter, 3-26-14. The civil rights leader in question is Niger Innis, national spokesman for the Congress of Racial Equality.
[iv] "White Privilege Conference 2014 Part 3," www.youtube.com/watch?v=iiM7OkrD0wc
www.youtube.com/watch?v=iiM7OkrD0wc
[v] "Racing to Justice"
[vi] Progressives Today summation. Progressives Today identifies itself as an organization that "follows and publicly exposes the radical elements of the institutional left."
[vii] Video, Part I.
[viii] www.paulkivel.com/bookstore/religion/living-in-the-shadow-of-the-cross-detail
[ix] "White Privilege Conference 2014 Part 2," Progressives Today produced video: www.youtube.com/watch?v=OCRxkgq2CFU Speaker is Professor Adrien Wing.
www.youtube.com/watch?v=OCRxkgq2CFU
[x] Video, Part II.
[xi] Video III.
[xii] www.whiteprivilegeconference.com/curriculum.html
[xiii] Video III and WPC website.
[xiv] Nick Novak, MacIver Institute Director of Communications, "Highlights from the National White Privilege Conference in Madison, April 1, 2014:" www.maciverinstitute.com/2014/04/White-Privilege-Conf-Teacher/index.php Photo by Light Brigading


This article, White Privilege Conference 2014: Government Funding to Reeducate the Educators is a post from The Bellarmine Forum.
https://bellarmineforum.org/white-privilege-conference-2014-government-funding-to-reeducate-the-educators/
Do not repost the entire article without written permission. Reasonable excerpts may be reposted so long as it is linked to this page.