Would "Loud Praying" Exclude Charismatics?
When you see instructions like this in old Catholic texts, it makes you wonder how rowdy Mass was back then… this from a Catholic book published in 1894. I posted this little tidbit on Facebook and I had to share it here.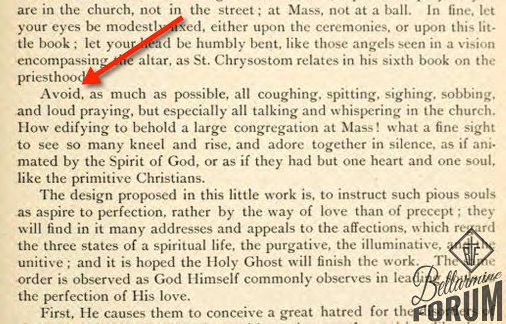 Remember! Try to keep the spitting down when at Mass! And watch out for those people with "loud prayer"!!! LOL
I suppose that would preclude those long winded "Speaking in Tongues" abominations at some parishes, too.
Or, does that just mean loud mouths had to stay in the back and act like they were ushers?

This article, Would "Loud Praying" Exclude Charismatics? is a post from The Bellarmine Forum.
https://bellarmineforum.org/would-loud-praying-exclude-charismatics/
Do not repost the entire article without written permission. Reasonable excerpts may be reposted so long as it is linked to this page.