Towards the end of Father Hardon's life, he gave some talks on the concept of sexual suicide (previously covered at this post). Rooted in Marxism, and focused on destroying the family, the gist is that divorcing sexual activity from procreation destroys the family, and hence society. Father Hardon said, "The feminists, homosexuals, and pornographers as a group are united in their desire to divorce sexual activity from procreation."
McNulments Destroy the Catholic Family
If a portion of the communist infiltration of priests into the Catholic seminaries had homosexuality as one of its components, then we can follow Fr. Hardon's logic that we'd see attacks on the family from within. Dissent from Humanae Vitae was the bellwether. But, it can be contended that the "McNullment" issue is the necessary child of contraception. I call it "McNullment" as many others do because it's generally understood that you pay the fees for the court, and you get an annulment. Rarely did anyone in the past hear of an annulment being turned down and the bond upheld. [I know many scholarly studies rationalize the volume of annulments and the rate of grants, and discuss the problem with statistics.]  For ordinary Catholics, the perception is that getting an annulment is filing paperwork and paying a fee – it was seen for a long time as a "Catholic divorce."
How did we get there? Pope John Paul II chastised American bishops for abusing annulments.
Annulments are the product of a judicial proceeding in a canon law court – a Marriage Tribunal. There is a petition for annulment made on some basis that one cause or another rendered the bond of matrimony incomplete. That's the only way because no power on earth can take apart what God has put together. Thus, the bases of annulments tend to be proof that God never put the marriage together to begin with. Fraud, lack of capacity, lack of consummation, etc. The facts are tried in a legal adjudication. If there was no bond, then a decree of nullity is issued stating that the marriage was never made — in essence, that God never put the two together to begin with. It's not a Catholic divorce when administered correctly (cue the volumes of discussion here).
I don't care about the patting on the back done by scholars to ease the consciences and discuss whether there are really too many in America. I know what people in the pews think annulments are. I also know what many of my contemporaries have said of them over the years. They are a joke. They are abused, and they've fostered a destruction of the Sacrament of Marriage in America. There's no getting around it.
But who was doing this?
Stinky Judges Reek of Homosexual Contagion Caca
I think there is something interesting that hadn't occurred to me until I started noticing news this year:  a number of priest scandals this year involve priest who supervise or judge Marriage Tribunals.
Most recently, two Chicago priests were arrested in Miami when police witnessed the two engaged in sex acts with each in a car parked on Ocean Drive, a busy street. One of the priests, Father Diego Berrio was a judge of the Chicago tribunal. He was adjudicating annulments and supervising the process.
Father Robert DeLand, a priest in the Saginaw diocese, and tribunal judge plead no contest to multiple counts of sex abuse this year. Police had received numerous reports of behavior after a long time surveillance of his activities. Accounts included intoxicating teen targets with alcohol and ecstacy, etc. Perversion. He was adjudicating annulments and supervising the process.
On Nov 7, 2011, Fr. Paige Blakely was arrested in Florida, when, during a sting operation conducted by police, he exposed himself to an undercover policeman in a public restroom. The Ledger reported that he was a tribunal judge.  The diocese had immediately removed him from the role pending outcome of the arrest. He was adjudicating annulments.
On October 22, 2014, Father Mark J. Haynes of West Chester in the Archdiocese of Philadelphia (Bishop Cistone, who is now in Saginaw where Deland, above, was arrested) was arrested for six counts of possessing and disseminating child pornography. He had been previously on the tribunal (1992-2001). He had been adjudicating annulments.
How many more of these are there in tribunals?
These are only ones that have public arrests and their tribunal positions easily discovered.
Do you think these perverts could reasonably adjudicate annulments?
How much do you want to bet that they abused staff to grant more annulments?
Would there homosexual beliefs/tendencies contribute to this? Was Father Hardon correct? "The feminists, homosexuals, and pornographers as a group are united in their desire to divorce sexual activity from procreation."
Our Lady of Akita, pray for us!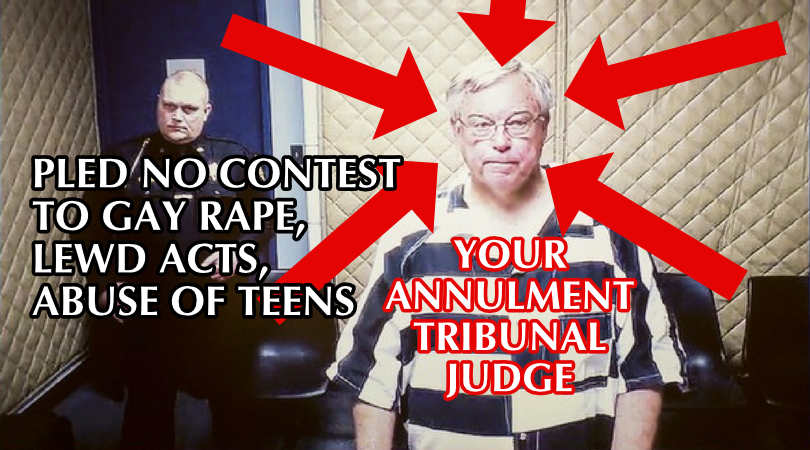 This article, "McNullments" and the Homosexual Contagion – Sexual Suicide Played out in Tribunals? is a post from The Bellarmine Forum.
https://bellarmineforum.org/2018/09/25/mcnullments-and-the-homosexual-contagion-sexual-suicide-played-out-in-tribunals/
Do not repost the entire article without written permission. Reasonable excerpts may be reposted so long as it is linked to this page.
About John B. Manos
John B. Manos, Esq. is an attorney and chemical engineer. He has a dog, Fyo, and likes photography, astronomy, and dusty old books published by Benzinger Brothers. He is the President of the Bellarmine Forum.