Eternal Rest: Father Benedict Groeschel – Franciscan Friars of the Renewal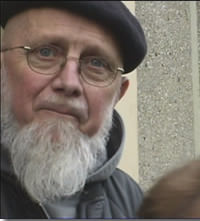 Today, on the Solemn feast of St. Francis, The Franciscan Friars of the Renewal report that Father Groeschel went to sleep in the Lord. October 3 is the feast of St. Francis and there is little doubt that Fr. Groeschel spent his life working to know and imitate the founder of the Franciscan rule, even in creating a Franciscan Order. Father Groeschel, in the times I met him, always struck me as sincere, and much the same as he was on screen — his personality, with the Bronx edge, was always welcoming to people he met. In this way about him, you could certainly get a sense of what St. Francis was like.
The Friars have released a statement with their own recollections of their founder, including:
It is not an exaggeration to say that Fr. Benedict was selfless. Those who knew him well understood that it was simply his nature to be so. He poured himself out for others no matter what the cost—and sometimes the cost to him was very great. To have known him was to have been helped by him and even loved by him.  Our CFR Family and everyone who knew him received an enormous amount from Fr. Benedict—probably more than we were ever able to give back. It was not simply his wealth of wisdom and knowledge from which many benefited. It was his profound faith and equally profound love, two gifts that he never failed to share generously.
Read more and links at their statement here: Father Benedict – Franciscan Friars of the Renewal.
May his soul, and all the souls of the faithful departed, rest in peace. And may his memory be eternal.

This article, Eternal Rest: Father Benedict Groeschel – Franciscan Friars of the Renewal is a post from The Bellarmine Forum.
https://bellarmineforum.org/eternal-rest-father-benedict-groeschel-franciscan-friars-of-the-renewal/
Do not repost the entire article without written permission. Reasonable excerpts may be reposted so long as it is linked to this page.