Good Friday Audio: The Story of St. Mary of Egypt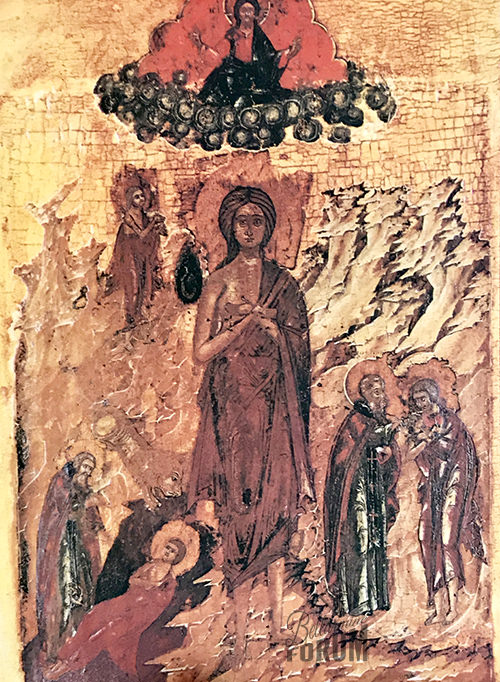 If you are looking for something fruitful to consider on Good Friday today, in addition to the Stations of the Cross and the lent meditations we have, this little audio is a refreshing story of just what Christ purchased by suffering the Cross, the spitting, the insults, and death for us.
In the prayers for the Office of Crucifixion in the Byzantine rites, the Eleventh Antiphon, there is a passage that reads about the blindness people suffer towards their spiritual life:
1 — O Christ, your countrymen, in exchange for your bounties to them, condemn you to the cross, making you drink vinegar and gall. But forgive them, O Lord, for they did not know what they were doing.

2 — O Christ, it was not enough for your countrymen to deliver you; they shook their heads offering you sneers and scorn. But forgive them, for they did not know what they were doing.

3 — Neither the quaking of the earth, nor the splitting of the rocks, nor the rending of the curtain of the temple, nor the rising of the dead persuaded the people. Forgive them, O Lord, for they did not know what they were doing.

4 — We have learned that from you God became incarnate, O Virgin Mother of God, who are alone pure and blessed. Therefore, we praise you without ceasing and magnify you.
Point number 3 is wild. Earthquakes, the dead rising, all these things were still not enough. Our Lord had to endure death to break the chains of death.
That the Blessed Mother is mentioned is not accidental. She is the key to all conversions and to making the sacrifice of Jesus real in every life.
One has to wonder if St. Dismas, seeing the Blessed Mother at the foot of the Cross, was drawn to her care for her Son and that is was melted his heart.
Another story, that of St. Mary of Egypt, is an epic story of conversion. It is a glorious account of what God has done for us, and made available to us by the Cross.
Mary's conversion began as she sought the Cross. And it became real when she encountered the Blessed Mother.
What aspect of your life needs conversion? Here is the recipe to obtain it!
You can start the audio playing and open the text in a separate window.
This is yours truly reading the story live at Church.

This article, Good Friday Audio: The Story of St. Mary of Egypt is a post from The Bellarmine Forum.
https://bellarmineforum.org/good-friday-audio-story-st-mary-egypt/
Do not repost the entire article without written permission. Reasonable excerpts may be reposted so long as it is linked to this page.