Thank God! Fr. Heilman Reports Bishop Morlino Stops Communion in the Hand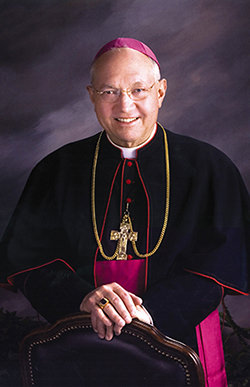 Thank God for good news from the Church in America. A post making the rounds today from Fr. Heilman's blog reports the following:
Now, during last evening's Chrism Mass, Bishop Morlino concluded his homily by appealing to all of his priests in his diocese to strongly encourage their parishioners to begin receiving Communion on the tongue while kneeling, beginning this September.
About time! Bishop Morlino has also put the tabernacles back where they belong and encouraged Masses in his diocese (beginning with his own) to be ad orientem.
I can go on and on about Communion in the Hand…. in fact, I have before in this post.
I've been reading again lately the message of Akita and musing on the warning therein where Sister Sasagawa received a wound in the shape of a cross on the hand in which she received Holy Communion. At the same time, a wound in the shape of a cross appeared on the opposite hand of the statue of the Blessed Mother. The entire message of Akita is a mirror of the then concealed third secret of Fatima and Fatima in general:  men no longer live to worship God, fail to adore Him, ignore Him, and are stubborn in sin. Repentance is necessary. Akita added the reference to Communion in the Hand — an action that is not only a metaphor but a very direct statement that God is not to be honored. Taking something into one's hands denotes control over the thing. Taking God into one's hands?
Good for Bishop Morlino! Thank God he has the courage to do this and to instruct his priests to make improvements.
Fr. Heilman also reports that Bishop Morlino spoke for some time during his homily at the Chrism Mass yesterday citing Cardinal Sarah, and he lamented that people feel like they all need a little job at Mass — instead of being there. I call that the problem of busybodies(and I've ranted about is before).
It sounds too good to be true that a Bishop would be trying to clear his decks of the worst aggravations. Hopefully, he will eliminate the abuse of extraordinary ministers next as well!
The revelry in this sort of win is sad, though — it should not be one bishop doing this but all of them. How sad it is that this is news, really. The whole Church in America should be this way, shouldn't it?

This article, Thank God! Fr. Heilman Reports Bishop Morlino Stops Communion in the Hand is a post from The Bellarmine Forum.
https://bellarmineforum.org/thank-god-fr-heilman-reports-bishop-morlino-stops-communion-hand/
Do not repost the entire article without written permission. Reasonable excerpts may be reposted so long as it is linked to this page.