Magazine – Vatican II: Cause for Hope
Make a New Year's resolution that counts!   Get this last issue of the Bellarmine Forum Magazine's Vatican II volume — packed with punches against those who would misconstrue Vatican II! You'll be a prize fighter for Mother Church in no time!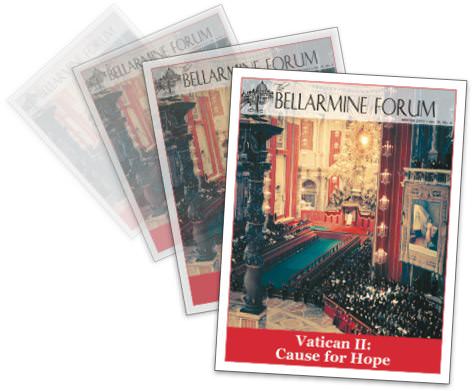 The Council: A Distant Memory…
So much has been lost. For some, the Second Vatican Council meant license to create a new modern church without sin, without so-called medieval trappings, without its hierarchical structure. Perceived chaos caused even faithful followers to feel there was no longer something to have faith in. But faith is like clutching the last straw in the raging waters and holding on. These souls held on to keep the vigil lights of faith lit, driving for miles for reverent Masses, maintaining prayer and devotions — sometimes only within the family circle — reading papal documents and passing on the vision of Catholicism in spite of the disintegrating culture around them. As James Bemis writes in this issue of the Bellarmine Forum magazine, the inauthentic implementation of Vatican II weakened the Church and here in America, the Church more conformed to secular culture than converted it. 
…Or Call to Action?
Through papal leadership, synods, encyclicals, and exhortations over many years, the true and empowering vision of the Council has begun to emerge. It is not too late to act upon this vision of hope the Vicar of Christ has always held out. The liturgy has changed, priestly formation is stressing holiness. The rest is up to us, the laity, to act. To do so we must set out armed with eternal standards, immersed in the Church's teachings, rich history, and culture. We must, as Bemis writes, hold up a different image of mankind's place in the universe. "We should not endeavor to be 21st century Americans looking at the Church, but rather strive to be well-catechized Catholics critically examining 21st century America," and once again gear our Catholic evangelization toward saving souls.
THIS IS THE LAST ISSUE OF VOLUME 4!
The Bellarmine Forum magazine committed its four issues in this Year of Faith volume to catechizing Catholics in the true vision of the Second Vatican Council. This final volume corrects a lot of myths about the council and gives reasons in the documents why the real Vatican II is nothing to be ashamed of.
INSTANT GRATIFICATION!! Speed Buy a SINGLE ISSUE by clicking here.

This article, Magazine – Vatican II: Cause for Hope is a post from The Bellarmine Forum.
https://bellarmineforum.org/magazine-vatican-ii-cause-for-hope/
Do not repost the entire article without written permission. Reasonable excerpts may be reposted so long as it is linked to this page.