We Catholics forgot the warnings of Saints Jacinta and Faustina, so we are experiencing A chastisement, but not THE chastisement, which will be worse, as if the gates of hell are thrown open. This peek at hell on earth with evil and depravity running in our streets is God's reminder that judgment is coming, but we have our two towers: the remedies of the rosary and divine mercy.
In these waning days of October, as shadows lengthen and our liturgies turn to serious consideration of end times, St. Jacinta has come to mind many times. It is known the little girl received visits from Our Lady while hospitalized in 1919-1920. And during one visit, as reported by the director of the orphanage at which Jacinta had briefly stayed,
"Our Lady had said that there were many wars and much strife in the world. The sins of the world are very great. Our Lady can no longer restrain the arm of her beloved Son over the world. It is necessary to do penance. If people amend their lives, Our Lord will still help the world, but, if they do not, the chastisement will follow. If people do not correct their lives, Our Lord will chastise the world as never before…."
The Great Chastisement. Three days of Darkness, when all light except that of blessed candles would be extinguished. The Third Secret of Fatima. As a child of the '50s, these are things I grew up with, accepted as normal as the bowl of cereal and buttered toast at breakfast in the morning. These things were talked about – understood – among Catholics. I remember disappointment, not just among adults, but also among the kids on the Catholic school playground when we found out Pope John XXIII chose not to reveal the Third Secret of Fatima.
Silence Pushed the Third Secret, Chastisement, and Three Days of Darkness Down the Memory Hole
Who thinks of these things now, even in the waning days of October? When have these events been mentioned in the last 60 years? Nothing on the radar, thus out of sight, out of mind.
God's time is not our time, however. We tend to think in immediate terms – instant coffee, instant money at the ATM – but God doesn't operate that way. What Blessed Mary said to Jacinta still stands.
Faustina and Jacinta are Two Towers Signaling the Rosary and Divine Mercy
I came to these thoughts noting the juxtaposition of the feasts of St. Faustina of the Blessed Sacrament (October 5) and Our Lady of the Rosary (October 7). Surely there is a connection. It is rather like the Two Towers (with apologies to Tolkien) of grace to have these two feasts so close, but then, Jesus and Mary are uniquely close.
Jacinta and Faustina, both with pure hearts whose lives were used to reveal divine intentions. Jacinta said our Blessed Lady came in warning. The Mother of God and our Mother begged for repentance. She said she could not hold back the arm of her son, Jesus Christ. But she did not say WHEN these things would occur.
Sr. Faustina revealed the Divine Mercy of Jesus Christ. Was it the last ditch attempt of the Savior Himself to knock some repentance into our sinful souls? There was a stirring of such during the Extraordinary Jubilee of Mercy in 2016. More preaching, more confessions, more emphasis on performing charitable, merciful acts.
What of the days and years afterwards? Out of sight and out of mind again?
The Coronavirus Pandemic is Here to Remind Us of the Chastisement Told to Jacinta 100 years ago
And now, 2020. Pandemic, similar to that of 100 years ago. Fires still continue to devour California; hurricanes; more destructive riots because gutting Walmart makes things better; are countless blizzards in the future plus earthquakes or a blazing volcano? Is this it, then, the big one, this year of 2020, 100 years after Jacinta spoke of Our Lady's warning?
Well, I think we are experiencing A chastisement, but not THE chastisement, which will be worse, as if the gates of hell have been thrown open. This is, perhaps, only a rehearsal, a peek at hell on earth, with evil and depravity running unchecked in our streets, as God tries to remind us that judgment is coming.
Is anyone paying attention to the spiritual aspects of 2020? In the last six months, millions of people have not sacramentally received the Holy Eucharist or physically attended Holy Mass because – for fear of the virus – the obligation to homage God has been dispensed with. And the Sacrament of Penance? Only for the brave. There is only so much TV church can do beyond lull us into non-action and there are way too many people that now skip the airwave religion. When this health crisis is over, will people return to sacred spaces? Is anyone even thinking there is a God out there anymore?
It is time to turn off reality TV and depressing news programs with their virus counts and reboot our faith practices. Where is that rosary? Where is that prayer book? Given the current state of our existence, our spiritual reserves are depleting fast and it will take the two towers of Our Lady and Divine Mercy to save us: Starting now. Today. Let it begin as it should, with bowed heads:
In the name of the Father and of the Son, and of the Holy Spirit…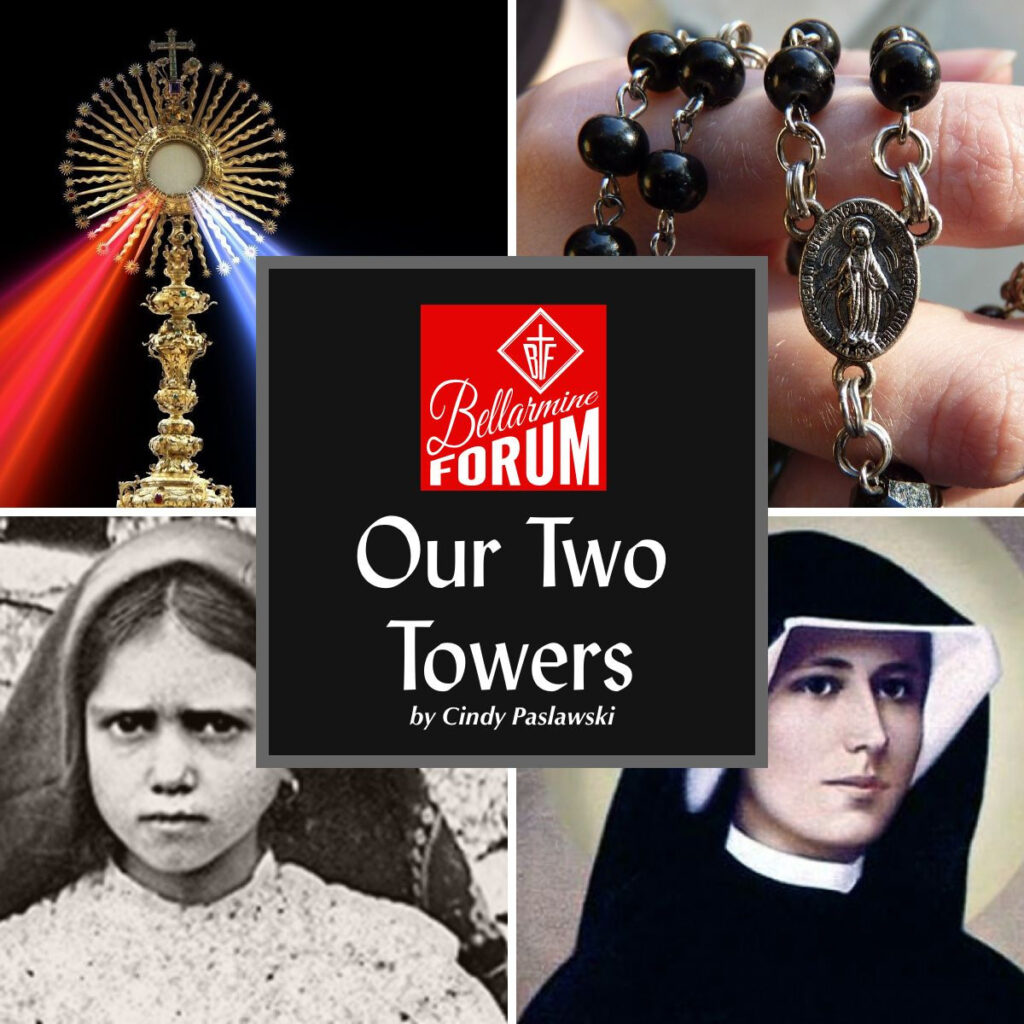 This article, Our Two Towers is a post from The Bellarmine Forum.
https://bellarmineforum.org/our-two-towers/
Do not repost the entire article without written permission. Reasonable excerpts may be reposted so long as it is linked to this page.