Russia To Build World's Largest Statue of Jesus next to China, North Korea, Japan
When I was just coming out of law school, Tom Monaghan had been working on the concept of a University in Ann Arbor, Michigan. The planning and zoning commission had never received the updated area impact study, or developmental impact plans, I forget which part, but I remember going to the planning office and looking at the file and meeting minutes and seeing the deficiency noted.  So the county was never going to approve the university until the plans were complete anyway, needing that impact study to be filed.
To make a splash in the news, however, I recall he had plans to build a 250-foot tall crucifix put into the design plans and issued press releases to the newspapers. It was depicted to become a 25-story structure, topped by a 40-foot figure of Christ. That's about as tall as the Statue of Liberty, and 51 feet shorter than the tip of its torch.
The concept really captured peoples' imaginations. It was a great PR splash because it did make people think of what such a large religious image would mean. Funny, they never think of the Statue of Liberty that way. Or Mount Rushmore for that matter.
It never happened, the area impact study never submitted, and the school went to Florida as announced earlier. Someday they might build it there, but the one discussed in Florida is much shorter, I've seen 40 feet, some say taller, but nothing like 250 feet.
Meanwhile…   In Russia.
Meanwhile, in Russia, plans to build a 80 meter tall statue of Jesus have been announced. They want to build it in Vladivostok, a city nearly 4000 miles east of Moscow, on the coastline, with nearby borders to China and North Korea, and across a short stint of Sea to Japan.
This is also one of the places closest to the continental United States in Russia.
Tsar Nicholas, after the crushing defeat of Napoleon, consecrated all of Russia to Jesus, Our Saviour. Vladimir Putin had seen to it that the Cathedral of Christ Our Saviour in Moscow, which had been destroyed by the Bolsheviks, had been restored. It is only fitting that they'd now seek to make a testament to Our Lord at the other end of Russia. Yes, there are churches already there, but this would be the colossus at Rhodes, except on the Pacific Ocean, and at the crossroads of a bunch of Godless countries.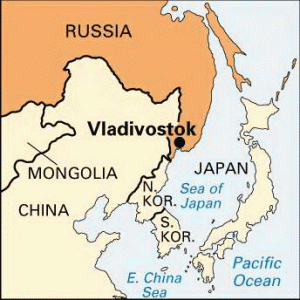 Maybe it is just a big tourist thing, as some would suggest. Seems to me like modern churches don't make good tourist attractions these days though, and I think the Russians have better business acumen than to attempt that. There must be some symbolism, and I think the location as one of the east-most cities, and the city in Russia with the highest population of ex-pat Americans might have something to do with it, though.
The base of the statue will be a cathedral church in honor of Archangel Michael, reports Pravoslavie.
It is interesting to me. I find it fascinating that for all the news reports here that Russia is still communist, and all the rest of the tripe, that they'd go for something like this (communists don't build churches and statues of Our Lord).
Unlike the one proposed by Mr. Monaghan for Ann Arbor, this statue will be the world's tallest, and it will be 80-meters, or roughly 262.5 feet. Twelve feet taller.
Maybe, given the position of Vladivostok on an eastern seaboard, with ports, they see it as a way to make a non-secular New York. If New York's Statue of Liberty says something about New York and the kind of business New York does, perhaps the Russians are attempting to make one based on Our Lord (and not the slippery concept of mere "Liberty", which can be good or bad depending on who is defining it).
Given that they named it "Christ the Teacher", perhaps that's the biggest clue of all. I agree with them that we all need Our Lord to teach America again, not to mention all of us, really.
The more I think of it, the more I like it.
See the original story at Pravoslavie.ru.
---
If you think this is crazy, then note that this isn't the craziest thing Russia has proposed this year. They'd like to build a superhighway from Moscow to New York. I doubt you heard about it on the news. But click this image to see the news story from April 2 (I don't think this was an April Fools joke, either):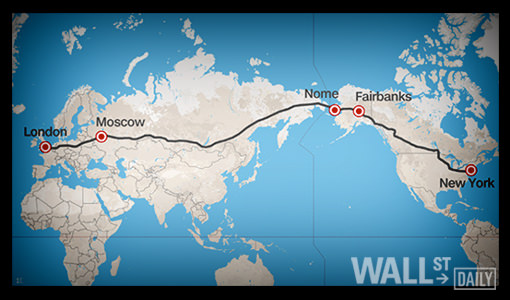 This article, Russia To Build World's Largest Statue of Jesus next to China, North Korea, Japan is a post from The Bellarmine Forum.
https://bellarmineforum.org/russia-to-build-worlds-largest-statue-of-jesus-next-to-china-north-korea-japan/
Do not repost the entire article without written permission. Reasonable excerpts may be reposted so long as it is linked to this page.