The Obamacare Decision: A Fix By Voter Fraud
THE OBAMACARE DECISION: A FIX BY VOTER FRAUD
By Charles E. Rice
Section 455 of the United States Code provides:
Any justice, judge or magistrate judge of the United State shall disqualify himself in any proceeding in which his impartiality might reasonably be questioned.

He shall also disqualify himself in the following circumstances:

xxxxx

(3) Where he has served in governmental employment and in such capacity participated as counsel, adviser or material witness concerning the proceeding or expressed an opinion concerning the merits of the particular case in controversy;
Section 455 is a development of the common law rule on judicial impartiality which was first codified in the United States in 1792. Section 455 applies in its terms to Supreme Court Justices. The Supreme Court is the only United States court created by the Constitution and not by Congress. The Supreme Court's traditional practice is that a decision whether or not to recuse is up to the discretion of the Justice concerned. There is no higher judicial or administrative mechanism to review such a decision.
On May 10, 2012, President Obama announced his choice of Elena Kagan, Solicitor General of the United States, to replace retiring Justice John Paul Stevens. On August 5, 2010, Kagan's nomination was confirmed by the Senate by a vote of 63-57. Since joining the Court, Justice Kagan has recused herself from dozens of cases, including the Arizona immigration case decided on June 25, 2012. In that case, Justice Kagan's participation would not have made a difference in the Court's rulings on any of the Arizona laws involved. She did not, however, recuse herself from the Obamacare case. Had she recused herself, the Court would have tied, 4-4, with Justices Scalia, Thomas, Kennedy and Alito voting to hold the entire Obamacare law unconstitutional. A tie vote leaves the lower court decision standing but is not a precedent for future cases. The Court of Appeals for the Eleventh Circuit had upheld Obamacare's expansion of Medicaid but had held the individual mandate unconstitutional. If Kagan had recused herself, Chief Justice Roberts could have avoided a tie vote by joining Scalia, Thomas, Kennedy and Alito to strike down Obamacare entirely.
Kagan's non-recusal was the game changer on Obamacare and many related things, including the transformation of the Constitution. Magna Carta, the English Bill of Rights and other prior protections of liberty were restrictions on the otherwise unlimited power of government. The United States Constitution was the first occasion in the history of the world when a genuine government of a nation was created with only limited and enumerated powers. The Obamacare ruling transformed the United States Constitution into a mandate for a central government with absolute power to tax anything and everything– and even to tax no-thing, i.e., your failure to do what your government says you must do. Kagan provided the fifth vote for that result.
Kagan played a leading role in preparing the case in support of Obamacare. In the words of Section 455, her "impartiality might reasonably be questioned," to say the least. It would be a mistake, however, to treat the Kagan non-recusal merely as a violation of a statute or of professional propriety. It is worse because it violates a precept written into the nature of man, that one should not be a judge in one's own case. The compelling reasons for Kagan to have recused herself can be appreciated from Senator Jeff Sessions' (R-AL) analysis of Kagan's prior involvement in the Obamacare case:
Previously undisclosed e-mails that the Justice Department has released pursuant to court order demonstrate Kagan's direct involvement in the administration's defense of the president's health law from the very beginning. In January 2010, she assigned her chief and only political deputy, Neal Katyal, to the matter—the legal equivalent of a firm's senior partner delegating work to a junior associate. That same month Katyal wrote in an e-mail to the associate attorney general's office that "Elena would definitely like OSG [Officer of Solicitor General] to be involved in this set of issues." These actions alone constitute personal participation in the preparation of the case, and that is all §455(b)(3) requires to trigger mandatory recusal.
Kagan herself has admitted that she attended "at least one meeting" in which the case now before the Court was mentioned, but the e-mails show that she also was privy to discussions of the administration's litigation strategy at least up until the announcement of her nomination on May 10, 2010. On March 18, Katyal e-mailed Deputy Attorney General Tom Perrelli and copied Kagan, discussing in detail and providing an Internet link to a draft complaint in potential litigation. He wrote: "For what it is worth, my advice (I haven't discussed this with Elena, but am cc'ing her here) would be that we start assembling a response [material redacted] so that we have it ready to go." And at least one e-mail suggests that discussions of litigation strategy were deliberately not conducted in written form. On March 21, Katyal e-mailed Kagan to ask whether she would attend a key White House meeting on health-care litigation strategy. Kagan responded, "What's your phone number?" These actions further support the need for her recusal.

It appears that Kagan and Katyal were cognizant of the recusal issue. On May 17, Katyal forwarded Kagan an e-mail he had just sent to Justice Department spokesperson Tracy Schmaler, in which he falsely asserted (as the previous e-mails show) that Kagan "has never been involved in any of it [health-care legislation]. I've run it for the Office, and have never discussed the issues with her one bit." Ironically, Kagan responded minutes later to both Katyal and Schmaler: "This needs to be coordinated. Tracy, you should not say anything about this before talking to me."….
Recusal due to previous participation in a case is not an admission of wrongdoing, but rather an expected consequence when a government lawyer accedes to the bench. Indeed, Justice Thurgood Marshall—the last solicitor general to become a justice, and the justice for whom Kagan clerked—recused himself from 98 of the 171 cases decided by the Court in his first year, and most of them were cases in which the federal government was a party.

Justice Kagan has recognized that her involvement as solicitor general in the preparation of the government's challenge to Arizona's immigration law prohibits her involvement in that case as a judge—even though the lawsuit was not filed until two months after she ceased performing the duties of her office due to her nomination, and even though she testified that she was not asked to express an opinion on the Arizona law. In contrast, Justice Kagan's involvement in the preparation of the government's defense of the health-care law began at least as early as January 2010, four months before her nomination and two months before the bill became law. That she would not follow the same course in the health-care case is dubious. These facts require recusal…. National Review Online, Feb. 23, 2012
Kagan was a partisan cheerleader for Obamacare. In a March 21, 2010 email to Harvard Law Professor Larry Tribe, titled: "RE: fingers and toes crossed today!" she said "I hear they have the votes, Larry!! Simply amazing." To which Tribe promptly replied, "So health care is basically done! Remarkable. And with the Stupak group accepting the magic of what amounts to a signing statement on steroids!"
It is impossible to imagine that, when he nominated Kagan, President Obama was unaware of her involvement in the defense of his centerpiece statute or that he nominated her in the expectation that she would recuse herself and would therefore be of no help to him on Obamacare. In a word, the Obamacare case in the Supreme Court was fixed. Fixing a traffic ticket is one thing, but fixing a Supreme Court decision is very serious business. Under any rational interpretation of the moral and legal criteria, Kagan should not have been on that case to cast the deciding vote. This is a case of voter fraud comparable to the voting of tombstones in Chicago. It was a micro-election with an electorate of nine. But, unless corrected, it will have terminal consequences for the freedom of the American people. It is serious enough to justify Kagan's impeachment by the House of Representatives and removal from office by the Senate.
Charles E. Rice is Professor Emeritus at Notre Dame Law School and President of the Bellarmine Forum.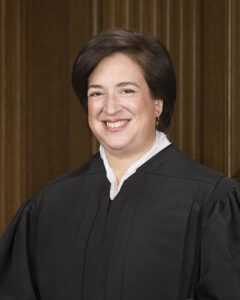 This article, The Obamacare Decision: A Fix By Voter Fraud is a post from The Bellarmine Forum.
https://bellarmineforum.org/the-obamacare-decision-a-fix-by-voter-fraud/
Do not repost the entire article without written permission. Reasonable excerpts may be reposted so long as it is linked to this page.