The Wreckovators say the silliest things… Our Saviour NYC Sanctuary Lamps gone for a year "for cleaning"
Last year, when the wreckovation of Our Saviour parish in NYC began, one the early things that happened, in addition to the things I mentioned here, was that the new pastor said that the sanctuary lamps had been removed, "for cleaning."
Mr. Samuel J. Howard provided me with the following picture of the BEFORE, notice the sanctuary lamps hanging from the baldachino: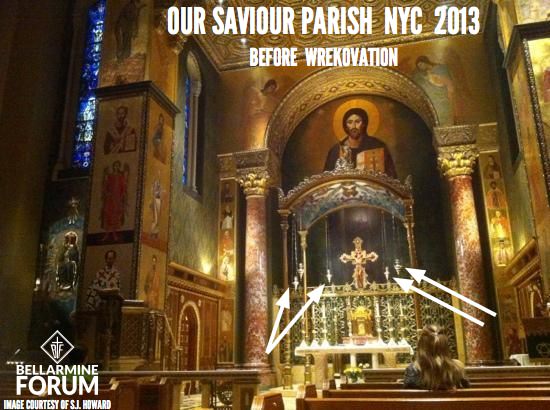 And here is a picture from just a couple weeks ago — notice that the lamps are still "Being cleaned"?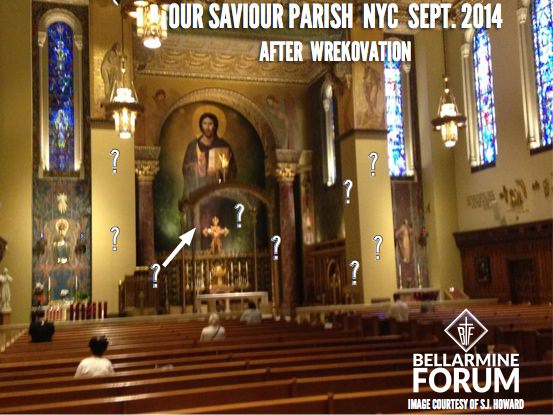 Speaking from experience, those lamps could have been sent to Mt. Athos on a slow boat for cleaning and would have already been returned well before a year had passed.
Reports on twitter state that the Archdiocese of New York requires parishioners to be catechized to explain renovations to "Worship space", yet, no answers have been given on the status of the lamps.
Where are they? Please, dear readers, look under your beds and in your closets to see if those lamps were maybe misplaced at your house and let us know if you found them. Apparently, the parish doesn't know where they are, so maybe we can help.

This article, The Wreckovators say the silliest things… Our Saviour NYC Sanctuary Lamps gone for a year "for cleaning" is a post from The Bellarmine Forum.
https://bellarmineforum.org/the-wreckovators-say-the-silliest-things-our-saviour-nyc-sanctuary-lamps-gone-for-a-year-for-cleaning/
Do not repost the entire article without written permission. Reasonable excerpts may be reposted so long as it is linked to this page.