Podcast: Play in new window | Download
St. Francis de Sales in Introduction to the devout Life: Make yourself familiar with the angels, and behold them frequently in spirit; for, without being seen, they are present with you.  
Today, on the feast of the archangels, Pope Francis unveiled a new Sculpture titled "Angels Unawares"…. it is for the "World Day for Migrants and refugees". The sculpture was made by Canadian Timothy Schmalz.
twitter reactions kept repeating that the predominantly white European looking figures in the sculpture don't look like migrants today.
The Pope has continued the revolution of Cardinal de Aviz, who said certain ways of praying and dress must cease". This week leading up to the Amazon Synod saw Pope Francis make comments about cassocks and "Saturnos"
on cassocks, Pope Francis remarked that behind a young priest wearing a black cassock are "moral issues"

The pope was photographed wearing his white cassock as he said this.
Twitter and other social media has been lit up with pictures of Saturnos and priests posting pictures wearing them.
St. Ambrose wrote in his monograph on Clergy practices that "nothing artificial is really pleasing."
Mature Catholics are Always shoved into a ghetto.
Fr. Paul Quay SJ made this observation in Mystery Hidden in Good for All Ages. Catholics that reach a certain spiritual maturity are shoved into a ghetto, even by other Catholics that are still compromising with the world. People know these mature people are different.
Contrast the writings of Leo XIII, John Paul II, Pius X never alienated. Pope Francis is different because he does.
Fr. Rutler's article on "how to write your own encyclicals"
Pope Francis likens a young priest who wants to wear a cassock and Saturno as a "woman priest"… Think of that… besides insults and alienating young priest, it is a joke about women priests just before the Amazon Synod
USCCB CNS REPORTS ON "certain ways of praying and dress"
in Eco-spirituality and Gun Control!
Catholic News Service (operated by the USCCB) had a busy week. They highlighted a nun in Seattle, Dominican Sister Judy Byron who is the director of the "Northwest Coalition for Responsible Investment." She is using institutional funds as a weapon to force investors to drop gun manufacturers and seeks to end gun ownership.
great use of the consecrated life, correct?
Does she wear a habit? remember de Aviz and the revolution… praying and wearing habits must cease…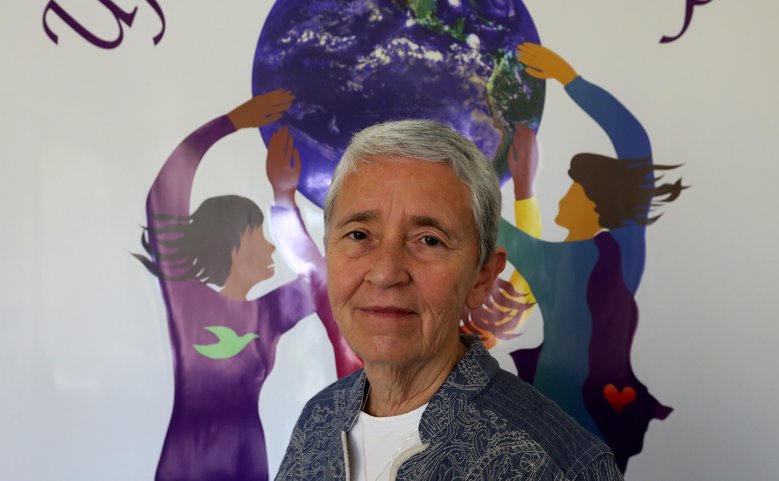 "Faith Leaders" in a field
Mercy Sisters Touting the Revolution
CNS also reported a story by Florida Catholic that showed three mercy sisters holding signs on a street "Mercy for Earth" — their message, "Our planet and impacted communities are crying out, and as people of faith, we must demand an end to the age of fossil fuels and encourage our leaders to adopt practical solutions to begin healing earth."
"People of faith"
"Healing our earth".
"Impacted communities"
Any guess whether these sisters are wearing habits?
Hint: the revolution requires that we end "certain ways of prayer and dress."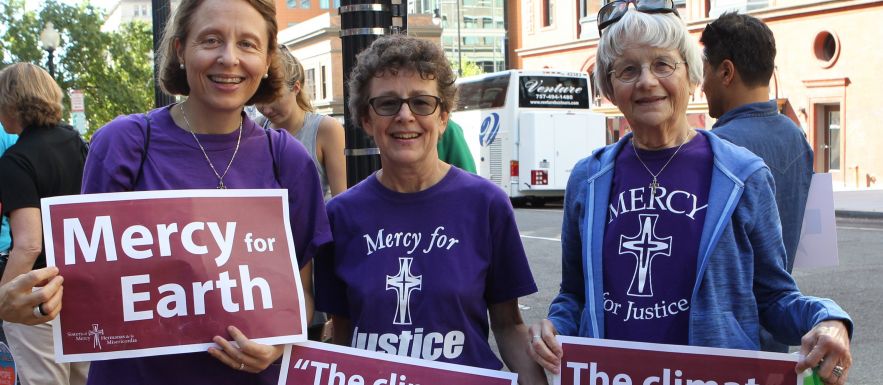 Bill Donohue of Catholic League thinks Sexual Misconduct in Seminaries is Rare
On the heels of the crisis in Buffalo diocese, Bill Donahue of the Catholic League announced that the so-called Norte Dame study is correct and sexual misconduct in seminaries is very rare.
perhaps but unlikely.
Recall the witness account given in the book "God Fearing Souls" by Tony Ghepardo — it was rampant at the pontifical seminary Josephinum in the mid-90s when Cupich was rector.
Amazon Synod begins this week (Oct 6).
The working document contains several issues:
Cardinal Mueller states:

"A worldview with its myths and the magical ritual of Mother Nature, or of her sacrifices to the gods and spirits that cause us great fear, or that seduce us with false promises, cannot be an adequate approach to the coming of the Triune God in His Word and in His Holy Spirit,"
an ideological vision that has nothing to do with Christianity."

MY OPINION: this is a punch towards the "local community" worldwide everybody had a local tradition and there's nothing the same anywhere and all heterodoxy is merely a function of cultural difference
The Working document has terrible Flesch readability scores. some sections as low as 9. Flesch readability began as a study to create an objective way to determine problematic jargon. Flesh studied business communications prior to the Great Depression and determined that all companies that knew of problems and failed had communications with readability scores 20 and below. Companies that survived and did well had communications with readability scores over 40. Some sections and Pope Francis's hopes mentioned.
Highlighted phrases:
Pre-Columbian cultures worshipped the sun and sacrificed children and ripped people's hearts out to make sure the sun would keep coming up. If they didn't worship the Sun, they worshipped demons, such as the winged serpent.
Nevertheless, the document wants them to "evangelize us" ?!
Pre-Columbian cultures offered the Christianity of the Iberian Peninsula, brought by the conquistadors, multiple bridges and points-of-contact, "such as an openness to God's activity; a sense of gratitude for the fruits of the earth, the sacredness of human life, and an appreciation of the family; a sense of solidarity and co-responsibility in joint efforts; the importance of worship; and the belief in life beyond the grave, as well as so many other values"
Pope Francis pointed out that "we need to let ourselves be evangelized by them" and by their cultures, and that the new evangelization implies "lending our voice to their causes, but also [we are called] to be their friends, to listen to them, to speak for them, and to embrace the mysterious wisdom which God wishes to share with us through them"
Some other linguistic analysis includes repeated mentions of "integral ecology" in the working document. And 13 mentions of the phrase "with an Amazonian face."
Cardinal Burke's criticism has drawn the criticism of hyper-popaloters who demand that Burke make a "profession of faith in the pope" and claim that Burke is in formal schism…
This week saw the crooks of climate change use the 16-year-old Greta Thunberg as a human shield. It appears that progressives are using the Amazon natives as a human shield for the marxist-leninist revolution afoot.
At least one goal appears to be to create a hyper-local tradition globally. Small faith communities. Local communities as a way to make a disintegrated and disjointed faith worldwide, one that is broken into tine pieces with no continuity. The American experiment on a global scale it seems.
Solzhenitsyn made a comment that being quiet in the face of evildoing is "Ripping the foundations of justice out for future generations."
Nassim Nicholas Taleb writes in "Antifragile" that if you do not call out fraud when you see, then you are committing fraud.
Pope Francis snubs converts.
Earlier this week, Pope Francis was greeted by a young lady who converted some friends to Catholicism. Pope Francis was not amused.
Here's what a real convert can do: Anglican Frederick Faber converted to Catholicism. In his Hymn to My Guardian Angel, he wrote:
Dear Angel! Ever at my side,

How loving must thou be

To leave thy home in Heaven to guard

A guilty wretch like me.
Did I mention that Cardinal Braz de Aviz is one fo the Cardinals appointed by Pope Francis to run the Synod?
Yes, the leader of the revolution against prayer and traditional religious attire…

This article, BFP news: Progress of the Revolution to the Amazon Synod is a post from The Bellarmine Forum.
https://bellarmineforum.org/bfp-news-progress-of-the-revolution-to-the-amazon-synod/
Do not repost the entire article without written permission. Reasonable excerpts may be reposted so long as it is linked to this page.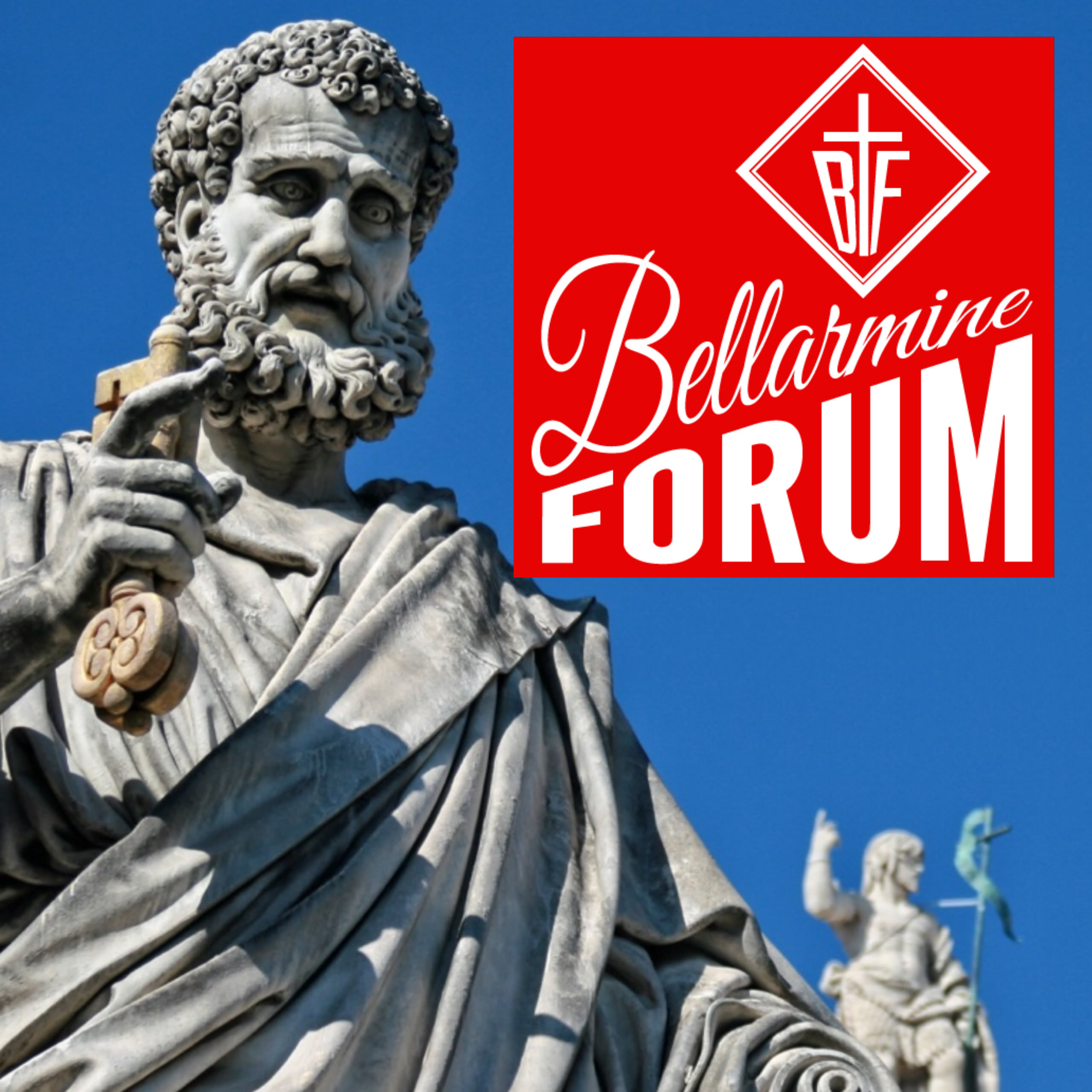 The Bellarmine Forum Podcast - The Bellarmine Forum
Bellarmine Forum
The Bellarmine Forum Podcast is Catholic commentary on anything from history, philosophy, and current events. Best viewed as an after-dinner chat.