Eating Gyros on Good Friday? Kiril Sends Message to Francis on the Easter Date
Being half Greek and enjoying a gyro, while at the same time enjoying the meat-free Great Lent can cause some peculiar cravings once Easter season arrives each year. My Polish half cannot fathom  Easter Sunday without ham. Kielbasa is nice, but ham. Ham. Ham with horseradish. Ham with hard boiled egg. Ham slice on babka bread. There's always a little tension, however, because Greeks have lamb on Easter. Easily solved:  do that on Low Sunday! (thank God for the octave). The bonus for me is that I am usually up north around Low Sunday and there aren't good gyros in Birmingham — seriously, I've tried them all. Compared to a Chicago gyro or what can be found all over Cincinnati, they stink awful down here. So, this is a mission for me annually!
Low Sunday is almost always the actual day of Easter for the Orthodox and others who follow the old calendar. Quite some time ago, the Roman Church adjusted from the Julian calendar to the Gregorian calendar and leap year calculations had shifted the date. Much of the Orthodox world follows the old calendar. It's kind of academic anymore. It does, however, create a difference in how the weeks since the first full moon of the year are counted.  What this means for me is that I can have Ham on the new calendar and Lamb on the old. A nice tidy solution that has some strangeness.
During Easter week for us, most of the Orthodox are in Great and Holy week. So, imagine how odd it was a few years back when I went to a Greek diner to get a gyro on Easter Friday. Yes, you know from what I've explained here: that was their Good Friday! (oops) They were closing early and as I was picking up the order, the daughter of the owner looked at me, looked at the order, and said: "you should just change your name and be Jewish."  (!) [N.B. I find it endearing and refreshing that Greeks don't follow the norms of American mealymouthed politeness/multicultiral delusions.]  She didn't know that I had been eating ham and pork kielbasa all week. To her, she was right — think of someone you knew was Catholic eating a steak on Good Friday: you'd say something, too. I guess I hadn't really thought of it because to me, I was thinking that it was one of the few Fridays in the whole year I could eat meat, and dang it, I wanted a gyro!
I was happy to have my gyro on Easter Friday, but it has been strange these years to think that Easter is different between the two lungs of the Church. You see, for centuries now this very same problem has existed in every part of the world where there is eastern churches and orthodox ones. Some anecdotes I've heard say that most of those places have already been consolidating Easter dates between them for years. I don't know how that works out practically (it shifts all the other feasts), but I've heard of such things.
Now, Pope Francis recently commented on this and seems to indicate that he'd be open to fixing Easter Sunday's calculated date by the old calendar so that all the churches share the same day. At least, it seems like that's what he said.
Some others seem to think he's talking about fixing the date of Easter to a particular day each year. (this has been a pipe dream of Vatican II reformers). Personally, I hate the idea that Easter will become like tax day. No…  it is fixed to a Sunday occurring after a particular full moon for a reason:  because that's how passover was calculated, and Easter happened on the Sunday after passover. We don't want that sort of fixed date because it will uncouple holy week from the full moon. One of the things I've come to enjoy over the years is seeing a full moon during holy week — it sparks my imagination to think that's what the apostles saw in the garden. In America, we know how hard it is for the common core fans in the bishop's conference to do math, though and they've already lobbied for such a train wreck. Too lazy for such trifles here.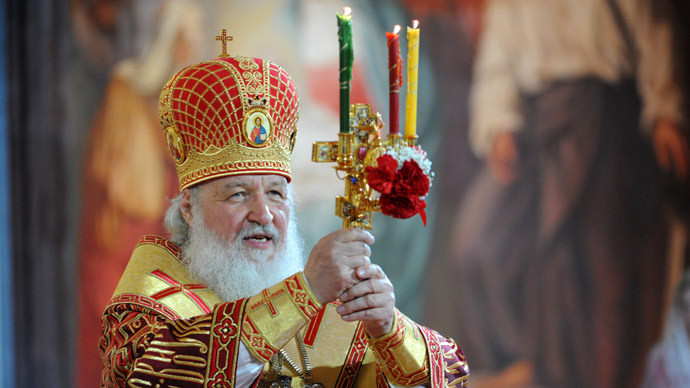 The ambiguity is not unique to the internet, however. The Russian Patriarch is trying to figure out what Pope Francis meant, too. Reports this week (I don't see this story on Orthodox outlets yet) that the Department of External relations had this to say:
According archpriest Nikolai Balashov, deputy chairman of the Moscow Patriarchate Department of External Church Relations, the Pontiff's statements as reported in the media are not sufficient to give a proper understanding of the essence of his proposal.
"I would prefer to know the exact statements of Pope Francis first, transmitted by different sources of information," said Balashov, in an interview with Tass news agency, noting that "if the Church of Rome intends to abandon Easter according to the Gregorian calendar, introduced in the sixteenth century, and go back to the old one (Julian), used at a time when the Church of the East and West were united and used to date by the Orthodox, then this intention is welcome". If, instead, the idea is to "have a fixed date for Easter and not tie it to the first full moon after the spring equinox, as established in the East and in the West by the Council of Nicaea in 325, then this proposal is totally unacceptable to the Orthodox Church",  warned Balashov.
The cautiousness is shared. I'm still wondering myself about the early leak of the Laudato Si encyclical. So even if the official Vatican sources do eventually speak up, I'm not sure that it still wouldn't warrant another verification. Turns out that the Orthodox are repulsed by the idea of turning Easter into Tax Day, too. Continuing:
"We will wait for official Vatican sources," he added. The Orthodox Russian representative further underlined that Constantinople and Moscow are at odds over Easter and that contrary to what is reported in the press, the pan-Orthodox council is expected to debate a review of the date on which to celebrate Easter. Either way, Balashov acknowledged that the Pope "wanted to make a real step forward, towards the Orthodox. It is a gesture of good will. This approach, however, cannot be accomplished through the radical change of our common traditions from the first millennium of Christianity. "
There is an allusion to tension between the Greeks and the Russians there. I'm not surprised. There's always a tension from Greeks on this issue because they do it right, and of course everyone else should do what they do, because then they will be out of error and fall into line. [I really hope my sarcasm comes through here.]
Just like the Catholic Church, the Orthodox Church celebrates Easter on the Sunday after the first new moon full, but following a different schedule. This year, the Catholic Easter was celebrated on April 5, while the Orthodox on April 12. The next time the Catholic and Orthodox Easter will coincide is April 16, 2017.
Source: RUSSIA-VATICAN Moscow Patriarchate to Pope: On Easter a gesture of goodwill, but we will not overturn old traditions – Asia News
I do hope that there is a genuine effort to adjust Easter to be common across the world — I don't see any grand tradition to the Gregorian calendar and the difference between the two calendars is prudential in many ways. I also hope nobody was seriously entertaining the delusion of fixing Easter to tax day. That'd be worse than eating a gyro on Good Friday!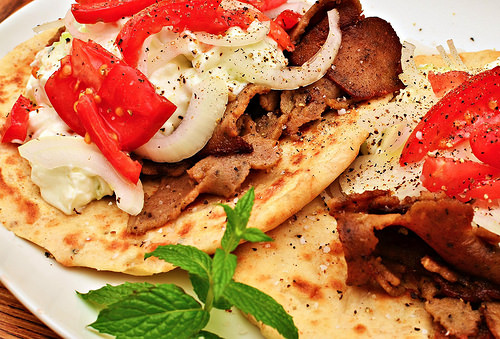 Gyros shouldn't be eaten on Good Friday!
Photo by jeffreyw


This article, Eating Gyros on Good Friday? Kiril Sends Message to Francis on the Easter Date is a post from The Bellarmine Forum.
https://bellarmineforum.org/eating-gyros-on-good-friday-kiril-sends-message-to-francis-on-the-easter-date/
Do not repost the entire article without written permission. Reasonable excerpts may be reposted so long as it is linked to this page.