How the Local Greeks Commented on the Weeping Icon
I have not found or heard further news on the Icon of St. Michael that had been weeping in Greece.
I have found a few comments from Greeks there about the weeping icon.
Said the priest at the Church home to the icon: 
"it is a message for all of us that we must be always ready with a pure soul because never know the counsels of the Almighty Who obviously wants to remind us that we exist to strengthen the faith of all and awaken us to the need for humility, prayer, and the cultivation of our [holiness], something the world has begun to neglect in recent years. Blessed be His will!"
Notice how his comment goes right to a concern for God in our hearts, something he says we must cultivate, but our world has been neglecting! That is similar to the observation I made in the Fire from Heaven post. The messages of Fatima and Akita wrap this up in the succinct command: repent and pray. That is also the secret of considering the four last things.
The Aegean News has a reporter who quoted an old woman on the street at the pilgrimage, she a resident of the Isle of Ialyssos, saying — In her life, the icon wept twice, and that was not a good message. The first time the Second World War started after a few days, while the second was at the beginning of the great earthquake in 1956.
Wait! Did you catch that? This icon has wept two times before?
The story gets more interesting. I hope it's interesting enough to stir some repentance in the hearts of more people.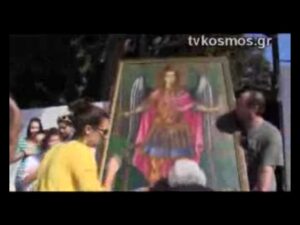 This article, How the Local Greeks Commented on the Weeping Icon is a post from The Bellarmine Forum.
https://bellarmineforum.org/how-the-local-greeks-commented-on-the-weeping-icon/
Do not repost the entire article without written permission. Reasonable excerpts may be reposted so long as it is linked to this page.