"I put the Calf in the Oven", "we give Papal Awards to anyone that visits", and Slavery
One my favorite lame excuses of all time should be enshrined and burned into the memory of every child. It should be repeated now and then while drinking — everyone at the table laugh and laugh and laugh. It should be the first example off our lips when someone dissembles…  "I put the gold in the oven and out came a calf."
Lame Excuses Are Good PR?
Aaron was asked by Moses what he was doing, and that was his answer. Lame. Hilariously lame. There are many other lame excuses across the bible as well. They aren't as funny. For instance, upon God telling her she'd bear a child, Sarah laughed. God asked her why she laughed, and she said "I didn't laugh."  Seriously? He's God. (as if His omniscience didn't perceive it, I bet God's ears are pretty good, too!)
Or, Adam…  Poor Adam was the first man. He didn't have the combined common knowledge of all men before him to lean upon when God asked him who told him he was naked. He tries to make it God's fault. "That woman you gave me, she gave me the fruit."   (yeah, it makes me laugh up my sleeve whenever that is read at Mass.) Men today know that won't work.
It really is human nature to try and dissemble, though. In our corporate world today, it's called Public Relations messaging.
"We Put the Gold in the Oven, and out came a Commander's Cross for the Order of St. Gregory the Great."
Ploumen:  A Leader of Advancing and Preserving Global Abortion Industry
At first blush, when we see the Vatican do it, we might want to shake our heads and get mad. For instance, this story reported that Pope Francis bestowed the honor of "Commander in the Pontifical Equestrian Order of St. Gregory the Great" upon Lilianne Ploumen, a Dutch politician. Ploumen is heralded as a global force to raise money for abortion. As of today, Wikipedia lists is like this:
"Ploumen started the 'She Decides' campaign, an initiative of about 50 countries, organizations and foundations to finance global family planning initiatives after a U.S. halt to such programs left NGOs worldwide with a large funding gap. Within six months the organization received pledges worth USD 300 million. As minister, she pledged 10 million euro to counter the Mexico City policy." [citations removed]
That short quote makes it clear that not only is this politician pro-abortion, but an active leader in funding and advancing it.
The Vatican Statement on her Award
So, when pressured on this award, the Vatican issued a statement on January 15 (today) as reported in the Register link above:
"The honor of the Pontifical Order of St. Gregory the Great received by Mrs. Lilianne Ploumen, former Minister of Development, in June 2017 during the visit of the Dutch Royals to the Holy Father, responds to the diplomatic practice of the exchange of honors between delegations on the occasion of official visits by Heads of State or Government in the Vatican.

Therefore, it is not in the slightest a placet [an expression of assent] to the politics in favor of abortion and of birth control that Mrs Ploumen promotes."
I don't know how you read that, but it sounds like this to me:  "Oh, we give that award to any diplomat that comes here."  It sounds like it's not an award, right? It's just a token of appreciation for visiting. I wonder how many Commanders of the Order there are out there.
If anyone comes on diplomatic visit and gets this award, then we have to wonder why President Trump wasn't given one when he visited, right? Or First Lady Trump for that matter…
Purpose Of the Equestrian Order of St. Gregory the Great before Today
St. Pius X was the last pope to reform the Papal orders, during which he preserved the purpose of the Order of St. Gregory. Namely, the Order was commissioned principally as a reward for those who helped maintain the Holy See in the attacks on it during the early 19th century. The bull instituting it begins that awards be given to "gentlemen of proven loyalty to the Holy See who, by reason of their nobility of birth and the renown of their deeds or the degree of their munificence, are deemed worthy to be honored by a public expression of esteem on the part of the Holy See".
There is this other stuff in the bull, stuff like the recipient should "progressively maintain, by continued meritorious deed, the reputation and trust they had already inspired, and prove themselves worthy of the honor that had been conferred on them, by unswerving fidelity to God and to the sovereign Pontiff."
Sounds pretty heavy for a door prize.
Maybe the Vatican Press Office statement should have better been stated as, "We put the gold in the over, and out came the award for Plouman!"
Somebody should apologize to Aaron. At least he won't be laughed at as much since this whopper is out there now.
Moreover, I can't find anything in the Papal Bulls about door prizes. Or, honoring people who preserve the abortion industry for that matter….
On Slavery and Martin Luther King Day in the United States
The Irony of Church Statements Today
Meanwhile, in the United States, today was the holiday celebrating Martin Luther King. I've heard many things about King over the years, including that he was an active communist. Recent news reports last December of declassified government documents also allege his personal life of ill repute (consistent with reports on the lifestyles of other communists).
The USCCB had numerous quotes and images of Martin Luther King in their communications today.
It was all focused on so-called civil rights. It was focused on Martin Luther King's dream.
Sin oppresses any people and kills any soul. It does not discriminate.
I kind of wish our Church could focus on the deadly slavery rampant in our world today. You know, St. Ambrose said "Everyone that commits sin is a slave to sin."
Abortion, and the rampant promotion of it by politicians like Plouman are peddling slavery. You shouldn't get an award for that.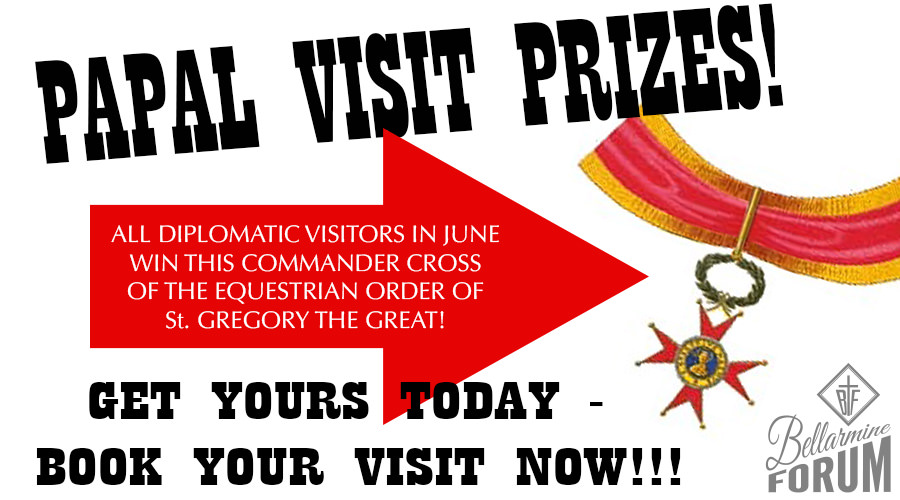 This article, "I put the Calf in the Oven", "we give Papal Awards to anyone that visits", and Slavery is a post from The Bellarmine Forum.
https://bellarmineforum.org/put-calf-oven-give-papal-awards-anyone-visits-slavery/
Do not repost the entire article without written permission. Reasonable excerpts may be reposted so long as it is linked to this page.